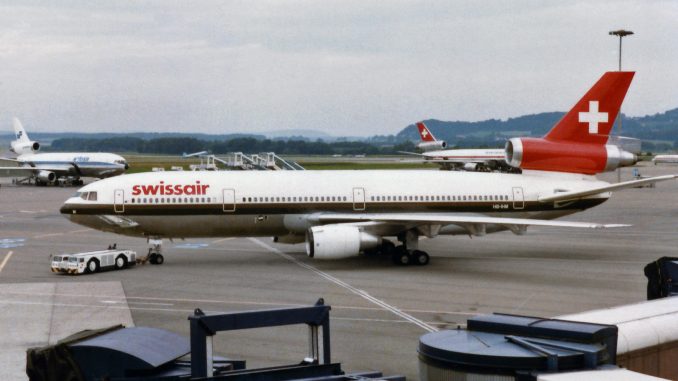 Open a financial newspaper tomorrow and you will not be surprised to read about a retirement fund in trouble – either because the company is going bankrupt or because the fund is no longer large enough to support a growing number of retirees.
Surprisingly, this is not the case at Swissair. Swissair's retirement fund is detached from its former company, and while the fund keeps growing, the number of retirees drawing from it keeps shrinking. This is good news for those remaining to receive pensions from the Swissair fund.
Swissair was Switzerland's largest and flagship carrier. For most of the 71 years it existed, the company was one of the major international airlines and known as the "Flying Bank" due to the financial stability of the airline, causing it to be regarded as a Swiss national symbol and icon.
That is, until its fleet of 76 aircraft was grounded in 2001 following a series of ill-advised takeovers of competitors. 10 billion Swiss Francs ($10.8 billion) were lost and 63,000 shareholders lost their investments. The ensuing bankruptcy gave birth to Swiss, but under a separate structure.
Throughout the years, however, the pension fund of Swissair's parent company, SAirGroup, had been kept separate from the operating company and thus survived without losses. It also was never integrated into the new Swiss structure. As a result, the fund remained in place and well funded. Pensioners received an additional 16,450 Francs ($17,750) this year on top of their regular annual payout, which is up from 7,050 Francs ($7,600) paid out extra in 2016.
The extra payments are part of an attempt to not let the last retirees become millionaires. If only standard payments continue to be issued, the last surviving beneficiary would receive 400 million Francs ($432 million).
The reason for this is that the fund has been smartly managed over the years so that its capital keeps growing. At the same time, there are less and less retirees every year as former employees grow older and eventually pass on. In 2010, there were still 4,700 beneficiaries. Today, only 3641 remain. This has led to a continued increase of the coverage rate, which now sits at over 124 percent.
"The fund was already well-supported when Swissair was still operational," said Peter Zanella, pension benefits experts at financial planning company Willis Towers Watson. "It's coverage has since increased from 115 percent to over 124 percent."
The fund holds 1.7 billion Francs (about $1.8 billion) today. If an over-coverage rate of 24 percent remained until the final payment had to be made, this rate would amount to the aforementioned 400 million Francs. This amount would then be paid out to the last remaining retiree of Swissair.
The fund managers, therefore, expect to continually increase the extra payments to avoid this scenario and distribute the fund more fairly and evenly among the remaining pensioners. In the meantime, the remaining beneficiaries certainly don't mind the extra cash. The last Swissair alumni meeting took place at an exclusive ski resort in the Swiss Alps.
Adrian joined AirlineGeeks as a writer in 2017. He had always wanted to become a pilot and while he chose a different career path for now, his interest in aviation continues to grow every day. Adrian was fortunate to travel extensively for business in the past five years. As a result, he focuses his research and writing on passenger services and experiences on a variety of airlines. His favorite aircraft include the Airbus A350, A380, and the Embraer passenger jets.
Latest posts by Adrian Vannahme (see all)