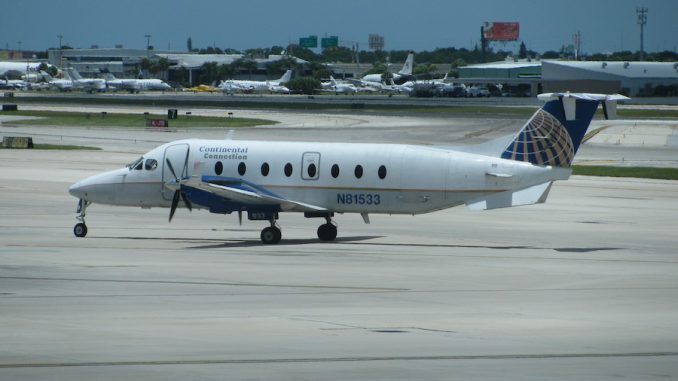 The Florida market has always been home to fierce competition as carriers look for a way to gain an advantage over each other. However, the inter-Florida market is less competitive, with the only major carriers providing service inside state lines being Spirit, Southwest, American, and jetBlue. However, all of their services pale in comparison to the route map that Silver Airways has achieved in recent years.
While Silver's name is very popular for inter-Florida flying, their predecessor Gulfstream International Airlines didn't have the best record. The airline had become common for flying under carriers like US Airways Express and Continental Connection as a codeshare partner.
Gulfstream had become common for flying the Beechcraft 1900D, of which they owned as many as 27 of the type that flew between Florida and the Bahamas. The carrier also experimented with adding flights to Alabama and Georgia, but those attempts were cancelled after a lack of demand.
While the airline was able to hold its own in the market, their flight training caused concern from various companies and politicians. The Gulfstream Flight Academy had been found to be falsifying training hours and experiences of flight crews, which would result in multiple monetary penalties from the FAA. The severity of these fines would only be compounded when it was discovered that the lack of flight training from Gulfstream would play a role in the crashes of Pinnacle Airlines 3701, Comair 5191, and Colgan Air 3407.
After being fined for playing a role in the Colgan Air crash, Gulfstream had decided to shut down the flight school, citing lack of demand as the reason for closure. However, the airline was already in dire straights from the economic recession and the fines from the FAA were not helping their bottom line. The carrier finally pulled the plug on Nov. 4, 2010.
Fortunately, Victory Park Capital of Illinois decided to buy the assets of Gulfstream and relaunch the airline under the name Silver Airways. The airline officially took to the skies again in December 2011 with the carrier using a fleet of ex-Gulfstream Beechcraft 1900Ds and ex-Colgan Air Saab 340s. The airline's early years saw it vying for Essential Air Service contracts. The airline landed contracts for Gainesville, Florida as well as United Express contracts to fly between Washington-Dulles and western Pennsylvania destinations such as Dubois, Johnstown, and Altoona.
The airline continued to phase out hints of Gulfstream as Silver took hold of more and more Saab aircraft, which held more passengers than the Beech, all-in-all the airline would come to operate a total of 22 Saab 340s.
The airline has also prioritized being a codeshare partner for various carriers. Outside of the United Express partnership in Pennsylvania, Silver would grow to add codeshare agreements with carriers like jetBlue, Bahamsair, Delta, Azul Brazilian, Alaska, and ANA to provide service throughout Florida and the Bahamas for passengers.
Despite the expansion, questions still swirl about the carrier's financial state. The airline has missed multiple hangar payments with the worst offender being Gainesville, who saw Silver miss multiple payments and then suspend service to the city. Silver has also not seen positive feedback from EAS cities either, with cities like Johnstown telling the Department of Transportation to remove Silver Airways from their town in favor of a different airline.
Silver has also collapsed their Florida route map with the airline no longer flying to smaller Floridian towns such as Daytona Beach, Naples, and Gainesville and instead opting for larger cities like Orlando, Tampa, and Ft. Lauderdale.
While the financial picture isn't clear for Silver, that hasn't stopped their ambitions. The airline received financial backing from Versa Capital Management in 2016 and used the monetary infusion to overhaul their fleet. Starting later this year the airline will start taking hold of ATR 42 and ATR 72s to replace the aging Saab fleet.
Thus paints the picture of Silver for today, an airline with a fleet of 22 Saab 340s that are due to be replaced by 20 ATRs and a route map that contains 10 Florida destinations and eight destinations in the Bahamas. While the airline faces fierce competition on some of these routes, low fares and quick flights along with their expansive codeshare program has assured that the airline can continue flying and provide services that would have potentially been lost when Gulfstream collapsed.
Although Ian McMurtry was never originally an avgeek, he did enjoy watching US Airways aircraft across western Pennsylvania in the early 2000s. He lived along the Pennsylvania Railroad and took a liking to trains but a change of scenery in the mid-2000s saw him shift more of an interest into aviation. He would eventually express this passion by taking flying lessons in mid-Missouri and joining AirlineGeeks in 2013. Now living in Wichita, Kansas, Ian is in college majoring in aerospace engineering and minoring in business administration at Wichita State University.
Latest posts by Ian McMurtry (see all)