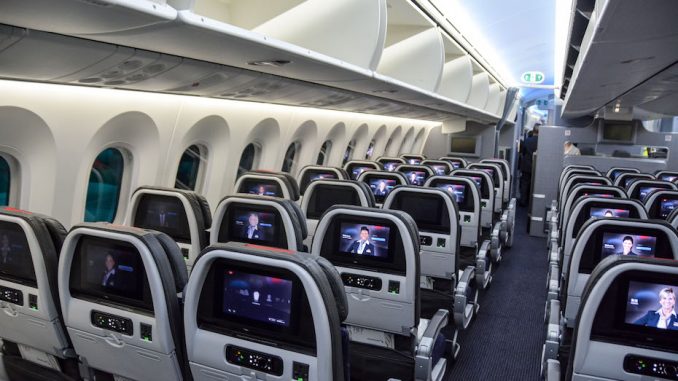 American Airlines will roll out its Basic Economy fare for transatlantic flights in April, alongside its Oneworld alliance joint venture partners in Europe. This completely expected occurrence allows American to increase incremental revenue on these flights without alienating some of the most price-sensitive customers.
Transatlantic Basic Economy will essentially be the same product as domestic Basic Economy, with a few key differences that make it slightly more bearable.
Seats are still only assigned at check-in unless a fee is paid to purchase seat assignments earlier. Young children will be seated with their adult traveler, but families won't otherwise be seated together unless seat assignments are purchased in advance.
Carry-on bags will be allowed but checked bags will not be free. To further complicate matters, if the passenger is on a Basic Economy leg to an international gateway from the U.S. the transatlantic Basic Economy rules trump the domestic rules allowing for a full size carry on the domestic leg.
This will likely lead to confusion for some passengers who might not realize this rule is limited to transatlantic flights and may assume that they may be allowed a full size carry on when traveling on a Basic Economy ticket solely in the United States.
Boarding will continue to be last unless the passenger is an American Airlines credit card holder or elite passenger.
Elite qualifying miles and segments will be awarded at a rate of 50%. In addition, no upgrades will be allowed, effectively creating minimum fare class restrictions for systemwide upgrades given to top-tier elite passengers.
This introduction comes as a surprise to nobody. Given the current race to the bottom by full-service U.S. airlines fueled by a market flooded with low fares and ever-increasing capacity by low-cost carriers, it was only a matter of time.
Customers have proven time and time again that they are willing to endure draconian conditions and give up benefits that were once considered standard for a bargain fare.

Hemal took his first flight at four years old and has been an avgeek since then. When he isn't working as an analyst he's frequently found outside watching planes fly overhead or flying in them. His favorite plane is the 747-8i which Lufthansa thankfully flies to EWR allowing for some great spotting. He firmly believes that the best way to fly between JFK and BOS is via DFW and is always willing to go for that extra elite qualifying mile.

Latest posts by Hemal Gosai (see all)