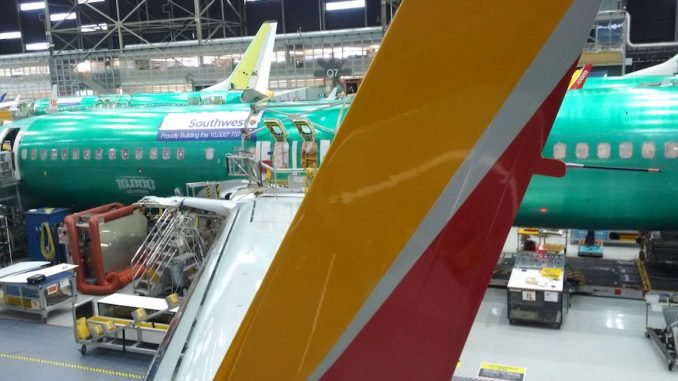 Boeing's only in production narrow-body aircraft is celebrating a milestone. Since being put into service in 1967 with Lufthansa, the 737 is now the world's best selling aircraft. In just a few weeks, the 10,000th 737 will be delivered to Southwest Airlines.
Lufthansa received the first 737-100 variant on Dec. 28, 1967. On Dec. 29, United Airlines, the first U.S. airline to take delivery of the new jet, received the first  737-200.
It took two decades for the 737 to become the most ordered aircraft in commercial aviation history. By January 1991, 2,887 737s were on order, including the 737-300, 737-400, and 737-500.
Today, the 737 program has stood the test of time with new variants coming to the Renton production line, such as the 737-800NG and 737 MAX. On average, 2,440 737 jets are in the air at any given time and one takes off or lands approximately every 1.6 seconds.
According to Boeing, there are about 27,200 scheduled passenger flights operated by a 737 each day, which would account for roughly a third of all commercial flights around the world. Operating everything from low-cost flights to long-haul transatlantic routes, the 737 family has carried more than 19.9 billion passengers around the world. This is more than double the world's population.
The 10,000th 737 will go to one of the jet's most trusted allies. Southwest is one of the few airlines to continuously operate an all-737 fleet since the carrier started operations in 1971.
The 10,000th aircraft, a 737 MAX 8, will soon join Southwest's fleet as Boeing puts the final touches on the jet in Renton before ferrying it to Boeing Field for flight testing.
Ryan founded AirlineGeeks.com back in February 2013 (actually, it was called Aviation Official, but we've changed a bit since then). From being on the yoke of a Piper Navajo, to visiting about Delta's operations center in Atlanta, Ryan has done it all. in 2016, along with American Airlines, Ryan masterminded AAviationDay at more than 10 locations around the world. The smell of jet fumes in the morning along with the countless number of passionate airline employees keep him enthralled in the industry, always seeking more. You can find him helping out travelers at Reagan National Airport near Washington, D.C. when he's not doing something for AirlineGeeks.
Latest posts by Ryan Ewing (see all)