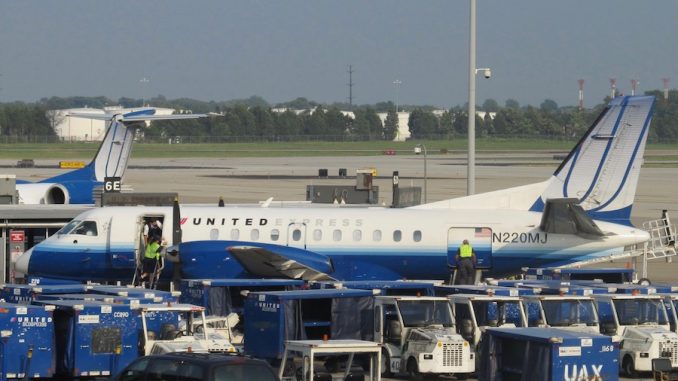 The city of Johnstown, Pennsylvania has been known as "Flood City" for years thanks to the town's unfortunate history of being caught, and sometimes leveled, in floods. However, in the 21st century, the only floods the small ex-steel mill dominated western Pennsylvania town sees are the masses of people exiting the city due to a lack of employment opportunities and the influx of cash that has gone to the small John Murtha Johnstown-Cambria County Airport (JST).
As a result, the town of Johnstown boasts one the nicest regional airports in the country, only to sit mostly empty.
A History of Government Earmarks
Johnstown's ability to have equipment and services that well exceed others has long stemmed from the city's ability to rely on earmarks from the federal government. Democratic Representative John Murtha has spent years funneling hundreds of millions of taxpayer dollars into the Cambria County Airport, hoping that a surge in spending will result in more traffic for the airport.
Since Murtha began his quest to improve the airport, the regional site has received a re-pavement of its existing 4,386-foot runway 5/23 and an extension of runway 15/33 to 7,003 feet, along with strengthening it to handle any aircraft in the skies. The airport has also received a brand new terminal and air traffic control system in the last 20 years thanks to Representative Murtha's earmark actions in pork barrel funding.
The airport's last funding came in the American Recovery and Reinvestment Act of 2009, which gave the airport financial backing for repaving runway 5/23, which came a little under one year before John Murtha's passing on February 8, 2010.
More Money Doesn't Guarantee More Passengers
While the airport has been receiving more and more funding from the federal government, the enplanements have not seen reciprocal growth. Prior to and during the jet age, the airport had received service from Allegheny Airlines and, later, US Airways with regional flights to Pittsburgh International Airport. By the start of the 21st century, service to Pittsburgh was being offered two to three times a day with 34-seat Colgan Air Saab 340s.
The airline had continued service to Johnstown peak in 2004 when US Airways flew 21,000 passengers through the western Pennsylvania city. However, that success slowly declined, aligning with the change in the town's population. Between 2000 and 2010, Johnstown's population would drop by nearly 3,000 people from 23,000 to 20,000.
By 2007, the airport had seen a similar drop in demand, flying only 18,000 passengers through Cambria County. This decline, along with a weakened American economy and US Airways dropping service to Pittsburgh, led the airline to dispose of the service to Johnstown in 2009.
Despite the loss of US Airways, the airport had landed a spot on the federally funded Essential Air Service (EAS) program, with the contract being picked up by United Express. United Express would keep the fleet similar to US Airways' fleet, utilizing Colgan Air Saab 340s to fly between Johnstown, Altoona, and Washington-Dulles (IAD).
Unfortunately, Colgan never saw the success at Johnstown under United as it did under US Airways. United's service would never break 20,000 passengers, even with their ability to open up more of the country by flying to Dulles over Pittsburgh. By 2011, the market had shown an adverse effect of what United wanted with the airline only seeing only 15,000 travelers fly through Johnstown.
Changes in Regional Operators
In 2012, Colgan had gone bankrupt, resulting in United Express service being operated instead by Silver Airways. Silver continued to use the Saab 340 and fly to Washington-Dulles. Much like their predecessor, Silver had seen the Johnstown market continue to disappear. The airline served 12,000 people in 2013 before three consistent years of only 9,000 passengers per year. Silver continued to exchange service too, swapping the stop in Altoona to DuBois as a cost-saving measure.
While demand was decreasing, Silver wasn't willing to win over the city of Johnstown at any point. The city consistently blamed the lack of demand on Silver Airways' high prices, consistent delays and cancellations that plagued the service at JST. By 2016 when the EAS for Johnstown was brought forward, JST had requested that Silver lose the contract to Southern Airways Express. Under Silver Airways' service, passengers through the airport continued to fade with under 8,000 passengers flying through JST in 2016.
Fortunately for the city, their request for a changing in the guard won Southern Airways Express the contract and the carrier launched flights to both Washington-Dulles and Pittsburgh using Cessna Grand Caravans. Service to Washington-Dulles would be switched to Baltimore soon after launch due to lack of demand.
Despite the switch of carriers, Johnstown continued its descent in passenger count that had plagued the city for over the past decade. Southern Airways Express has seen 6,700 passengers fly through Johnstown in the inaugural season. However, the airline hopes to turn the tide at JST, with four Pittsburgh flights and two Baltimore flights daily, with the airline going so far as to keep a flight crew and aircraft based at the Cambria County Airport.
Local High Hopes Face Stark Reality Check 
While local papers and news organizations in Johnstown have high hopes that Southern Airways Express can end the sharp decline in travelers, the airport still is large for its size. Despite a daily passenger count that is in the teens, JST currently has separate sides of the airport for arrivals, as well as arriving passengers having to wait around a baggage carousel after deplaning.
To further complicate matters, the airport's full-service sit-down restaurant has laid vacant for the past few years, mostly citing lack of demand as the reason for its abandonment.
Although the airport is supported by EAS and airfare ranges from $20-$36 one way, the ability to market to the locals has been a tough sell with Southern Airways Express. The airline started slow and has received some negative press for having some early flights canceled due to crew and aircraft issues. However, this problem seems to have resolved itself.
While the main selling point for JST is that it is a quicker service to Pittsburgh than driving, the city is a mere 70 miles from Pittsburgh Airport and 23 miles from Spirit Airlines' Latrobe service. This may result in people, especially those with checked bags or traveling for leisure, opting to drive since Southern Airways Express lacks an alliance partner to allow for transfers at Pittsburgh and Baltimore, leaving passengers to exit airside to recheck into their next airline.
While airport infrastructure projects aren't cheap, overspending on an airport in a steady decline does not guarantee a resolution. During his elected years, Representative Murtha had funneled over $200 million in taxpayer dollars into the airport, which has only seen 261,000 travelers since the start of the millennium.
With Essential Air Service discounts at Johnstown adding another $100-200 per passenger onto the federal spending, the tax dollars per passenger at the airport since 2000 is currently between $866-$966. With spending values like those, it's not hard to understand why people have nicknamed the Johnstown-Cambria County Airport the "Airport for Nobody."
Although Ian McMurtry was never originally an avgeek, he did enjoy watching US Airways aircraft across western Pennsylvania in the early 2000s. He lived along the Pennsylvania Railroad and took a liking to trains but a change of scenery in the mid-2000s saw him shift more of an interest into aviation. He would eventually express this passion by taking flying lessons in mid-Missouri and joining AirlineGeeks in 2013. Now living in Wichita, Kansas, Ian is in college majoring in aerospace engineering and minoring in business administration at Wichita State University.
Latest posts by Ian McMurtry (see all)