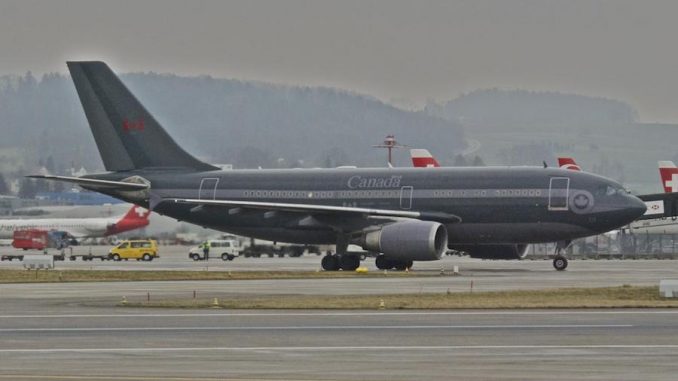 When the U.S. government announced the replacement of the VC-25 fleet, known as 'Air Force One' when the President is onboard, Canada did not want to be far behind. The Canadian government confirmed plans to replace its own, much more modest version of private air transport for the country's leader, CBC reported.
'Can Force One' is an Airbus A310-300, and one of five airplanes in the Royal Canadian Air Force's fleet of military transport aircraft that were originally bought by Wardair for commercial flight use in 1987 and then purchased by the Air Force in 1992.
At 31 years of age, the aircraft used to transport Canada's prime minister around the world almost made Justin Trudeau late to see the Taj Mahal last month after a mechanical issue during a refueling stop in Rome that delayed his flight to India. The problem involved a damaged sensor that had already been repaired at least once.
The refueling stop lasted almost three hours instead of the normal 90 minutes. It was the latest in a series of mechanical issues plaguing the airplane, including a flap issue in October 2016 that required the aircraft to return to Ottawa 30 minutes after take-off. Prime minister Trudeau had been en route to Belgium to sign the Canada Europe free trade deal and ended up being a day late.
In addition to the technical issues, the airplane itself is far less fuel-efficient than more modern alternatives. Also, its range is limited, sometimes making multiple refueling stops, exemplified by the Rome pit stop enroute to India. This makes travel for Canada's leaders less practical, less safe and more time-consuming. If this was not enough, the airplane is not up to par with modern communication technology.
When the aircraft last underwent a general maintenance and refresh in 2013, the ashtrays were finally removed from the seats and it got a new coat of paint. But it did not get with modern times in terms of technology and convenience for its passengers. The power supply for government staff and journalists traveling along comes in the form of extension cords and power bars strung along the cabin floor. There is no Wi-Fi and the prime minister's inflight communication is spotty and expensive. At least it has a bed and small sitting room for the prime minister and his entourage.
However, it appears that the Canadian government has recognized the situation cannot go on like this. The plane has an estimated retirement date of 2026, but given the problems with the Airbus jet, it may be replaced much sooner.
According to CBC, a senior official said the government is studying whether it's time to replace the aging fleet. "Are the planes getting old? Yes," she said. "Are we taking a look at renewing the fleet? Yes."
Speculations around what aircraft the new 'Can Force One' could be are mounting. Given that the American government, supported by Boeing, continues to wage a trade war against Canada's own aircraft maker, Bombardier, the chances to see Canada match America's 'Air Force One' are slim. Nor would the Canadian Government be prepared to pay almost $2 billion for a 747.
Adrian joined AirlineGeeks as a writer in 2017. He had always wanted to become a pilot and while he chose a different career path for now, his interest in aviation continues to grow every day. Adrian was fortunate to travel extensively for business in the past five years. As a result, he focuses his research and writing on passenger services and experiences on a variety of airlines. His favorite aircraft include the Airbus A350, A380, and the Embraer passenger jets.
Latest posts by Adrian Vannahme (see all)