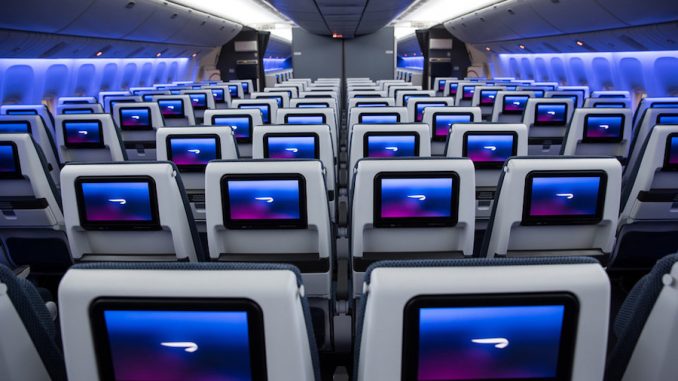 British Airways has announced a cabin refresh for their long haul fleet based at London Gatwick. The new upgrades are for passengers in the World Traveller and World Traveller Plus cabins on the airline's Boeing 777s based at London Gatwick. The cabin updates on the 10 plane fleet is expected to be complete by summer 2019. Passengers will see the biggest improvement to the entertainment offerings on board. The biggest difference in the cabin however will be the move from nine abreast in economy to 10 abreast.
The most prominent feature passengers will notice is the new Panasonic entertainment system. Passengers in the World Traveller Plus will see their inflight entertainment (IFE) screen increase from the current six inches to 12 inches, while passengers in World Traveller will see an increase from six to 10 inches. The new screens will also be touch screen, offer programing in high definition, and feature a USB socket for charging devices.
The new system will also allow four times the amount of programming than the current system.
The upgrade is not limited to the entertainment system. Passengers in World Traveller Plus will see new footrests, as well as a six-way headrest.
The new World Traveller Plus seats will also feature a cocktail table in front of the passengers, while the tray table has been moved into the seat arm. The cabin will also double in size in both the three class and four class aircraft.
The World Traveller cabin will also be upgraded. The seats will have the same six-way headrest as the World Traveller Plus cabin. The middle armrest between seats will be movable, providing more accommodation for families travelling. Both cabins will feature new lighting to help travellers fight jet-lag and arrive feeling fresher.
The new cabin will first be available to travellers flying to Punta Cana, Cancun, and Kingston. It will gradually be rolled out to all 22 long-haul routes from Gatwick operated. New improvements for all passengers on British Airways flights will include new catering options and inflight wifi on both short-haul and long-haul flights. The airline has also been quickly growing at Gatwick, increasing destinations by 50 percent since 2012.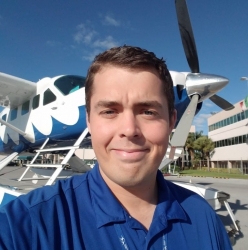 Daniel has always had aviation in his life; from moving to the United States when he was two, to family vacations across the U.S., and back to his native England. He currently resides in South Florida and attends Nova Southeastern University, studying Human Factors in Aviation. Daniel has his Commercial Certificate for both land and sea, and hopes to one day join the major airlines.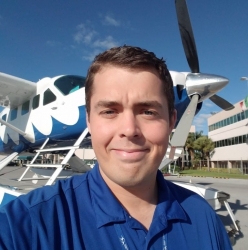 Latest posts by Daniel Morley (see all)