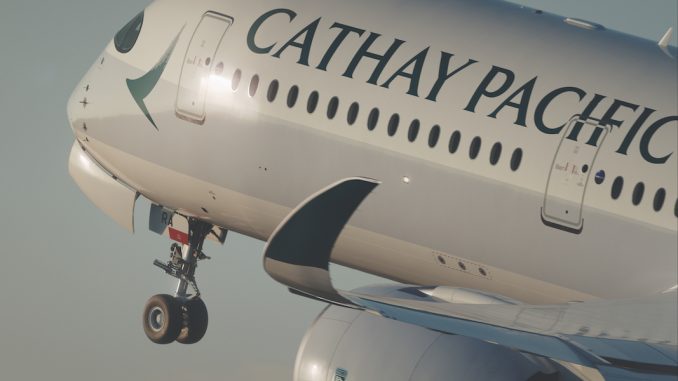 Hong Kong-based Cathay Pacific announced a loss of $1.45 billion HKD ($185 million USD), nearly triple the $525 million HKD ($66.9 million USD) loss reported a year ago. This loss signifies the airline's first back-to-back loss in 71 years, mainly due to intense competition and overcapacity in the region. Cathay has struggled over the past few years, despite rising revenue and cargo demand.
In order to ease the operating costs, the airline has instituted a three-year restructuring exercise which will supposedly bring the airline almost $4 billion HKD ($510.2 million USD) in savings. The restructuring also involves the termination of 600 jobs.
The airline reports that it has seen some gains from its restructuring, mainly due to its cargo business and improved premium passenger demand.
"We took decisive action through our transformation programme to make our businesses leaner and more agile," said Cathay Pacific Chairman John Slosar.
"Our focus in 2017 was on building the right foundations, structure and strategy to improve revenue and to better contain costs. Evidence of progress became apparent in the second half of the year."
Aside from increased competition and the influx of low-cost carriers, there are also a number of one-off fines that also affected the airline's earnings, mainly a $498 million HKD ($63.5 million USD) fine from the European Commission and a $224 million HKD ($28.5 million USD) fine for redundancy payments.
Additionally, rising fuel costs, which rose 11.3%, caused a significant jump in the airline's operating expenses. Despite the announced losses, the airline remains ambitious as they continue to take delivery of new aircraft and introduce new destinations, seven of which will be announced in 2018.
An "AvGeek" for most of his life, Akhil has always been drawn to aviation. If there is an opportunity to read about an airline, fly on a new airplane, or talk to anyone about aviation, he is on it. Akhil has been on over 20 different kinds of aircraft, his favorite being the MD-80. Additionally, he has visited 5 continents and plans to knock out the remaining two (Africa and Antarctica) soon. Based in Dallas, Akhil graduated from Texas A&M University with a degree in Management Information Systems and currently works in consulting. His dream is to become an airline executive.
Latest posts by Akhil Dewan (see all)