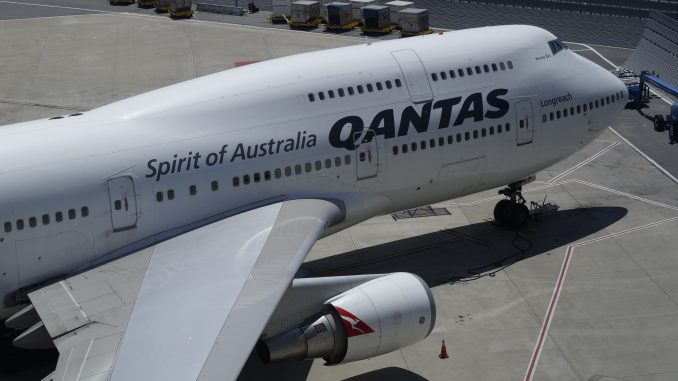 Australian flag-carrier Qantas has announced its plans to relocate from Terminal 7 to Terminal 8 at New York's John F. Kennedy International Airport. The move, which will take place on April 3, 2018, will allow for easier connections, more space and a larger variety of food and retail options.
Qantas will share Terminal 8 with its codeshare partner American Airlines, giving select Qantas passengers access to American's Admirals Club and the new Flagship Lounge. The Sydney-based carrier currently shares T7 with partner British Airways, which owns the terminal, and Iberia.
Business Class and Qantas Platinum One, Platinum, and Gold Frequent Flyer status will have access to American's lounges. Qantas Club members also have access to the lounges. Currently, eligible Qantas currently have access to the British Airways Galleries Lounge, which is a shared lounge used by premium cabin passengers for most of the airlines that use Terminal 7.
Qantas' Senior Executive Vice President – The Americas, Stephen Thompson, said the terminal change is an exciting time for Qantas' US operation. "Our relocation to Terminal 8 will provide our customers with expanded connection options, better scheduling and now the convenience of a shared location with our partner, American," said Thompson.

"New York is an iconic city and a popular destination on the Qantas network," Thompson added. "We're proud to be making these investments for our customers traveling to and from the city."
Qantas currently operates one flight to New York's JFK Airport, QF11 to JFK from Los Angeles and QF12 back to Los Angeles, with onward connections to Australia. The flight is not a fifth freedom flight and isn't available for booking unless accompanied by an Australian leg. However, the flight is the last remaining scheduled domestic passenger flight for a 747 aircraft in the United States.

Matthew Garcia became interested in aviation at the age of 12 when he installed Microsoft Flight Simulator X on his computer. He was instantly "bitten by the bug" and has been in love with aviation ever since. Matthew took his first introductory flight in 2013 and began normal flight training in February of 2015. Over the years, Matthew's love and knowledge for aviation has grown tremendously, mainly due to FSX. Garcia flies highly advanced aircraft in a professional manner on a highly complex virtual air traffic network simulating real world flying. In 2016 Matthew achieved his private pilot certificate from the FAA. Now he studies journalism at the University of Nebraska at Omaha.

Latest posts by Matthew Garcia (see all)