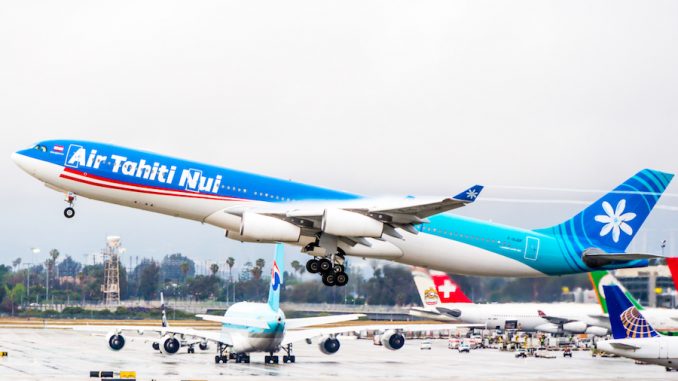 Air Tahiti Nui announced its initial operation plans for the newest member of its fleet, the Boeing 787-9, dubbed the 'Tahitian Dreamliner." The airline has had two of the type on order since 2015, along with a lease for two additional airframes from Air Lease Corporation.
The airline will start operations with the type in Nov. 2018 with flights between Tahiti and Auckland. These flights will mark the start of the airline phasing out its current long-haul aircraft of choice, the Airbus A340-300. Current plans are for the airline's fleet of five A340s to be completely phased out by Sep. 2019, coinciding with the airline's 20th anniversary.
The A340-300 is currently used on the airline's long-haul routes from Papeete to Los Angeles, Paris, Auckland and Tokyo-Narita. According to Routes Online, operations of the 787-9 will start on Nov. 7, operating three-times weekly to New Zealand's largest city. On the Papeete-Auckland route, the airline's Dreamliner will complement Air New Zealand's current Dreamliner service on the route, as both airlines share a codeshare agreement for the route.
After launching the Auckland Dreamliner flights, flights to and from Los Angeles, TN 101 and TN 102, will also operate three-times weekly on the Dreamliner. Finally, Tahiti to Tokyo will first see consistent Dreamliner service starting in Feb.  2019, also on a three-times weekly basis.
The Pacific island-nation carrier's newest aircraft will be laid out in a three-class configuration consisting of a total of 294 seats. There will be 232 seats in Moana Economy, 32 seats in Moana Premium and 30 seats in Poerava Business Class.
Economy will feature a 3-3-3 layout with a seat pitch of 31 inches, while the premium cabin will feature a 2-3-2 layout with 38 inches of seat pitch. Business class will see the introduction of a new product, a fully lie-flat seat with 60 inches of seat pitch, converting into a full-flat 78-inch bed. The business class cabin will feature a 2-2-2 layout.
New seats are not the only place the passengers will see upgrades to the experience, as the in-flight entertainment systems (IFE) will also see a revamp. The aircraft will be equipped with Panasonic's eX3 system, allowing for each seat to have Audio Video on Demand capabilities. Each business class seat will feature a 16-inch screen, with premium economy seeing 13-inch screens and economy cabin featuring12-inch screen, a size that is currently only seen in the current business class cabins.
Air Tahiti Nui is based in Papeete, Tahiti and has been operating since 1998, two years after its founding in October 1996. The airline was founded on the idea of a development of tourism into the country. The government of French Polynesia holds a major stake in the airline, which flies to five destinations using its current fleet.
Jace has been working at AirlineGeeks for nearly three years. Born in Seattle, Boeing and aviation quickly took over his life and he never stopped looking up. Jace enjoys plane spotting and taking trips just so he can fly. He is currently studying at Embry-Riddle Aeronautical University while earning his Bachelors of Science in Air Traffic Management.
Latest posts by Jace Moseley (see all)