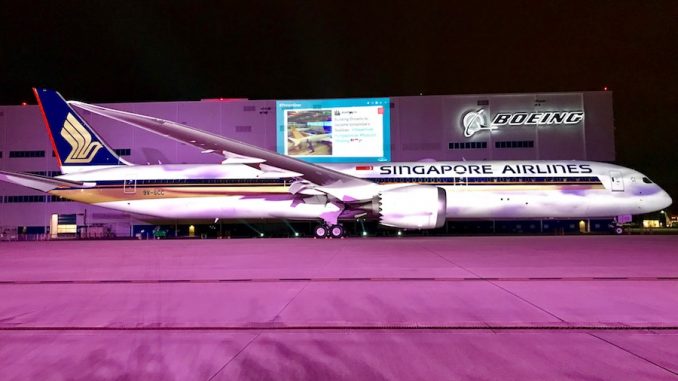 About a year after the 787-10's first flight, Boeing is delivering the latest member of the 787 family to Singapore Airlines. The aircraft is a game-changer for not only Singapore's fleet but also a stride forward for Boeing South Carolina.
At a dazzling event near Boeing's South Carolina delivery center, one of the first 787-10 aircraft for Singapore Airlines was illuminated with a light show. Boeing employees and Singapore executives were also on hand.
Singapore's 787-10 Dreamliner is powered by Rolls Royce Trent 1000 powerplants. Inside, the jet can seat approximately 330 passengers in a two-class configuration. According to the airline, the aircraft's business class cabin, even on regional routes, will rival some long-haul products.
With this delivery, Singapore Airlines, along with its subsidiary Scoot, will be the first carrier to operate all three Dreamliner variants. Though less than its counterparts, the 787-10's range of 6,430 nautical miles will allow 80 percent of the world's population to be reachable from Singapore.
"It is an honour for us to be the world's first airline to take delivery of this amazing aircraft. The 787-10 is indeed a magnificent piece of engineering and truly a work of art. It will be an important element in our overall growth strategy, enabling us to expand our network and strengthen our operations," said Mr Goh at the delivery event.
The 787-10 variant has 211 orders and commitments from 11 customers. Singapore Airlines has 49 aircraft on order and plans to initially operate them on routes between Singapore, Osaka, and Perth.
A dazzling light show for the first 787-10 delivery to @SingaporeAir #Dreamliner https://t.co/SlofWnuE7K

— AirlineGeeks.com (@AirlineGeeks) March 26, 2018
The first delivery of the 787-10 is a milestone for the Boeing South Carolina community as the variant will be exclusively manufactured at the low-country facility. The South Carolina plant employs about 7,000 workers, roughly 3,000 of which attended the delivery celebration on Sunday evening.
At 223 feet in length, the 787-10 Dreamliner is 14 feet longer than the 777-200 and can seat approximately 13 more passengers in a two-class configuration.
This story was updated on March 26 at 4:43 p.m. ET.
Ryan founded AirlineGeeks.com back in February 2013 (actually, it was called Aviation Official, but we've changed a bit since then). From being on the yoke of a Piper Navajo, to visiting about Delta's operations center in Atlanta, Ryan has done it all. in 2016, along with American Airlines, Ryan masterminded AAviationDay at more than 10 locations around the world. The smell of jet fumes in the morning along with the countless number of passionate airline employees keep him enthralled in the industry, always seeking more. You can find him helping out travelers at Reagan National Airport near Washington, D.C. when he's not doing something for AirlineGeeks.
Latest posts by Ryan Ewing (see all)