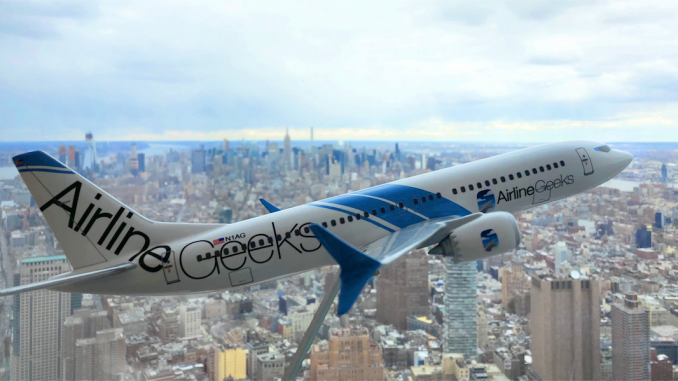 FOR IMMEDIATE RELEASE
Washington, D.C, April 1, 2018—AirlineGeeks announced today that the website will purchase one Boeing 737 MAX 8 aircraft, valued at $117 Million at list price.
AirlineGeeks will be the first news website to purchase and use a Boeing 737 MAX aircraft. This purchase is the first of its kind in the industry, launching AirlineGeeks into a position unlike any other airline news organization. The Boeing 737 MAX family brings the latest technology to the most popular jet aircraft of all time
The sole aircraft will be used to fly team members to media events around the world. This aircraft will allow AirlineGeeks to not only compete with other news sites, but also set a precedent for others to follow along and attend events on their own time.
"This is a monumental day for the AirlineGeeks team," said Ryan Ewing, Founder and President of AirlineGeeks. "With the purchase of Boeing's 737 MAX 8, we will be able to cover stories and connect readers like never before."
The 737 MAX aircraft will be configured with six business class seats in a 1-1 configuration and ten EconomyExtended® seats in a 2-2 configuration, eliminating a middle seat. AirlineGeeks will also offer three private beds in the aft section of the aircraft for its team members and special guests.
AirlineGeeks expects to take delivery of its Boeing 737 MAX 8 aircraft sometime next year.
AirlineGeeks.com began in February, 2013 as a one-man (er… teenager, rather) show. Since then, we've grown to have 20 active team members, and yes, we're still growing. Some of us are looking to work in the aviation industry as professionals when we grow older. Some of us are still trying to decide what we want to do. That's okay though, because we're all here for the same reason: we love the airlines. We're the youngest team of airline industry journalists out there.
Latest posts by AirlineGeeks.com Staff (see all)