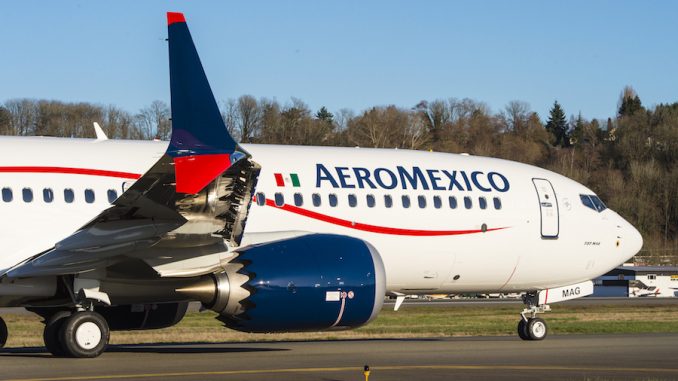 Boeing announced that it is expanding its commercial service capabilities in Latin America with Brazil's GOL Linhas Aereas S.A. and Mexico's Aeromexico as of April 4. Both airlines utilize extensive Boeing fleets, complete with some of the smallest and largest Boeing aircraft ranging from Boeing 737s to Boeing 787 Dreamliners.
GOL Linhas Aereas S.A., Brazil's largest domestic carrier, has decided to use Airplane Health Management, or AHM, to service its 737 MAX fleet. AHM is a Boeing AnaltyX solution that allows predictive maintenance with the aim to decrease costs and increase efficiency. With AHM, GOL will be able to access a greater understanding of systems, designs and fleet-wide operational maintenance. The carrier takes delivery of its first new 737 MAX 8, Boeing's newest single-aisle offering, this year.
Aeromexico has decided to partake in Boeing's Landing Gear Exchange and Overhaul Program, which enables operators to obtain an overhauled and recertified landing gear from Boeing's exchange pool. 17 of the airline's aircraft from its 787 fleet will be included in the program. The airplanes will also have access to AOG, or aircraft-on-ground, which provides on-site support from Boeing to assist in recovering a grounded aircraft.
Additionally, the airline will use AerData's Engine Fleet Planning and Costing tool for its Boeing fleet, which aids customers in optimizing engine maintenance planning, engine spares availability and budgeting, according to Boeing.
"Airline efficiencies are changing the game and today's orders demonstrate how Latin American carriers are finding ways to be nimble and flexible," said Gardiner Porter, regional managing director for the Americas with Boeing Global Services. "Our state-of-the-art analytics tools and exchange programs are all about keeping customer fleets operating and ready for use in an age of rapid technological advancement."
According to Boeing, Latin America's commercial aviation market is growing at a rate of 5 percent per year. Boeing expects that by 2036, the region's aviation support and services market will be valued at $530 billion. Recently, it delivered its first Boeing 737 MAX 8s to Latin American airlines Aerolineas Argentinas and Aeromexico.
Ashley is currently a senior in high school and plans on pursuing a career in aviation or journalism. Her favorite airplanes include the Boeing 777, 737MAX, and Airbus A350. She enjoys taking flights on various airlines to different airports and planespotting at her local airports.
Latest posts by Ashley Magoon (see all)