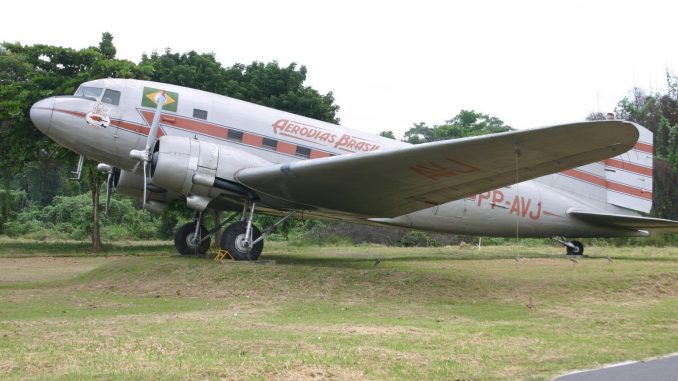 In August 1942, Brazilian carrier Aerovias Brasil was formed as a product of TACA Airlines', now Avianca El Salvador, mission to form one national airline per Latin American country.
During the first years of its existence, the airline operated domestic passenger flights within Brazil, as well as non-regular cargo operations, to the United States from Brazil during World War 2. Eventually, in 1946, after the war ended, the airline was allowed to start scheduled passenger flights to the U.S. as well.
Headquartered in Sao Paulo, Aerovias Brasil had an extensive domestic route network, including service to Belem, Aracaju, Anapolis, Petrolina, Parnaiba, Belo Horizonte, Sao Luis, Rio de Janeiro, Teresina, Fortaleza, Maceio, Carolina, Salvador de Bahia and Uberlandia, among others.
In addition to the sprawling domestic network, the airline also operated flights to five international destinations, consisting of Caracas, Venezuela; Port of Spain, Trinidad and Tobago; Santa Domingo, Dominican Republic; Paramaribo, Suriname; and Miami, United States.
During its 19 year history, Aerovias Brasil operated several various aircraft types, including the Fairchild 71A, Lockheed 12A, Lockheed 14H2, Curtiss C46 Commando, Douglas DC-2, DC-3, and DC-4. It acquired the DC-4 to start flights to Buenos Aires, Argentina and Montevideo, Uruguay.
During the 1950s, the airline bought up several smaller companies, including Aeronorte and Transportes Aereos Nacional, to serve more regions and build up its presence in Brazil. It seemed that the airline was going to be a success.
In 1961, Varig purchased a stake in Aerovias Brasil, and shortly after, the airline and its sister companies were merged into Varig. The acquisition by Varig marked the end of the successful Brazilian carrier, but TACA's ultimate goal of an airline in every Latin American country continues. Today, TACA, now Avianca, has a national airline in 7 Latin American countries.
Ashley is currently a senior in high school and plans on pursuing a career in aviation or journalism. Her favorite airplanes include the Boeing 777, 737MAX, and Airbus A350. She enjoys taking flights on various airlines to different airports and planespotting at her local airports.
Latest posts by Ashley Magoon (see all)