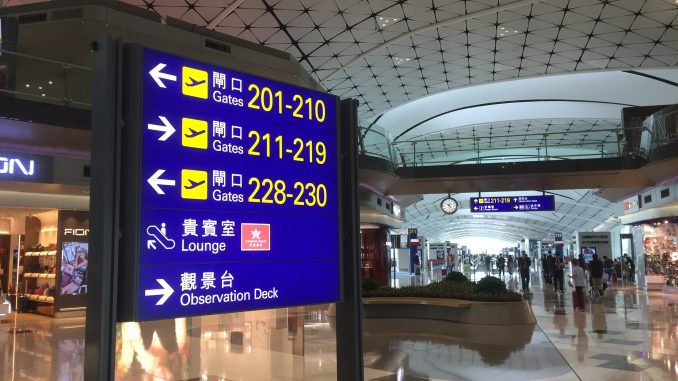 One of the special perks of flying Hong Kong Airlines from Hong Kong is getting to skip the hassle and crowds at the main airport terminal once you clear security and passport control. Taking the underground 'people mover' train to the last stop, you arrive in a much quieter space where the ends of the terminal are actually visible when you reach the top of the escalators. This is the Midfield Concourse, home to a majority of Hong Kong Airlines' flights and its newest VIP lounge, Club Autus.
The brand new business class lounge just opened a few months ago, just in time for its maiden long-haul flights to North America. The lounge hostesses were welcoming and friendly and very excited to point out the highlights of Club Autus for first-time visitors like me. "Autus" means "growth" in Latin, and Hong Kong Airlines wants the lounge to reflect the new level of luxury, tranquility, and Hong Kong's spirit of growth and exploration.
For each section of this lounge, there are several different seating zones highlighting different high-end fixtures and design elements inspired by nature. Each zone features its own unique accommodations and attributes and is dressed in a variety of neutral hues that create a visually appealing and home-like environment for travelers. There is one zone dedicated to western European style, with attractive lamp shades, a family fun zone complete with cute pillows, and a scenery zone with great views of the ramp.
Each zone features dining tables, several comfy armchairs, communal sofas, and bar seating suitable for either solo travelers, couples, or groups. Some spaces have more personal space and privacy than others, and one area near the edge of the lounge offers a great view of the Midfield Concourse. Club Autus also has its own business center complete with computers and printing facilities.
There is a lot of natural lighting in this lounge coming from the high floor-to-ceiling windows, but there are also some more private, dim areas as well. Also to keep the lounge nice and peaceful, boarding calls aren't made here. Instead, there are several display monitors positioned throughout the lounge.
I spent most of my time at the lounge's panoramic scenery area, tasting my several selections from the buffet counter and getting close-up views of the Hong Kong Airlines and Hong Kong Express aircraft taxiing by. This area offers stunning views of the ramp area and the surrounding green mountains of Lantau Island. Also, if you look carefully at the distance, you can spot the grand Hong Kong-Zhuhai-Macau mega-bridge that's opening later this year.
If you are here to snooze, Club Autus is complete with private shower suites, and even has several semi-private sleeping stalls hidden in a darker area near the back of the lounge. Each stall includes a day bed and nightstand. This part of the lounge has very dim lights and is super quiet, so definitely watch out if you plan on falling into a deep slumber. Since it's also a quiet zone — meaning no phone alarms are allowed — I would recommend approaching one of the friendly lounge hostesses and asking them to wake you up before boarding time.
Club Autus is also a great place to enjoy a bite, featuring a delicious variety of locally-inspired hot and cold dishes and a salad bar. If you come after 11 a.m., the lounge presents a made-to-order noodle bar menu featuring a delicious selection of Asian noodles like Mushroom Soup with Spinach Noodles, Laksa and Rice Noodles, Miso Soup with Udon, Kimchi Noodles, and Wonton Noodles.
To top it off, the kitchen makes a favorite local street snack, Hong Kong Egg Puffs. Unfortunately, I happened to miss out on this delectable selection because my flight back to Los Angeles was departing around the time the menu came out.
Lastly stopping by the refreshment area, you can pick up a glass of fresh juice, get an espresso, or try out some of the different specialty cocktails made by one of the lounge bartenders. You definitely do not want to miss experiencing the signature drink of Hong Kong Airlines, the Autus Delight.
This drink is pretty special as it resembles Hong Kong's Bauhinia flower and is made with rose syrup, grapefruit juice, and a sprinkling of floral flakes. The Autus Delight can also be requested in non-alcoholic form as well.
Hong Kong International Airport is no stranger to luxurious airline lounges, but if you have the chance to fly Hong Kong Airlines you definitely don't want to miss Club Autus. If you don't have a business class ticket or any sort of elite status, you can purchase a day pass for just 350 Hong Kong Dollars ($45). Club Autus offers the subtle delights of Asian comfort and hospitality, attractive amenities, lots of spread-out seating, and some of the tastiest food from Hong Kong. It's definitely a unique tribute to the diverse city the airline calls home.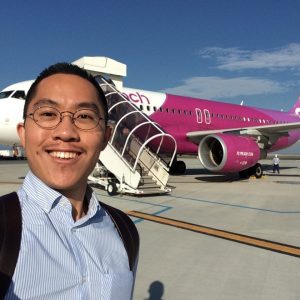 Most people hate long flights or overnight layovers, but Albert loves them. The airport and flying parts of traveling are the biggest highlights of any trip for him – as this avgeek always gets a thrill from sampling different airline cabin products and checking out regional developments happening at local U.S. airports. He's flown on almost every major carrier in the U.S. and Asia Pacific, and he hopes to try out the new A350s soon.

Albert recently completed his undergraduate studies in Business Accounting at USC in Los Angeles and he is currently recruiting for a corporate analyst position at one of the U.S. legacy carriers. During his college years, he interned at LAX for Los Angeles World Airports working behind-the-scenes (and on the ramp) in public relations and accounting. Outside of writing for AirlineGeeks, he enjoys trekking the Hollywood hills, visiting new hotspots throughout SoCal, and doing the occasional weekender on Spirit Airlines.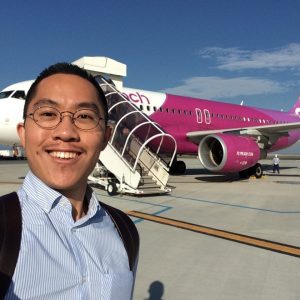 Latest posts by Albert Kuan (see all)