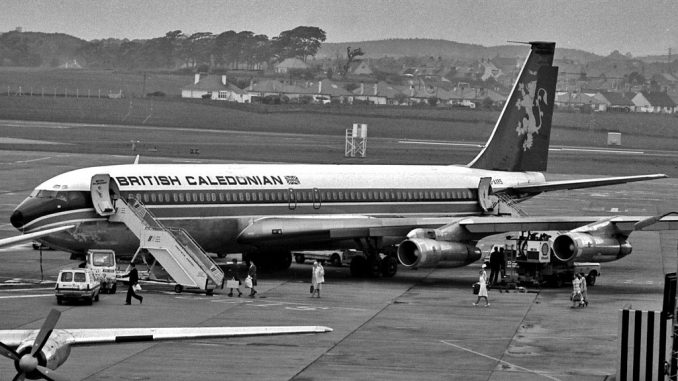 Many airlines today only offer a business class and an economy class. Some have started to offer a version of a premium economy to passengers. Fewer and fewer airlines still offer a true first class.
There were, however, times when there was only a first class and economy class on board — and no business class. It was only in 1978 that a business class concept was first introduced to scheduled air services. You may think that it was one of the great airlines like PanAm, Air France or Lufthansa that came up with the idea. It was, however, a now unbeknownst and defunct airline: British Caledonian.
British Caledonian had been founded in Scotland in 1970 as Caledonian Airways and became British Caledonian after taking over British United Airways the same year. The airline became Britain's largest privately-owned airline — British Airways and other were state-owned — and moved its hub to London Gatwick Airport.
After weathering the troubles of the 1973 oil crisis, it faced increasing competition on U.S. to UK routes. Prices were dropping fast and airlines were increasingly unable to fly with enough capacity to break even, especially in the off-season. British Caledonian reacted to the reduction in profit margins by introducing the Executive Cabin – the world's first business class.
The publication 'Flight International' noted in its April 1978 edition that British Caledonian had introduced a three-class-service. A Boeing 707 would now fly the Gatwick to Houston route with "24 first class seats, an Executive Cabin with 54 seats and 48 Thrift Class seats." Thrift was the airline's economy class.
Soon, British Caledonian introduced the new travel class on its other routes, advertising "separate check-in counters, more leg room in the cabin and a greater variety of food and drinks during your flight."
Other airlines recognized the advantages of the new class and followed suit the same year. Air France was the first (continental) European airline to introduce a business class, PanAm copied the product from the other side of the Atlantic Ocean. According to Flight International, Air France charged about 14 percent more for its business class service than for its economy class. British Caledonian had clearly pioneered a new travel class.
British Caledonian continued to operate successfully until 1986 when U.S. to Europe air travel dropped sharply as a result of terrorist attacks in Germany and the Chernobyl disaster. In addition, political turmoil in Nigeria suddenly made its lucrative London to Lagos route less profitable. While the airline had still posted a profit of GBP 21 million in 1985, its loss in 1986 amounted to almost the same amount.
British Caledonian never recovered from this disastrous year and was taken over by British Airways in 1988, exactly ten years after having invented the Executive Cabin. The business class idea, though, survives to this day.
Adrian joined AirlineGeeks as a writer in 2017. He had always wanted to become a pilot and while he chose a different career path for now, his interest in aviation continues to grow every day. Adrian was fortunate to travel extensively for business in the past five years. As a result, he focuses his research and writing on passenger services and experiences on a variety of airlines. His favorite aircraft include the Airbus A350, A380, and the Embraer passenger jets.
Latest posts by Adrian Vannahme (see all)