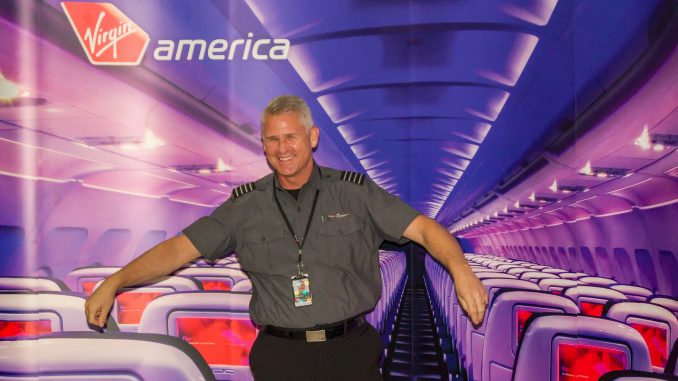 At midnight on Wednesday, April 25, 2018, the airline business lost another brand that helped to change and revolutionize the industry. On this day, the Virgin America brand was retired by Alaska Airlines, who had purchased Virgin America in 2016.
Because of Virgin America's innovative ideas, the airline had a cult-like following amongst customers and employees alike. When Virgin America was founded by Sir Richard Branson on Jan. 1, 2004, who set out to create a new airline experience, one that differentiates itself on passenger amenities, and a strong company culture.
Unlike the status quo of other airlines at the time, Virgin America created a new standard for the industry by pioneering passenger and customer service standards. Virgin America was the first airline to interact with customers, and provide support through social media.
The airline's advertising campaigns used many puns and were daring in their choice of words. Virgin Red, the airline's premier entertainment system, allowed passengers to order food for purchase on demand from their seatback screen, at a time when most airlines have removed all meals from economy on domestic flights with no options for onboard purchases of substantial food.
Virgin Red also allowed passengers to chat via text in a public chat room with other passengers on the flight. Virgin America also enhanced the premium cabin experience with their signature large, comfortable, white recliner seats, forcing the legacy carriers to revisit their premium cabin products. In fact, some argue that Virgin America's first class product was the disruptive force in the industry that led to the premium transcontinental business class services that are offered today.
Staying true to their roots, Virgin America made a musical safety video which became an instant hit among employees and fans of the airline.
When the end of the brand was announced, three passionate members of the popular web forum FlyerTalk found that the final Virgin America flight bookable by the public would be VX1948, departing San Francisco at 9:32 p.m., and landing in Los Angeles at 11:01 p.m. on Tuesday, April 24. These three members decided to create a fan send-off event for their favorite airline, because Alaska Airlines did not show any indication that they would have an event for this moment in aviation history.
As they planned this event, the organizers met many influential people at Virgin America who shared their passion and helped make their idea a reality. The organizers also sought and received the support of Alaska Airlines, who had graciously assisted the planning when they saw how many passionate people were booking tickets on the final flight in order to be a part of the final send-off. A thread was posted on the CommunityBuzz forum on FlyerTalk announcing the event, and the plane was quickly filled by FlyerTalkers eager to participate in a historical milestone.
When I saw the thread on FlyerTalk, I immediately booked a ticket on the flight thinking that I could always cancel it without penalty within 24 hours should I be unable to take this trip. I looked at flights to San Francisco, and from Los Angeles, and decided that I was going to go on this trip and be a part of history. As an avid aviation enthusiast, I wanted to document the event as much as possible, both for my own keepsake, and to share the experience with others.
I contacted one of the organizers requesting behind-the-scenes access so that I could film the event. I was invited to tag along, and I was treated to an experience that I did not expect and met many people along the way.
When I arrived at San Francisco International Airport (SFO), I met the organizers, Nate, who was the main organizer on FlyerTalk, Brendan, the designer of the swag given out at the event, and Carolyn, a frequent flier who works at the San Francisco airport. I volunteered to help with anything that they may need help with, as they graciously allowed me to tag along.
We met various Virgin America crewmembers who invited us to the Virgin Village, which houses the Virgin America crew lounge as well as various on-airport offices. This is where Virgin America's Skytrax awards were displayed. Inside the Virgin Village, we organized the supplies and swag that were to be handed out at the event and met many crew members who were sad to see the end of a great airline. Notably, inside the Virgin Village, was a tub with the original Virgin America logo which had been signed by various crewmembers throughout the years.
After we left the Virgin Village, we were introduced to a Virgin America pilot, who brought us over to the Virgin America headquarters at 555 Airport Boulevard, where we toured the nearly deserted facility as most of the offices and operations have been moved to Seattle.
We wanted to see and possibly photograph as much as possible, as no one at Virgin America was certain what would happen to the exhibits, murals, and other Virgin America materials after that day. Because of contractual obligations related to the trademark ownership of the Virgin America brand, Alaska Airlines was to discontinue use of the brand on April 25, and had to destroy all Virgin branded material.
We returned to the airport to set up for the event. Carolyn was organizing a safety dance flash mob at gate 59, led by the internet famous dancing flight attendant Mikey Tongko-Burry. Passengers lined up for the FlyerTalk swag table. Alaska Airlines provided a Virgin America cabin backdrop for photo opportunities, as well as cupcakes for the passengers and crew.
After the flash mob, the gate agent made a heartfelt announcement, and boarding began shortly afterward at gate 51B. Near the end of boarding, the supervisor was given the honors of making the final boarding call for the flight, and for the airline.
Onboard the aircraft, the in-seat safety dance for passenger participation was rehearsed, and the flight was underway. During the presentation of the safety video, the entire ground crew for Virgin America stood outside and applauded, giving the final flight a proper send-off.
Upon landing in Los Angeles, the safety video was played again, for the last time. After a final farewell from the flight deck crew, the aircraft arrived at the gate, and at that moment, Virgin America had ceased operations as its own airline.
Alaska Airlines graciously allowed us into their lounge in Los Angeles, and extended the lounge's closing time to 12:15 a.m. so that we could toast to the final minutes of Virgin America's existence.
Before this trip, I had never flown with Virgin America or Alaska Airlines before. When I was on this trip, I feel like I've gained a friend, and subsequently lost that friend at the end of the evening. I was glad that I was able to be part of this chapter of aviation history, and had the most wonderful experience meeting people and hearing how they felt about losing not only an airline, but a home, a tight-knit community, and a brand identity.
Multiple Virgin America employees have said that it felt like they were grieving for a terminally ill friend for the past year and a half; I empathize with their grief. I hope that both the employees and customers have a smooth transition to the culture of Alaska Airlines, and I hope that Alaska Airlines welcomes us all with open arms as Virgin America did on Aug. 8, 2007.
Our guest authors are contributors to AirlineGeeks.com who like to write, but don't necessarily have the time to be a full-time writer. Want to be a guest writer? Contact
[email protected]
for more information.
Want to join the team full time? Look for more information at the very bottom of the website.
Latest posts by Guest Author (see all)