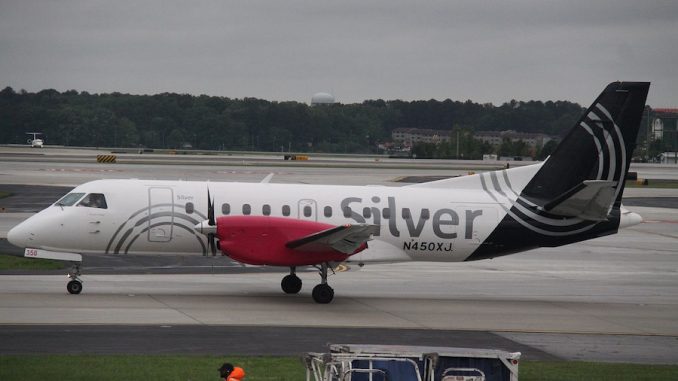 Fort Lauderdale-based Silver Airways has announced that its purchase of  Puerto Rico-based Seaborne Airlines is now complete. Seaborne, which operates eight 34-seat Saab 340 aircraft and two 15-seat de Havilland Twin Otter seaplanes, will serve as a stand-alone subsidiary until the two airlines merge in 2019.
Silver Airways, which currently operates a fleet of 20 Saab 340 aircraft and has orders for ATR's 72-600 model, will expand to a fleet size of 31 aircraft as a result of the merger. Together, both carriers will operate flights to multiple destinations across the Caribbean, including islands such as Dominica, Anguilla, St. Maarten, Tortola, The Bahamas, as well as cities across Florida, and Branson, Missouri.
While the terms of the deal have not yet been released, the merger will involve nearly 1,000 employees and the joint company will maintain its headquarters in Fort Lauderdale under the leadership of executives from both companies. Since both airlines operate Saab 340s, integration of the two fleets will be easier.
Current Silver Airways CEO, Steve Rossum, will remain as head of the merged airline, which also has codeshare partnerships with United, JetBlue, American, and Delta. The decision to acquire Seaborne comes after the Puerto Rican carrier announced plans to restructure under Chapter 11 bankruptcy protection due to financial impacts from hurricanes Harvey and Irma.
Together, the new carrier hopes to streamline the experience of passengers, which includes the new ATR 72-600 aircraft that Silver has purchased. Silver took delivery of its first ATR last week and plans to acquire 19 more. The new aircraft, which features premium leather seats, increased legroom and spacious overhead bins, will gradually replace the carrier's aging Saab 340 fleet.
An "AvGeek" for most of his life, Akhil has always been drawn to aviation. If there is an opportunity to read about an airline, fly on a new airplane, or talk to anyone about aviation, he is on it. Akhil has been on over 20 different kinds of aircraft, his favorite being the MD-80. Additionally, he has visited 5 continents and plans to knock out the remaining two (Africa and Antarctica) soon. Based in Dallas, Akhil graduated from Texas A&M University with a degree in Management Information Systems and currently works in consulting. His dream is to become an airline executive.
Latest posts by Akhil Dewan (see all)