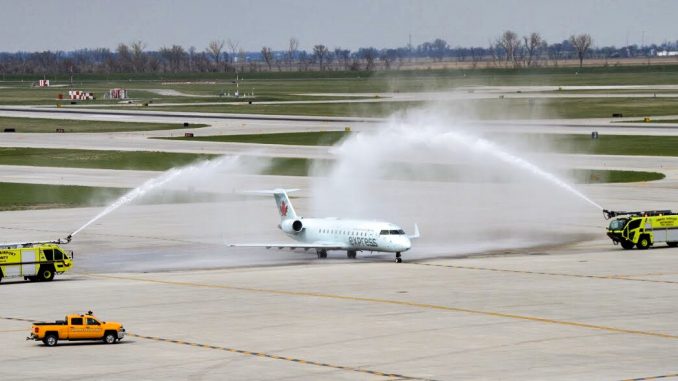 Omaha's Eppley Airfield received its first international service on Tuesday. 
Air Canada began non-stop service from Toronto to Omaha operating on a Bombardier CRJ200. The new service will run once daily, with increased service this weekend for the Berkshire Hathaway Stockholders meeting.
Flight 7410, operated by Air Georgian, departs Toronto at 2:20 p.m. local and arrives in Omaha at 3:50 p.m. local. Flight 7411 departs Omaha at 4:20 p.m. local and arrives back to Toronto at 7:40 p.m. local.
"The new flight will offer opportunities for Omaha business and leisure travelers not only to Toronto and other destinations in Canada but also throughout Air Canada's extensive and growing global network," Eppley's manager of airline affairs, Steve McCoy told the Omaha World-Herald last fall.
Air Canada chose a prime time to add service to Omaha as the Berkshire Hathaway event kicks off on Friday, May 4. The event, held for stockholders, brings a large amount of traffic to the city. To cover the large influx of travelers, Eppley Airfield will see a lot of mainline aircraft on routes usually serviced by regional carriers. In addition to mainline aircraft, a large amount private aircraft will stop by the field.
Omaha is one of many flights recently added to the Canadian carrier's network. Along with Omaha, Air Canada is adding flights to Buenos Aires, Pittsburgh, and San Francisco, as well as twenty-one other destinations.
Eppley has seen a large number of new routes in the recent months. Frontier has added seasonal non-stop service to Philadelphia, Austin, San Francisco and year-round service to Las Vegas. Southwest Airlines recently added seasonal service to Tampa and American Airlines will begin flights to Philadelphia May 4.
Matthew Garcia became interested in aviation at the age of 12 when he installed Microsoft Flight Simulator X on his computer. He was instantly "bitten by the bug" and has been in love with aviation ever since. Matthew took his first introductory flight in 2013 and began normal flight training in February of 2015. Over the years, Matthew's love and knowledge for aviation has grown tremendously, mainly due to FSX. Garcia flies highly advanced aircraft in a professional manner on a highly complex virtual air traffic network simulating real world flying. In 2016 Matthew achieved his private pilot certificate from the FAA. Now he studies journalism at the University of Nebraska at Omaha.
Latest posts by Matthew Garcia (see all)