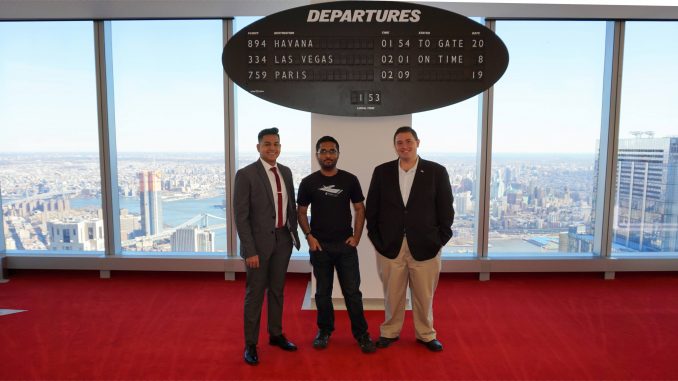 AirlineGeeks alongside hotel development and managing company, MCR Development, hosted an exclusive event for a select group of AirlineGeeks readers. Nestled near to the top of the Freedom Tower at One World Trade Center, is the TWA Lounge — a precursor to the TWA Hotel expected to open at the John F. Kennedy International Airport early next year.
Readers had the opportunity to be exposed to an impressive collection of TWA artifacts and experiences they would see in the soon-to-be-opened hotel.
Over the span of two separate days, 90 guests were invited to the lounge where they were greeted with an amazing view of New York City and hummed along to Frank Sinatra. Taking a step back into the 1960s, classic TWA symbols and jet age icons such as the sunken lounge and the iconic solari board grabbed the attention of many.
Typewriters with TWA headed paper, the wooden accents of the check-in desk, and long gone advertisements also showed the commitment to detail by the MCR team and past TWA employees. Fast forward to 2018, and readers were able to see a model and concept drawings of the new hotel.
About 15 miles east of the lounge, the actual hotel at the TWA Flight Center is under construction and AirlineGeeks recently had the chance to tour it and get a sneak preview of the rooms.
At the hotel, guests can expect to see some aspects of the lounge in the old terminal but at a larger scale. However, there are new upcoming additions that will surely standout such as the addition of a Lockheed Constellation as a restaurant and the opening of the memorable tunnels featured in Catch Me If You Can with access to JFK's Terminal 5.
Overall, the excitement continued to grow over the new hotel, and many are anxious to experience its retro flair. Us at AirlineGeeks would like to thank everyone who attended this exclusive event and especially MCR Development for making it possible.
AirlineGeeks.com began in February, 2013 as a one-man (er… teenager, rather) show. Since then, we've grown to have 20 active team members, and yes, we're still growing. Some of us are looking to work in the aviation industry as professionals when we grow older. Some of us are still trying to decide what we want to do. That's okay though, because we're all here for the same reason: we love the airlines. We're the youngest team of airline industry journalists out there.
Latest posts by AirlineGeeks.com Staff (see all)