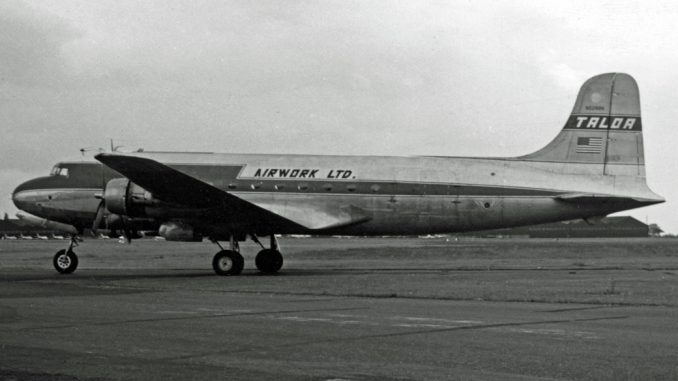 In 1928, Airwork Services Limited came to fruition in Middlesex, England with the formation of the Heston Aerodrome, a private airfield funded by the new company. Over the course of its 60-year history, the company undertook a variety of operations from flight training to commercial airline operations.
In 1935, the carrier relocated to Gatwick, which set the stage for a partnership with the Royal Air Force (RAF) for training the following year. Under contract to the Air Ministry, the company opened No. 11 RAF Elementary and Reserve Flying Training School, or ERFTS, in Perth, Scotland. Additional training facilities were consolidated within each other and renamed the Elementary Flying Training Schools.
The contract with the aviation branch of the British military would help the company three years later when Europe became engulfed in war, with Britain at the forefront. During World War 2, Airwork trained thousands of pilots and contributed to the Air Ministry's maintenance operations.
Following the conclusion of the war, Airwork relocated its headquarters to Langley in Buckinghamshire, purchased Perth Aerodrome and developed a flight training school to train commercial pilots. The company also began to expand into civil aviation, providing services such as contracting, maintenance, sale and purchase of aircraft, flight school management, charter flying, aircraft overhaul and insurance services.
Eventually, Airwork launched airline operations, beginning with charter flights out of Blackbushe Airport, in addition to tour flights and flights to Jeddah, Saudi Arabia for Muslims traveling during Hajj. In 1950, the company became the first air carrier to receive a contract to fly British troops. Unfortunately, several crashes negatively impacted the airline's reliability and safety record.
While increasing their operations as an air carrier, Airwork also contributed heavily to military training in the UK throughout the course of their history. In 1952, Airwork was selected by the Royal Navy to operate the Fleet Requirements Unit, or FRU, at Hurn Airport, a significant contract for the company.
Considering their varied operations, the company operated countless types of aircraft, a few of which were the Douglas DC-3, DC,4, DC-6, Airspeed Consul, Handley Page Hermes, and Vickers Viscount 800.
The company's storied history officially came to a close following a buyout in 1988 in which it joined with the Bricom Group. Though Airwork Services Limited no longer exists, the airline most definitely left its mark on history with its clash of military and civil aviation.
Ashley is currently a senior in high school and plans on pursuing a career in aviation or journalism. Her favorite airplanes include the Boeing 777, 737MAX, and Airbus A350. She enjoys taking flights on various airlines to different airports and planespotting at her local airports.
Latest posts by Ashley Magoon (see all)