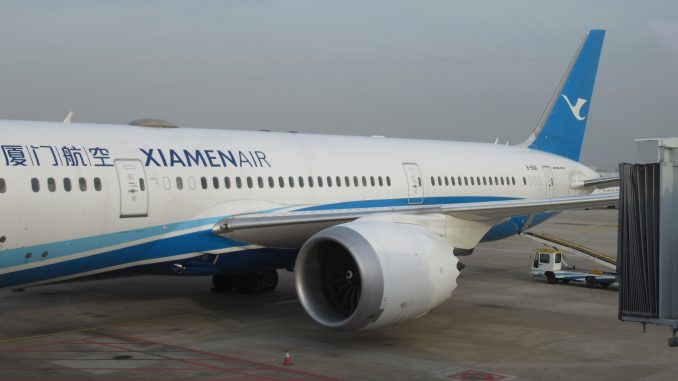 Chinese tourism is a big deal for Los Angeles. With more than 1.1 million visitors alone in 2017, China drives more than $1 billion dollars into Los Angeles's economy annually. With the country's increased wealth, coupled with the nation's 'one route, one airline' policy, there is now an increased demand for travel to far-flung destinations from China that airlines must work to accommodate.
Other airports across the U.S. are no different in accommodating tourists from China. Los Angeles International (LAX) alone welcomes more than 90 nonstop flights a week from China. It used to be just Beijing, Shanghai and Guangzhou, but a rising number of flights to LAX is bringing in a new wave of visitors to Los Angeles from smaller Chinese cities. In fact, LAX is already building a new international concourse to invite more foreign airlines.
As of 2018, there are several direct or non-stop from LAX to more than 10 cities across the vast region of China. Along with the U.S. legacy carriers flying to China, LAX is served by Air China, China Eastern Airlines, China Southern Airlines, Hainan Airlines, Sichuan Airlines and XiamenAir.
An Introduction to XiamenAir
One of the newest Chinese airlines serving LAX is XiamenAir (formerly branded as Xiamen Airlines). The Xiamen-based airline only recently began long-haul international service in 2015 (North American services started in 2016) and formerly served only domestic and regional routes from China. Along with the inter-continental expansion in 2015 came new uniforms, new international cabin products, a re-designed livery, updated cabin interiors, and being re-branded as XiamenAir.
The airline flies an all-Boeing fleet and currently serves the North American cities of Vancouver, Los Angeles, Seattle, and New York from Xiamen and Fuzhou in China's Fujian Province. All long-haul services on XiamenAir are flown by XiamenAir's new Boeing 787 Dreamliner.
The airline only started flying to Los Angeles in June 2016 and flies non-stop to Xiamen and Qingdao from Los Angeles. Flight MF830 leaves Los Angeles for Xiamen, and it alternates days with Flight MF858 which stops in Qingdao before continuing on to Xiamen. All XiamenAir flights from LAX depart just after midnight.
As part of the trip, I was able to see what it's like to fly in Economy Class on XiamenAir from LAX to Xiamen, China and share my experience. The airline certainly has the desire to become one of China's best airlines in the global market, but there are still several major aspects that the airline needs to improve upon to be on par with international airline standards.
An Inoperable Webpage and Check-In Issues
At first glance, it appears that XiamenAir has an attractive website. Unfortunately, this is only a facade. Their U.S. website's booking system doesn't actually work, and despite an option for check-in, you can't actually check-in for the flight online if you're flying
internationally. The booking system even wastes your time with a pointless bot verification game before sending you to an error page. After several trials playing an upside-down picture game and a falling object game, I just gave up.
Luckily, I was still able to log on and select the seats for my flight. The seat selection function is pretty weird as there are no row numbers or letters on the seat map, but you can still play around with it. Unfortunately, XiamenAir does charge for seat selection for a majority of its seats – starting from around 60 Chinese Yuan (or around $10). Only a limited number of free seats are released before the flight.
Despite the faulty website, they do have a 24-hour call center if you really can't figure out their strange website. XiamenAir does have a U.S. number, but all calls there get directed to their main 24-hour call service center in China.
Upon arriving at LAX, I ran into another hurdle with the check-in process: the airline didn't contract enough check-in agents that speak Chinese. This added a significant delay for all passengers trying to check-in. Given that I would be connecting to another flight in Xiamen, I was also informed that I would have to receive my onward boarding pass once I arrived and exited customs.
A Cramped Boarding Experience
XiamenAir operates out of the new Tom Bradley International Terminal at LAX, but unfortunately, the airline doesn't pay for gate space at the terminal, resulting in its flights departing from the remote stands in the middle of the tarmac. The bus gates for the remote stand require a lot more walking from the main Tom Bradley International Terminal followed by a crowded bus ride to reach the plane.
There are not that many seats on the bus, and every square inch of the bus was full. Business class travelers shouldn't expect any special treatment either, as they were in the same bus as everyone else. Our bus didn't leave until every space was used, and we all waited for nearly 20 minutes for just two more passengers to show up. There was one mother who showed up with a newborn baby in a stroller, and no ground staff bothered to help her on board.
Once the bus started moving, the bus driver turned off all the lights and left us in pitch black darkness for the entire ride.
Attentive In-flight Service and Meals
XiamenAir has, in my opinion, some of the best-trained flight attendants in China. The crew on board my flight were all incredibly poised and eager to help passengers during the boarding process. The flight attendants spoke English very well and were constantly doing rounds in the economy class cabin.
On long-haul flights such as this one, economy class passengers were provided with a small pillow, a wool blanket, in-flight socks, and a bottle of water.
The airline provided two meal services on this flight, offering both Chinese and western selection. For the dinner service, I tried the deep-fried tilapia with ginger onion sauce, and for the breakfast service, I tried the Chinese Ho-Fun Noodles. The deep-fried tilapia had flavor because it was fried, but otherwise, the meals were pretty mediocre. There were also warm sandwiches and packaged snacks available on request during the flight. The flight attendants also made a lovely display of the small bites and liquors on offer in their galley's minibar area.
XiamenAir does actually offer a printed menu for economy class passengers listing out the available meal selections, snacks, drinks, and alcoholic beverages available for passengers. As a note for passengers who have not previously traveled with a Chinese airline, drinks are normally served at room temperature, so you do have to specifically request for ice if you want your drink cold.
XiamenAir Economy Class and In-Flight Entertainment
XiamenAir has a pretty solid Economy Class product on their long-haul 787. The seats on the 787-9 are laid out in the standard 3-3-3 layout, and bright blue color of the seats match closely with the crew's uniform. Interestingly, the airline still uses cloth headrest covers like back in the 70s.
The seat pitch is adequate and the padding is pretty plush for economy class. Each seat offers a very generous amount of recline as well – although it does intrude quite heavily into the personal space of the person behind you. Each seat is also fitted with a personal touch screen monitor with a USB charging port. And like any 787, there are the popular electronic dimmed windows to play with by each row.
The entertainment selection was plentiful, but it still left a lot to be desired. Most of the available options were in Chinese, and the latest movies available in English did not really interest me. There were no English language TV shows surprisingly, so I ended up just catching up on some of the latest flicks from China. Unfortunately, the Chinese films don't have English subtitles, which is troublesome for any passengers that cannot speak Chinese.
XiamenAir offers complimentary Wi-Fi service on some of its flights, but you do have to register on
their website beforehand to get a code. Unfortunately, this process falls short of being seamless, as it requires you to input your seat number, the last six digits of your passport number, and finally the verification code you received when you registered. Despite trying multiple combinations, it just didn't work for me.
Despite the unappealing selection and the questionable Wi-Fi, I was still entertained by a pretty interesting travelogue program created by the airline itself, "Stewardess on the Way." This series features different XiamenAir flight attendants traveling to different destinations served by the airline. The poised flight attendants don their iconic blue uniforms and show you their favorite spots and how they enjoy the city during their layovers. The series is in Chinese, but it is very easy to follow along and obtain inspiration for your next getaway.
XiamenAir also has its own in-flight magazine, but the articles and information are all written in Chinese. There is no actual magazine for duty-free sales, but strangely, the flight attendants do keep a paper list of what they have available for sale onboard the flight.
Final Thoughts
I wasn't expecting much from this flight given how affordable the ticket was, but I can honestly say that there is a lot that can be improved about XiamenAir. The seats in Economy are very comfortable for an upright nap, but the entertainment options were pretty limited and uninteresting. Nevertheless, I still found ways to keep myself entertained with the airshow and watching the alluring stewardesses of XiamenAir's "Stewardess on the Way."
The U.S. version of their website definitely needs to be fixed, and the airline could improve its offering by finding a way to include online check-in for international flights similar to the majority of other airlines. With the airline leaving much to be desired, it has a long way to go if it hopes to compete with other airlines serving China.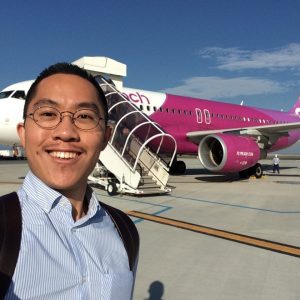 Most people hate long flights or overnight layovers, but Albert loves them. The airport and flying parts of traveling are the biggest highlights of any trip for him – as this avgeek always gets a thrill from sampling different airline cabin products and checking out regional developments happening at local U.S. airports. He's flown on almost every major carrier in the U.S. and Asia Pacific, and he hopes to try out the new A350s soon.

Albert recently completed his undergraduate studies in Business Accounting at USC in Los Angeles and he is currently recruiting for a corporate analyst position at one of the U.S. legacy carriers. During his college years, he interned at LAX for Los Angeles World Airports working behind-the-scenes (and on the ramp) in public relations and accounting. Outside of writing for AirlineGeeks, he enjoys trekking the Hollywood hills, visiting new hotspots throughout SoCal, and doing the occasional weekender on Spirit Airlines.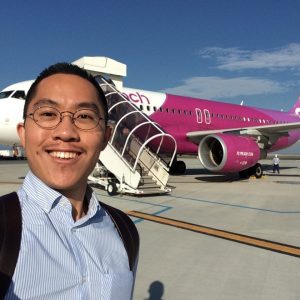 Latest posts by Albert Kuan (see all)