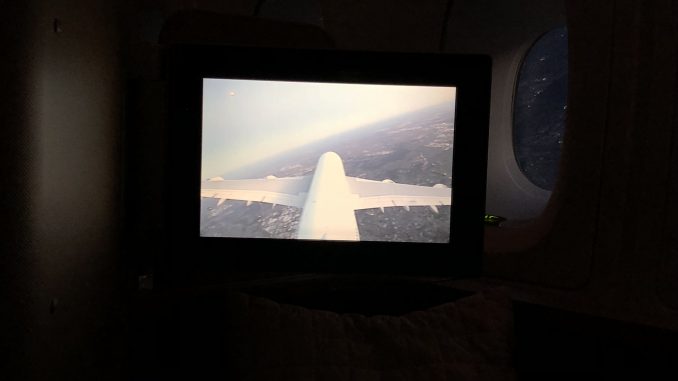 Qantas' international first class product on the A380 is a favorite among avid travelers and frequent fliers alike. From lavish bedding to restaurant-style dining, the product is a step above premium and is worth just about every point, mile or penny, especially on a long flight Down Under.
Indeed the onboard product, both hard and soft, is top-notch. It certainly rivals other first class products around the world, while putting many business class offerings to bed. Qantas' A380 first class wouldn't nearly be complete without the service. The airline's cabin crew was second-to-none, setting the tone for the entire flight.
A Discerning Disclaimer
Before I start this report, I want to note that I am not a travel critic, nor do I have much experience when it comes to reviewing international first class products. I am often more interested in an aircraft's design than its interior.
You'll get more of an aviation lover's perspective in this review than nitpicking.
The Back-Story
Being in Sydney during the 74th Annual IATA General Meeting was a matter of coincidence. I had planned to be in Australia months ago for a vacation, which included visiting the Whitsunday Islands and Sydney. Nevertheless, this was my first time in Australia and I wanted to make the most of it, starting with the actual journey there.
The Los Angeles to Sydney flight was a large slice of the trip's pie since Sydney wasn't my final destination. I departed Washington-Reagan at 5:30 p.m., arriving in Los Angeles around 8:30 p.m. local time. Then, a reasonably quick layover before boarding the A380.
After arriving in Sydney, I spent a few days in Hamilton Island, then came back to Sydney for the remainder of the trip.
The LA Lounge Situation
LAX is no stranger to swanky lounges. With my Qantas First ticket, I could access both the newer Qantas First lounge and the recently-renovated American Airlines Flagship Lounge in Terminal 4. With just under two hours on the ground, I tried to spend an equal amount of time at both.
My flight from Washington arrived into gate 42A, which is just a short walk away from the T4 lounges. I received the "You're Invited" card and proceeded upstairs to the refreshed space.
Unlike its Admirals Club counterpart, you can instantly tell that the Flagship Lounge is used lightly. With smooth jazz in the background, the lounge had the usual showers (far more than the Admirals Club) and nicer food offerings. While more robust, the food was nothing to write home about, especially since it was at a self-service buffet.
The Flagship Lounge at LAX is creme de la creme when it comes to views, though. You could definitely spend hours there just looking out over the Tom Bradley International Terminal (TBIT) and the different tails of the world preparing for their jaunts to different continents. Below the lounge was a 777-300ER bound for Hong Kong later that evening. The largest 777 variant looks even grander from the lounge's vantage point.
After taking the connector over to the TBIT, it was time to check out the Qantas First lounge. Similar to the Flagship Lounge, this space also smells fresh and new. The Qantas First Lounge at LAX was officially put into service in 2014.
I didn't have much time to spare at this lounge after spending time walking between terminals. It was clear that I wasn't the first person to have this problem, though, since I was immediately greeted by a host who offered to serve me a full meal in under 15 minutes. Why not, right?
So, I got a still water and a thinly-cut steak with fries. Considering that it landed on my table no more than 15 minutes after ordering it, the meal wasn't half bad. In fact, it was surprisingly better than the steak I had while onboard.
Onboard
It was time to board at gate 154 in Los Angeles. With some moderate gate lice, I was told to pass by the general line to the first class boarding line, which was practically empty. After boarding through door 1, I found seat 3K and settled in for a 14 and a half hour journey across the Pacific.
The usual pre-departure beverage was offered. I opted for a glass of water to begin mitigating the jetlag. We pushed back a bit late, approximately 30 minutes past our scheduled departure time due to some last-minute cargo loading. We took off from LAX's 24L and turned slightly South.
Once we got in the air, it was time to put Qantas' famous Neil Perry-inspired menu to the test. I started with the steak sandwich. The sandwich itself was very good and was surprisingly offered as an appetizer. It could have totally been a full entree.
After the steak sandwich, it was time for some more beef. For my entree, I went with the beef filet. This was also very delicious. The tray table was plenty big enough to accommodate both the meal and my laptop. After all, two people can dine together in the Qantas First Suite.
In Qantas First, the cabin crew come around to make your bed. All you have to do is request it and they turn it around in a matter of minutes. However, before heading off to sleep, I asked for a camomile tea. As expected, Qantas spares no expense with their tea service providing a full pot.
Soon after the tea and watching several CNBC Originals on my laptop, it was time for bed. The flight attendant put together my bed as I changed into my pajamas. While Qantas does provide PJs, I normally bring my own sweatpants for long flights, so I ended up wearing that.
The bed itself was extremely comfortable. The sleeping pad made all the difference in this case, allowing me to sleep off-and-on for a good six hours. 
I woke up with about two hours remaining in the flight to Sydney. As the cabin slowly rose from their slumber, the flight attendant came around to offer some breakfast. I went with the waffles and a glass of orange juice. The waffles were delicious and customizable with different options including fruit and whipped cream. I ended up getting bananas on mine.
After changing back into my day attire, it was time to land in Sydney. We circled around the airport and landed a few minutes behind schedule due to some weather in the area and the delay in Los Angeles.
My Only Gripe
The only issue that I found with Qantas' A380 product is the perfect definition of a first world problem, however, it is worth noting. Qantas' A380 fleet is not equipped with Wi-Fi. While I'll be the first to advocate for a few hours of disconnecting, more than half-a-day with no connection to the world below was a bit frustrating.
Arriving in Sydney with an inbox chock-full of emails wasn't a pleasant sight. I would've preferred to keep up with them in the air.
Final Thoughts
Despite the Wi-Fi situation, Qantas' first class on the A380 is a fantastic experience that can turn a long flight from a hassle to enjoyable. Overall, though, the product wouldn't be complete without the onboard service and Qantas' crew. They brought the flight to a whole new level.
Ryan founded AirlineGeeks.com back in February 2013 (actually, it was called Aviation Official, but we've changed a bit since then). From being on the yoke of a Piper Navajo, to visiting about Delta's operations center in Atlanta, Ryan has done it all. in 2016, along with American Airlines, Ryan masterminded AAviationDay at more than 10 locations around the world. The smell of jet fumes in the morning along with the countless number of passionate airline employees keep him enthralled in the industry, always seeking more. You can find him helping out travelers at Reagan National Airport near Washington, D.C. when he's not doing something for AirlineGeeks.
Latest posts by Ryan Ewing (see all)