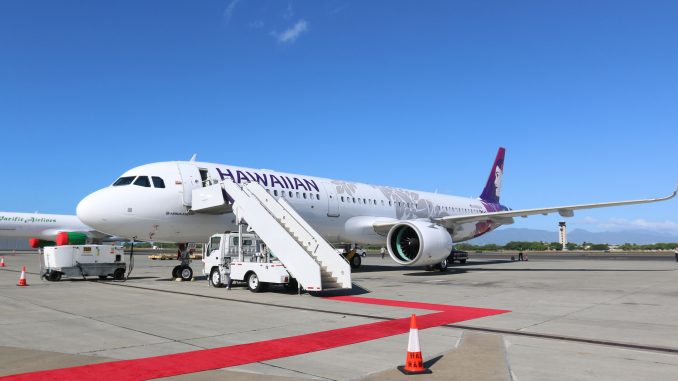 Southern California flyers now have a new link to Hawaii as Hawaiian Airlines has officially inaugurated service to Long Beach Airport. The airport, located in southeast Los Angeles County, is the newest Californian destination for Hawaiian with the airport receiving daily non-stop service to Honolulu's Daniel K. Inouye International Airport.
Long Beach Airport is a smaller alternative to Los Angeles International Airport (LAX), approximately 21 miles away from LAX. The airport has many attractive features such as shorter security lines, open-air waiting lounges and traditional ramp boarding via airstairs.
Hawaiian Airlines announced their Long Beach service in January with their newly-purchased A321neos designed to fly into airports such as Long Beach and other smaller airports in major cities. The plan is to use the A321neos to fly across the Pacific to target secondary airports in California such as Sacramento, Oakland, San Diego and San Jose.
The flight to Long Beach, HA70, departs from Honolulu in the afternoon and arrives at Long Beach at 9 pm. The return flight, HA69, to Honolulu departs the next day at 8:30 am, arriving in Hawaii just before 12 p.m. This flight gives travelers more time to explore Honolulu or connect to other islands via Hawaiian's inter-island flights on its Boeing 717 aircraft.
Hawaiian Airlines welcomed guests onboard its inaugural flight to Honolulu on June 1 with hula performances and lei giveaways. In attendance was Hawaiian Airlines CEO Peter Ingram, as well as Long Beach Airport and city officials to toasted the inaugural event. Passengers were also treated to a continental breakfast and Hawaiian-themed gift bags filled with Hawaiian-sourced goods.
Hawaiian Airlines CEO Peter Ingram firmly believes that the new service to secondary cities through California will be successful, citing its recent track record of flights to the Golden State.
"There's plenty of demand. We've already proved that this year," said Ingram. "We know the business very well. We've got the right fleet. We've got the broad network. We've got fantastic local employees who deliver outstanding hospitality and they've competed with lots of other folks over the years and we've stood up to that competition well."
Per Hawaiian's tradition for inaugural and special flights, the flight from Long Beach received a traditional Hawaiian blessing ceremony at the gate. During the flight's taxi to the runway in Long Beach, the aircraft also received a congratulatory water cannon salute.
The inaugural flight was also a way to show off Hawaiian's new A321neo aircraft, the first of its kind for Hawaiian which, in recent years, has operated only widebodies on flights to the mainland. Hawaiian's A321neos seat 189 passengers in a 3 class configuration featuring 16 recliner seats in first class, 44 premium economy seats, and 129 economy seats.
Although the A321neo cabin is much smaller and bland in comparison to Hawaiian's colorful A330 cabins, travelers still get the same Hawaiian service onboard. Travelers in the premium cabin receive an iPad mini for entertainment and noise canceling headphones. As always, meals and snacks are still free on Hawaiian, regardless of the aircraft. Although there are no personal entertainment monitors in economy class, streaming entertainment is available with the Hawaiian Airlines app.
Once it receives its total of 18 A321neo aircraft by 2020, Hawaiian will announce additional routes for the aircraft between the West Coast and the Hawaiian islands. Some future routes on the Airbus A321neo might include San Diego and Kahului, Portland and Honolulu, and Oakland and Honolulu.
"We're thrilled to grow our West Coast presence by offering Southern California travelers another convenient gateway to experience our award-winning Hawaiian hospitality," said Ingram. "We look forward to continuing to delight guests with our superior product and service in the comfort of our newest aircraft."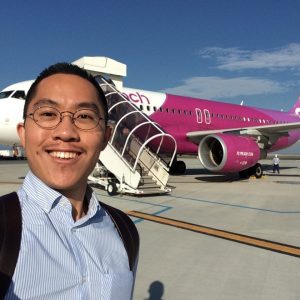 Most people hate long flights or overnight layovers, but Albert loves them. The airport and flying parts of traveling are the biggest highlights of any trip for him – as this avgeek always gets a thrill from sampling different airline cabin products and checking out regional developments happening at local U.S. airports. He's flown on almost every major carrier in the U.S. and Asia Pacific, and he hopes to try out the new A350s soon.

Albert recently completed his undergraduate studies in Business Accounting at USC in Los Angeles and he is currently recruiting for a corporate analyst position at one of the U.S. legacy carriers. During his college years, he interned at LAX for Los Angeles World Airports working behind-the-scenes (and on the ramp) in public relations and accounting. Outside of writing for AirlineGeeks, he enjoys trekking the Hollywood hills, visiting new hotspots throughout SoCal, and doing the occasional weekender on Spirit Airlines.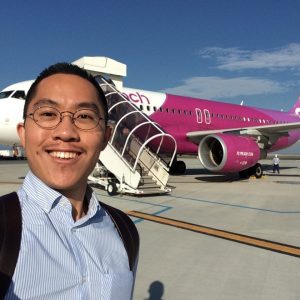 Latest posts by Albert Kuan (see all)