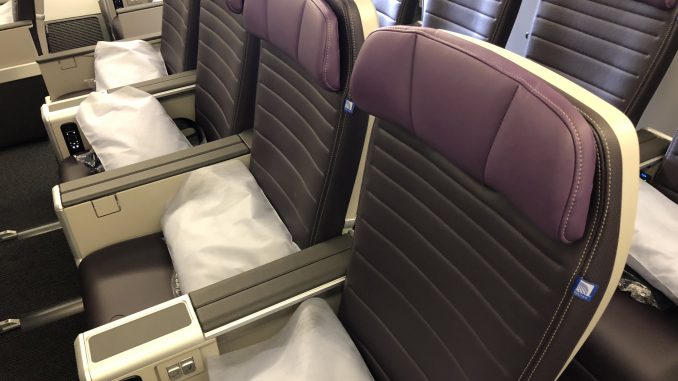 United is joining other major U.S. carriers with the addition of a premium economy cabin. This new cabin, called Premium Plus, will serve as the airline's first premium economy product and will officially debut as early as the fall. For now, these seats are being sold as Economy Plus until the full product can be unveiled, similar to when American Airlines rolled out its premium economy cabin, initially selling the seats as Main Cabin Extra.
Once launched later this year, Premium Plus passengers can expect additional amenities, including a larger seat and Saks Fifth Avenue blanket and pillow, along with better dining options than standard economy fare. Premium economy fares, just as their name implies, gives travelers and premium experience without paying for premium cabins such as business or first class.
In an email to customers sent earlier this month, the airline detailed its plans for the Premium Plus product, saying, "Later this year, we'll begin to introduce United's Premium Plus. Available on select international flights, United Premium Plus will give you more space, comfort and amenities. The seats will be more spacious and you'll enjoy upgraded dining on china dinnerware, free alcoholic beverages, a Saks Fifth Avenue blanket and pillow, an amenity kit and more."
The Premium Plus seats themselves reside in their own cabin, which is exclusively divided from economy and Polaris. The cabin occupies only three rows of the Boeing 777-200 aircraft, featuring a 2-4-2 seating configuration. While the cabin may be small, the seats aren't.
Seats in Premium Plus have a larger in-flight entertainment screen with a tethered remote, power outlets with 3-prong and USB capabilities at every seat, a footrest and significant pitch compared to their standard economy counterparts. United has yet to release specific numbers regarding the seat.
After being retrofitted in Xiamen, China, N796UA was the first aircraft in United's fleet to receive Premium Plus. So far, this 777-200 has flown to San Francisco, Paris, Washington and Frankfurt on some of the airline's most popular routes. The aircraft is also scheduled to fly from San Francisco to London later this week.
N796UA won't be the only aircraft to receive Premium Plus, with the airline's soon-to-be-delivered 787-10s expected to feature the cabin as well. Although already largely embraced by the international airline community, United joins a growing list of U.S. airlines adding premium economy to its long-haul fleets with both American and Delta offering it on select long-haul international flights.
Ryan founded AirlineGeeks.com back in February 2013 (actually, it was called Aviation Official, but we've changed a bit since then). From being on the yoke of a Piper Navajo, to visiting about Delta's operations center in Atlanta, Ryan has done it all. in 2016, along with American Airlines, Ryan masterminded AAviationDay at more than 10 locations around the world. The smell of jet fumes in the morning along with the countless number of passionate airline employees keep him enthralled in the industry, always seeking more. You can find him helping out travelers at Reagan National Airport near Washington, D.C. when he's not doing something for AirlineGeeks.
Latest posts by Ryan Ewing (see all)