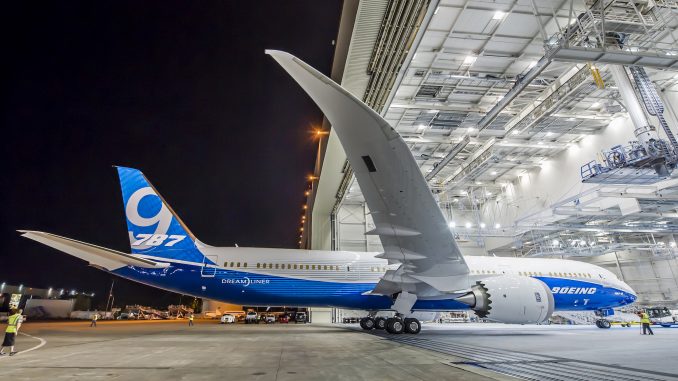 Boeing announced an order for 20 787 Dreamliners by Vietnamese start-up carrier Bamboo Airways. The order, announced on Monday, is valued at $5.6 billion USD for the 787-9 variant.
Bamboo Airways, under parent company FLC Group, is set to launch in 2019 with its hub at Qui Nhon Phu Cat Airport in Hanoi, Vietnam according to the CentreforAviation.com (CAPA).
The announcement was made during the signing ceremony at the U.S. Chamber of Commerce Office. The Deputy Prime Minister of Vietnam, Vuong Dinh Hue, and Assistant Secretary for Industry and Analysis, Nazak Nikakhtar were present to witness.
An agreement was signed to complete the deposit for the Dreamliner aircraft which are set to be delivered from April 2020 through 2021.
"The deal with Boeing today is only the first step for us. We want to have more than 100 planes in the future," said FLC Group chairman Trinh Van Quyet.
"We are excited to introduce these new 787 Dreamliners into our fleet as we prepare to launch long-haul operations to international markets," said Mr. Trinh Van Quyet, Chairman of FLC Group. "Our long-term vision is to connect Vietnam to key markets within Asia, Europe and North America and the capabilities of these new state-of-the-art Dreamliners will help us achieve our goals."
According to Bamboo's website, the new airline is classified as a "hybrid" airline, operating non-stop flights from Vietnam to key tourist destinations at smaller airports. This, in turn, reduces operating cost and lowers passenger travel times.
"We are delighted to welcome Bamboo Airways to the Boeing family and we look forward to Bamboo joining the growing group of global airlines that fly the 787 Dreamliner," said Boeing's Mr. Dinesh Keskar, senior VP of Asia Pacific and India Sales. "We are confident that the 787 will help Bamboo's long-haul operations and serve as the foundation of their success for many years to come," he added.
The start-up carrier plans to operate flights within Vietnam before expanding to China, Korea, Japan, and North America.
In March, Airbus and Bamboo jointly announced an order for 24 Airbus A321NEO aircraft. The Memorandum of Understanding was signed on March 26, 2018. Bamboo is set to lease aircraft from a third party company until Airbus can fulfill the order.
Matthew Garcia became interested in aviation at the age of 12 when he installed Microsoft Flight Simulator X on his computer. He was instantly "bitten by the bug" and has been in love with aviation ever since. Matthew took his first introductory flight in 2013 and began normal flight training in February of 2015. Over the years, Matthew's love and knowledge for aviation has grown tremendously, mainly due to FSX. Garcia flies highly advanced aircraft in a professional manner on a highly complex virtual air traffic network simulating real world flying. In 2016 Matthew achieved his private pilot certificate from the FAA. Now he studies journalism at the University of Nebraska at Omaha.
Latest posts by Matthew Garcia (see all)