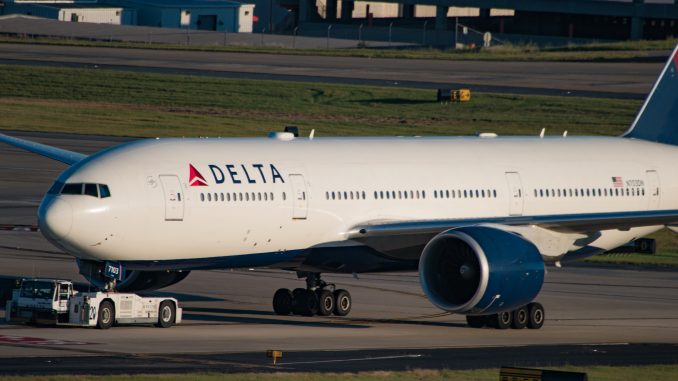 After Atlanta-based Delta Air Lines announced the resumption of its service to India, the carrier has stated that it is looking to Asia for future revenue growth.
In a statement at the National Press Club luncheon, Delta CEO Ed Bastian stated that two-thirds of the carrier's revenue comes from domestic travel, but overseas revenue could eventually rival the domestic share as well.
"Long term at Delta, I think our opportunity is international," said Bastian.
Delta is currently in the process of launching joint ventures with Korean Air.
On top of that, U.S. carriers have also resolved a long-standing dispute with Middle East rivals Emirates, Etihad, and Qatar. A new negotiated commitment with the foreign carriers will prevent the Middle Eastern carriers from adding connecting flights to the U.S.
This thawing of relations was a major factor in Delta resuming its flights to Mumbai from Atlanta and New York-JFK next year.
Additionally, the new joint venture with Korean Air will allow the two carriers to share revenue and exchange traffic even more.
While Delta already maintains a significant presence at Tokyo's Narita airport, the new arrangement will allow the carrier to focus out of a new hub in Seoul rather than Tokyo.
"As we bring customers to Seoul, Korean can distribute them on a nonstop basis to 80 different destinations, including 30 destinations in China alone with one of the most efficient hubs in the world," said Bastian regarding the Korean Air joint venture.
To pose itself in a better situation to serve the Asian market, Delta has essentially made Seattle a full-fledged hub. Previously, Delta operated out of Seattle in a cooperative relationship with Seattle-based Alaska Airlines as Delta operated the international routes and Alaska had the broad domestic network.
However, Delta quickly added domestic flights to destinations outside of its hub network and terminated its partnership with Alaska. Currently, Delta operates flights to Hong Kong, Shanghai, Tokyo, Beijing, and Seoul out of Seattle.
One of Delta's competitors, however, Chicago-based United, has maintained a less aggressive approach to revenue growth in Asia.
The Chicago-based carrier already maintains a strong presence in Asia, with a hub in Guam and frequent flights to cities such as Beijing, Shanghai, and Tokyo from both its mainland hubs and its Guam hub.
But the carrier has been quick to ease back on its Asian expansion, even after trying to open a route to a new Chinese city every year, due to overcapacity in the China and Hong Kong markets.
In 2017, United even announced flights to the Chinese city of Hangzhou but quickly suspended that route later that year due below average load factors and performance.
Out of the three full-service U.S. carriers, Fort Worth-based American maintains the smallest presence in the Asian market as the carrier tends to focus more on the South American and European markets.
Still, American has made efforts to expand its presence in the Asian markets.
Just recently, American made a $200 million equity investment in China Southern Airlines and plans to begin to codesharing with the carrier.
The new partnership with China Southern will allow American to expand its presence in cities such as Chongqing, Guangzhou, and Harbin through flights operated by China Southern.
While American doesn't plan to add any new Asian destinations soon, the carrier still sees the region as an important market.
"China is critical for business travellers, and it's critical for leisure travellers as well, and it can be a part of American's network, but in the long run to really make it successful, it can't just be a point in the US to a single point in China," said Robert Isom, President of American Airlines.
It is worth noting that American also operated a flight from Chicago to New Delhi in 2005, but shortly ended the route due to the airline's bankruptcy issues and financial performance of the route.
An "AvGeek" for most of his life, Akhil has always been drawn to aviation. If there is an opportunity to read about an airline, fly on a new airplane, or talk to anyone about aviation, he is on it. Akhil has been on over 20 different kinds of aircraft, his favorite being the MD-80. Additionally, he has visited 5 continents and plans to knock out the remaining two (Africa and Antarctica) soon. Based in Dallas, Akhil graduated from Texas A&M University with a degree in Management Information Systems and currently works in consulting. His dream is to become an airline executive.
Latest posts by Akhil Dewan (see all)