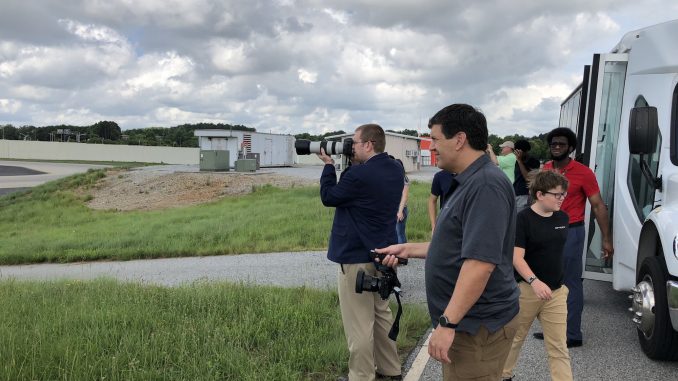 AirlineGeeks partnered with the City of Atlanta on Thursday to show off the world's busiest airport to adoring aviation enthusiasts. The tour, which consisted of approximately 15 participants, involved everything from a scenic drive around the airport's expansive airfield to a look at one of the ramp towers.
Participants were able to sign up for the tour on a first-come, first-serve basis starting in late-June. The sign up page was shared on AirlineGeeks' social media platforms to spread the word.
The tour began around 10:00 a.m. on Thursday morning with a look at the airport's AOC, or Airport Operations Center, Also parked outside was ATL's mobile command center, which can serve as the AOC in the event of an outage.
From there participants were loaded onto a City of Atlanta bus to access the airfield. This scenic drive around ATL consisted of plenty of photo opportunities and site seeing.
After roughly an hour on the airfield, aviation enthusiasts were funneled into the E tower, which monitors traffic on one of Atlanta's several ramp areas.
AirlineGeeks would like to thank the City of Atlanta for providing this tour. Stay tuned for future events involving behind-the-scenes looks inside both airlines and airports.
AirlineGeeks.com began in February, 2013 as a one-man (er… teenager, rather) show. Since then, we've grown to have 20 active team members, and yes, we're still growing. Some of us are looking to work in the aviation industry as professionals when we grow older. Some of us are still trying to decide what we want to do. That's okay though, because we're all here for the same reason: we love the airlines. We're the youngest team of airline industry journalists out there.
Latest posts by AirlineGeeks.com Staff (see all)