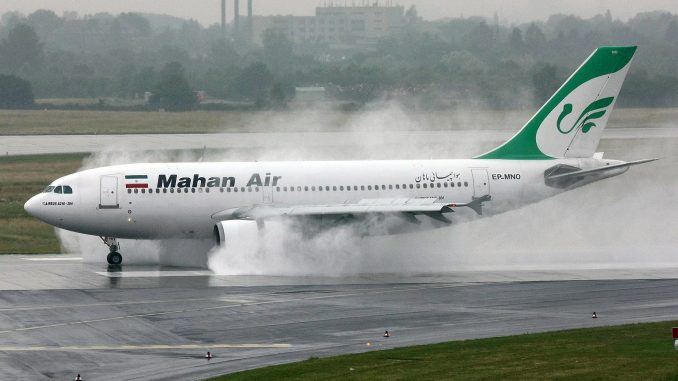 The U.S. Treasury Department has imposed sanctions on Malaysian travel company, Mahan Travel and Tourism, due to the ticketing and reservations services it provides to Iranian airline, Mahan Air.
The decision comes after the U.S. government claimed that Mahan Air, a private Iranian airline, carries personnel and supplies for Hezbollah and the Qods Force of the Islamic Revolutionary Guards.
"Mahan [Air] is a company operated for the benefit of the Qods Force and their efforts to spread violence," said U.S. Department of the Treasury Assistant Secretary of Terrorist Financing Marshall Billingslea in an interview with FlightGlobal. "Companies, particularly Western companies operating in NATO nations, need to protect themselves and shut down their business ties."
Billingslea went on to add that the U.S. government has blocked "all property and interests in property of Mahan Travel and Tourism…that are or come within U.S. jurisdiction."
Mahan Air currently operates a fleet of 49 aircraft, consisting of Airbus A300s, A310s, and A340s. The carrier also operates 40 international routes to destinations such as India, Russia, Germany, France, and Spain.
"Any company that continues to transact with Mahan [Air] is doing so at great financial risk," said Billingslea.
The U.S. government also claims to know the airports and various ground handling companies that provide fuel, maintenance, and cargo services to the airline.
The sanctions come recently after the U.S. decided it was going to withdraw from the Joint Comprehensive Plan of Action, a deal signed by Iran and four other countries to limit Iran's ability to acquire nuclear weapons.
Shortly after the sanctions were imposed, Dutch carrier KLM announced that it would terminate flights to Iran effective September of this year due to negative profits and a bleak financial outlook.
Additionally, Austrian Airlines announced that it would be terminating its service to Isfahan and Shiraz from September. However, the carrier will still maintain its Vienna to Tehran route.
An "AvGeek" for most of his life, Akhil has always been drawn to aviation. If there is an opportunity to read about an airline, fly on a new airplane, or talk to anyone about aviation, he is on it. Akhil has been on over 20 different kinds of aircraft, his favorite being the MD-80. Additionally, he has visited 5 continents and plans to knock out the remaining two (Africa and Antarctica) soon. Based in Dallas, Akhil graduated from Texas A&M University with a degree in Management Information Systems and currently works in consulting. His dream is to become an airline executive.
Latest posts by Akhil Dewan (see all)