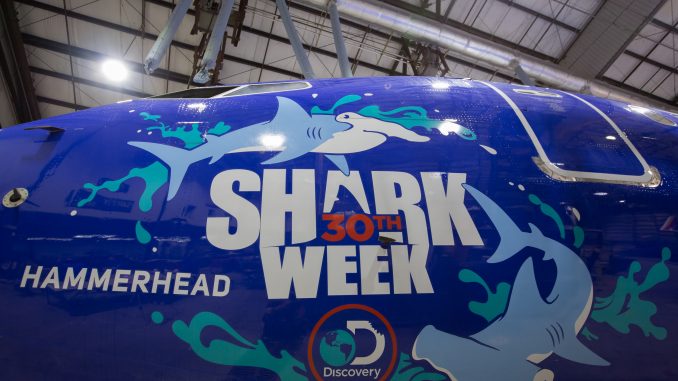 Southwest Airlines, in partnership with the Discovery Channel, launched a Shark Week Fleet with five aircraft. These aircraft celebrate the 30th anniversary of Shark Week, a popular show televised on the Discovery Channel. Each aircraft displays a unique shark to be shown in a Shark Week episode. These aircraft will be flying throughout Southwest's system through August 31.
Two aircraft were launched from Dallas Love Field (DAL), the Great White Shark and the Hammerhead Shark. The Tiger Shark launched from Chicago-Midway (MDW), the Bull Shark launched from Houston-Hobby (HOU), and the Mako Shark was released from Phoenix Sky Harbor (PHX).
Southwest has partnered with FlightAware to track these special Shark Week aircraft. Each aircraft has custom-created shark icons and can be searched by each aircraft's tail number: Great White Shark (N470WN), Hammerhead Shark (N705SW), Mako Shark (N961WN), Tiger Shark (N553WN) and Bull Shark (N947WN).
"Entering our fifth consecutive year of partnership with the Discovery Channel, we are thrilled to celebrate Shark Week's 30th anniversary in an even bigger way by launching an entire fleet of Shark Week aircraft and premiering a Shark Week episode onboard our flights, letting our Customers have the first view of Shark Week content," said Brandy King, Director of External Communications who oversees the airline's Brand Partnerships and Entertainment Public Relations initiative. "Each year, our Customers and Employees share our Shark Week enthusiasm and look forward to joining the fun with our airport and onboard activations!"
Customers onboard Southwest flights have access to watch Shark week episodes live on the airline's custom Shark Week TV Series Channel. Starting on July 11, Shark Week premieres a first time showing of Great White Abyss via the Shark Week TV Series Channel two weeks before its worldwide release during Shark Week.
In addition, Southwest is encouraging adventure seekers to enter the Dare to Dive Sweepstakes for a chance to win an all-inclusive, five-day Great White shark cage diving experience.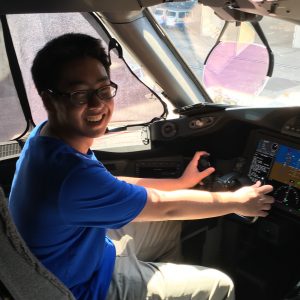 Ever since he made his first trip on a Boeing 747 in 2005, Samuel has been an AvGeek at heart. He is a dedicated United (ex-Continental) loyalist and frequent flier who attempts to live by Continental's slogan, "Work Hard, Fly Right." He has a huge love for the Boeing 777 along with any other Boeing wide body aircraft. Samuel is an avid collector of all types of airplane memorabilia ranging from model airplanes to in-flight magazines. In his free time, Samuel enjoys playing guitar and piano, and he is constantly on various airline websites scanning for any breaking news.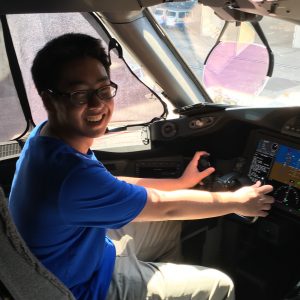 Latest posts by Samuel Chen (see all)