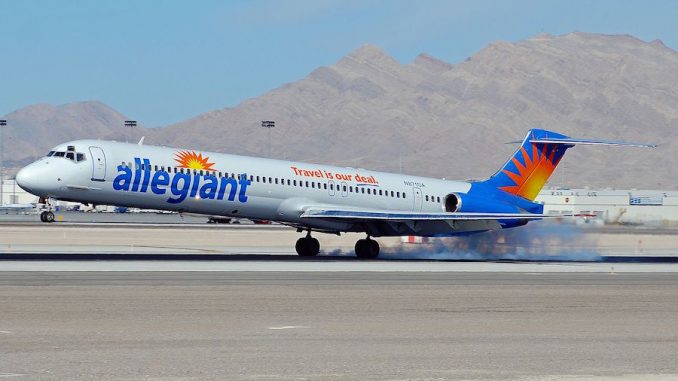 Achieving a 93.5 percent voting result in the affirmative, Allegiant Air pilots have announced their intention to perform a labor strike if they deem it necessary. The potential strike originates from Allegiant's long-time refusal to create a better scheduling system that has "negatively impacted" pilots' lives and their family lives. The online voting platform for the issue opened on June 29 and ran through July 6 and saw an overwhelming majority in favor.
According to complaints from pilots, Allegiant has forced pilots to use homemade scheduling systems that do not follow industry basics regarding seniority. This poorly-designed system causes pilots to be randomly assigned flights, resulting in unplanned trips. A large number of pilots are leaving Allegiant due to the scheduling system.
"We are people with spouses and children, not cells on a spreadsheet that Allegiant executives can move around with no rhyme or reason," Allegiant Air pilot and Executive Council Chairman of the Airline Pilots Association, Teamsters Local 1224, Captain Andrew Robles said. "Striking is a last resort, but we'll do whatever it takes to hold Allegiant to its promises and to make our airline the best it can be from our pilots, our families, and our passengers."
This is not the first time concerns of scheduling have arisen. In 2016, Allegiant pilots came to a five-year contract agreement with the airlines to create a new scheduling system and have it running within 180 days. However, Allegiant never upheld the agreement and recently backed out of the agreement.
The company responded with an internal email to all employees stating: "Under the Railway Labor Act, as well as the terms of the current collective bargaining agreement, this issue would not constitute grounds for a legal work stoppage." The email continues to say that Allegiant is working with a vendor to create a new Preferential Bidding System (PBS) and are nearing the completion of the new system.
If the strike occurs, flights to and from the ultra-low-cost carrier's hubs in Las Vegas, Phoenix and Fort Lauderdale would be affected.
AirlineGeeks.com began in February, 2013 as a one-man (er… teenager, rather) show. Since then, we've grown to have 20 active team members, and yes, we're still growing. Some of us are looking to work in the aviation industry as professionals when we grow older. Some of us are still trying to decide what we want to do. That's okay though, because we're all here for the same reason: we love the airlines. We're the youngest team of airline industry journalists out there.
Latest posts by AirlineGeeks.com Staff (see all)