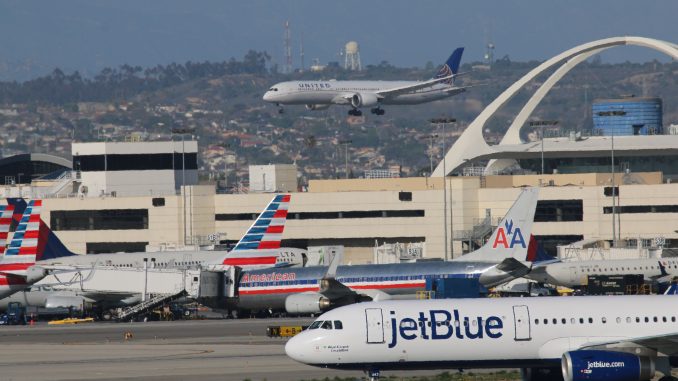 A secret program, dubbed "Quiet Skies," ran by the Transportation Security Administration (TSA) was leaked on Saturday by The Boston Globe. The hidden program targets travelers who "are not under investigation by any agency and are not in the Terrorist Screening data base," according to a TSA bulletin posted in March.
The program requires Federal Air Marshals to essentially spy on United States citizens travelling to the U.S. or state side. Air Marshals are required to watch and record all information from passengers and crew members who are not listed on any sort of government watch list.
The Air Marshall will study passenger behavior ranging from the types of magazine a passenger reads, whether they sleep on the flight, as well as reading the information on passengers laptop and cell phone screens, all of which is stored in a database for future use. The Boston Globe reported that thousands of Americans have already been tracked under the secret program.
Air Marshals use checklists to track every public movement of selected passengers.
Every U.S. citizen that enters the country is screened by the TSA, checking things such as travel patterns as well as running names against the terrorist watch list. Passengers traveling to and from major cities such as Chicago, Houston, Los Angeles, Miami, New York City, and more are also subject to tracking 
Air Marshals are raising concerns about the program stating that it could be in violation of the constitution as well as being a waste of time as most tracked passengers pose no threat.
On top of constitutional concerns from Air Marshals, a concern of government funding being wasted has come into talks.
Vox cited John Casaretti, president of the Air Marshal Association as saying, "The American public would be better served if [air marshals] were instead assigned to airport screening and check in areas so that active shooter events can be swiftly ended, and violations of federal crimes can be properly and consistently addressed."
While the Globe reported that TSA documents state there are around 50 Quiet Skies passengers on U.S. domestic flights every day. TSA officials, when asked for more information by the Globe, declined to even acknowledge that the program existed.
Currently, all airline passengers in the United States are ran through a brief prescreening once a ticket is booked. The prescreen runs passenger information through a Department of Homeland Security database to cross check with any government watch list.
The Federal Air Marshal Service was in the news in April 2018 after a New York Times report stated that the program had issues with alcohol abuse, harassment issues, and low success rates.
Matthew Garcia became interested in aviation at the age of 12 when he installed Microsoft Flight Simulator X on his computer. He was instantly "bitten by the bug" and has been in love with aviation ever since. Matthew took his first introductory flight in 2013 and began normal flight training in February of 2015. Over the years, Matthew's love and knowledge for aviation has grown tremendously, mainly due to FSX. Garcia flies highly advanced aircraft in a professional manner on a highly complex virtual air traffic network simulating real world flying. In 2016 Matthew achieved his private pilot certificate from the FAA. Now he studies journalism at the University of Nebraska at Omaha.
Latest posts by Matthew Garcia (see all)