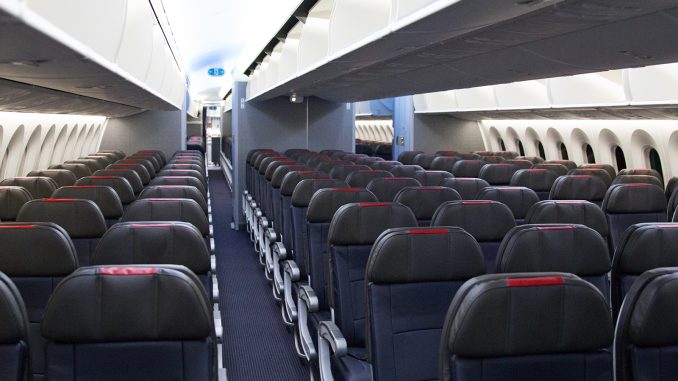 A new app released by the Association of Flight Attendants will now allow passengers to report high or low temperatures onboard an aircraft.
The app, which is available to passengers and crew free of charge, is called 2Hot2Cold and is part of an effort to introduce standards for climate control in aircraft cabins.
2Hot2Cold can also collect the airline, aircraft type, flight number, date, origin, destination, and phase of flight.
The Association of Flight Attendants is hoping that the new app will allow them collect data in order to support a petition that was filed earlier this month with the U.S. Department of Transportation. The petition that was filed reportedly is pushing for a temperature range of 65 to 75 degrees Fahrenheit within cabins.
While abnormal temperatures can often be a pain for passengers, they also can have an effect on the flight crew, with impacts such as fatigue or dizziness. The Association claims that these hazards can disrupt operations, leading to delays and cancellations.
The petition that was filed cites a flight that saw cabin temperatures reach 99 degrees Fahrenheit, forcing the crew to divert. Another instance saw an overheated flight attendant blackout aboard a flight.
The trade group for flight attendants first got the idea for the petition and the app after an infant overheated and became non-responsive in an aircraft that was stuck on the tarmac and became too hot last year in Denver.
The incident occurred on a United Airlines aircraft that was delayed due to refueling and bad weather. The mother and the baby were on the aircraft for two hours before she was allowed to exit the aircraft for 20 minutes before being asked to return to the aircraft.
Once on the aircraft again, the baby became non-responsive and was taken to a local hospital. The baby recovered shortly afterwards.
Flight attendants who are part of the trade group have also been given keychain thermometers in order to monitor the temperatures themselves.
However, Airlines for America, a lobbying group for the airline industry, claims that the petition is unnecessary.
"U.S. airlines work hard to maintain a level of comfort passengers expect on each and every flight, including the temperature of the cabin. . . flight attendants work together with pilots to request a warming or cooling of the aircraft in accordance with individual company procedures, and any temperature control issues that arise are immediately dealt with on a case-by-case basis with the maintenance teams at each airline."
Flight attendants belonging to the Association of Flight Attendants represent 23 airlines, including Envoy, Hawaiian Airlines, Spirit Airlines, Alaska Airlines, Frontier Airlines, United Airlines, and PSA Airlines.
An "AvGeek" for most of his life, Akhil has always been drawn to aviation. If there is an opportunity to read about an airline, fly on a new airplane, or talk to anyone about aviation, he is on it. Akhil has been on over 20 different kinds of aircraft, his favorite being the MD-80. Additionally, he has visited 5 continents and plans to knock out the remaining two (Africa and Antarctica) soon. Based in Dallas, Akhil graduated from Texas A&M University with a degree in Management Information Systems and currently works in consulting. His dream is to become an airline executive.
Latest posts by Akhil Dewan (see all)