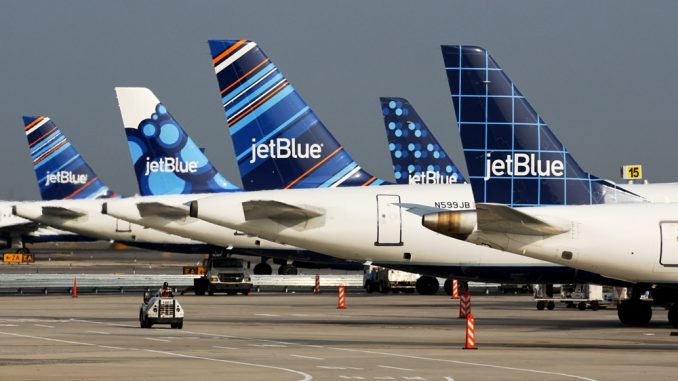 JetBlue Airways has announced its traffic reports for the month of July 2018 with large increases. The New York City-based carrier saw a 6.2 percent increase in traffic from last July.
JetBlue's load factors went up 1.8 points from July 2017 to be just shy of 89 percent. JetBlue's on-time performance was 67.2 percent while its preliminary completion factor was 97.6 percent.
The Caribbean Journal is reporting a 4.755 billion revenue passenger miles, not including non-rev passengers.
United Airlines also saw an increase of 6.9 percent in revenue passenger miles. The Chicago-based carrier flew 15.4 million customers allowing them to fill over 90 percent of their mainline seats on over 73,000 mainline departures.
Southwest reported a 2.1 percent increase in revenue passenger miles. The Dalla Love-based carrier flew just over 310,000 more passengers, both revenue and non-revenue, in July 2018 versus July 2017.
Delta Air Lines had its busiest month to date flying 18.3 million customers around the globe. This record surpassed their previous busiest month, June 2018 by nearly half a million.
Allegiant Air has reported a 14.1 percent increase in total passengers, clocking in with a 12.4 percent increase in revenue passenger miles.
American Airlines, Alaska Airlines, Spirit, and Hawaiian have not yet reported their traffic counts for July.
Matthew Garcia became interested in aviation at the age of 12 when he installed Microsoft Flight Simulator X on his computer. He was instantly "bitten by the bug" and has been in love with aviation ever since. Matthew took his first introductory flight in 2013 and began normal flight training in February of 2015. Over the years, Matthew's love and knowledge for aviation has grown tremendously, mainly due to FSX. Garcia flies highly advanced aircraft in a professional manner on a highly complex virtual air traffic network simulating real world flying. In 2016 Matthew achieved his private pilot certificate from the FAA. Now he studies journalism at the University of Nebraska at Omaha.
Latest posts by Matthew Garcia (see all)