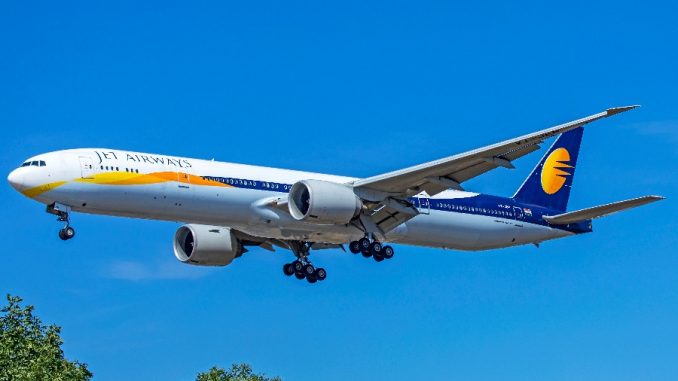 Jet Airways has announced that the carrier has revised its standard operating procedures following a take-off incident that occurred in August 2016.
A Boeing 777-300 flying from London-Heathrow to Mumbai had apparently crossed the airfield boundary at 13 ft. and a road just past the runway at 30 ft. after take-off calculations were incorrectly entered.
The incident was classified as "serious" and India's Air Accident Investigation Bureau, or AAIB, was given the responsibility of identifying the cause.
In its investigation, the AAIB determined that the pilot-in-command had incorrectly calculated the aircraft's take-off performance based on a different runway intersection using the aircraft's On-Board Performance Tool.
Through a post-calculation review, the investigation also found that the co-pilot had correctly calculated her take-off performance, but then changed her On-Board Performance Tool entry to match the pilot-in-command's.
The AAIB also went on to add that both pilots had been flying out of the runway, 27L, for the first time.
In its new standard operating procedures, Jet Airways is now requiring all its pilots to call On-Board Performance Tool data before it is entered in the control and display unit.
Should there be any discrepancies, the crew is required to resolve them prior to entry.
The report and changes in procedures come just 12 days after a Jet Airways Boeing 737-800 traveling from Riyadh to Mumbai aborted a take-off and slid off the runway after its aborted take-off.
All 142 passengers and seven crew members were safely evacuated from the 737.
In a release to India's Directorate General of Civil Aviation, Jet Airways claims that the pilot spotted an object on the runway leading to the aborted take-off.
The incident is still under investigation.
An "AvGeek" for most of his life, Akhil has always been drawn to aviation. If there is an opportunity to read about an airline, fly on a new airplane, or talk to anyone about aviation, he is on it. Akhil has been on over 20 different kinds of aircraft, his favorite being the MD-80. Additionally, he has visited 5 continents and plans to knock out the remaining two (Africa and Antarctica) soon. Based in Dallas, Akhil graduated from Texas A&M University with a degree in Management Information Systems and currently works in consulting. His dream is to become an airline executive.
Latest posts by Akhil Dewan (see all)