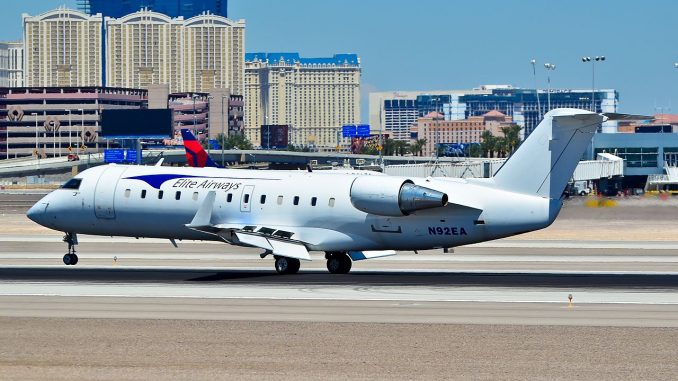 Following a year and four-month long absence, Elite Airways has decided it will return to Long Island MacArthur Airport in Islip, New York with a twice-weekly flight to Melbourne, Florida and onward service to Bimini, Bahamas. The airline initially began serving the central Long Island airport in 2016 with flights to three destinations including Melbourne, Florida; Portland, Maine and Myrtle Beach, South Carolina, with its fleet of Bombardier's Canadair Regional Jets.
After serving the airport for a year, Elite announced that it would suspend all its service for a few months from April until July. However, as July came and went, Elite was nowhere to be found, except at nearby Westchester County Airport, just north of New York City where it recently began seasonal service to Vero Beach, Florida, and at Newark Liberty International Airport, also with service to Vero Beach and a seasonal flight to Bimini.
Starting in September, Elite will serve the 2-hour and 45-minute flight in each direction with its Bombardier CRJ-200 aircraft, a popular aircraft amongst regional airlines, on a twice-weekly basis on Thursdays and Sundays. The flight to Melbourne, 7Q21, will depart Islip at 8:00 a.m. and arrive in Florida at 10:45 a.m. where it will wait until 11:30 a.m. for its hour hop to Bimini arriving at 12:30 p.m. as 7Q22.
The return flight to Long Island will depart Bimini at 1:30 p.m. as 7Q23 and arrive in Melbourne at 2:30 p.m. After arriving in Melbourne, all passengers will clear U.S. Customs and Border Protection (CBP) as the U.S. doesn't operate a preclearance facility in Bimini. The onward flight to Islip, 7Q24, will depart at 4:00 p.m. and arrive at 6:45 p.m. The flight is on the schedule on Jan. 6, 2019.
"The route is designed so that passengers from ISP can book a flight to Melbourne only or stay on board with connecting service to Bimini," said Rebecca Emery, Elite Airways' public relations executive, in an email to AirlineGeeks. "[Bimini is] the closest Bahamian island to the U.S. with miles of secluded beaches, four-star hotels and the Resorts World Bimini Casino and Marina."
Based on information from Elite Airways, the airline is a unique alternative to the major airlines operating similar routes. Onboard its fleet of Bombardier CRJ-200 and CRJ-700 aircraft, passengers will find an all-leather seat and modern cabin, receive complimentary drinks and snacks and be offered a free carry-on and checked bag. The airline also doesn't believe in change fees, is pet-friendly and has an "impeccable safety record."
The new flight will be Long Island's only direct same-plane international service. The airport has been vying for international airlines to begin service to Long Island via MacArthur, but airlines such as Norwegian and Primera chose to go with Newark or Newburgh to launch their low-cost operations from the New York area as MacArthur doesn't have full CBP facilities as of yet, though numerous politicians are pushing for it.
The Portland, Maine-based airline operates based on a point-to-point route network focused on serving leisure destinations, as seen with the resumption of the Islip-Melbourne route for the winter. Based primarily in the Northeast, the airline serves numerous routes up and down the East Coast including Albany-Myrtle Beach, Asheville-Vero Beach and Portland-Sarasota.
The return of Elite Airways to the airport, however, isn't the only cause for celebration as Frontier has once again decided to add more routes from the airport. Less than two months after dropping Detroit and Minneapolis, both which provided onward service to the airline's hub in Denver, the airline is bringing back service to Ft. Myers, which it dropped earlier this year citing low demand, and starting new service to Fort Lauderdale.
Many thought that when Frontier started to cut routes following its first round of expansion at MacArthur, it was a sign that Frontier wasn't serious about staying at the airport. Numerous routes including Islip to Miami, Ft Myers and New Orleans were cut, but then Frontier announced it would expand to Atlanta, Minneapolis, Detroit and Chicago, as well as San Juan and Myrtle Beach a few months later, showing that Frontier wasn't abandoning Long Island.
"We are thrilled that Elite Airways and Frontier Airlines are offering Long Island customers more travel options," Airport Commissioner Shelley LaRose-Arken in an email to AirlineGeeks. "We are open for business and the airport continues to invest in our airline business partners and raise awareness through our marketing campaign about the products and services offered at MacArthur Airport."
Frontier will be indirectly competing with Elite Airways on its Melbourne route as Frontier serves Orlando International Airport, just an hour away, with a daily flight on its Airbus A321 aircraft. Although Melbourne area residents will prefer to fly to Melbourne due to its convenience, their only option will be Frontier from Orlando if they wish to travel outside of Thursdays and Saturdays.
The Denver-based airline's new service to Ft. Myers will be three-times-weekly on Tuesdays, Thursdays and Sundays operated by an Airbus A321. The outbound flight, F92223, departs Islip at 6:00 a.m. and arrives in Ft. Myers at 9:39 a.m. The return flight, F92222, departs Ft. Myers at 6:20 p.m. and arrives back in Islip at 9:05 p.m.
The Fort Lauderdale service will operate four-times-weekly on Mondays, Wednesdays, Fridays and Saturdays on an Airbus A321 as well. The outbound flight, F2111, departs Islip at 2:20 p.m. and arrives in Fort Lauderdale at 5:30 p.m. The return flight, F92110, departs Fort Lauderdale at 6:30 p.m. and arrives back in Islip at 9:17 p.m.
Although it's unclear whether the new routes from both airlines will be permanent mainstays, Long Islanders have more options than ever to travel from their hometown airport. Elite Airways will be resuming its service on Sept. 6 while Frontier will be starting its service to Ft. Myers and Fort Lauderdale on Nov. 15 and 16, respectively.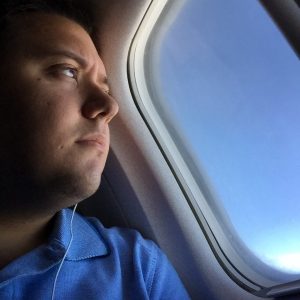 Tom has been flying for as long as he can remember. His first flight memory was on a Song Airlines 757 flying from LaGuardia to Orlando. Back then, he was afraid to fly because he thought you needed to jump off the plane in order to get off. Some years later, Tom is now a seasoned traveler, often flying to places just for the fun of it. Most of the time, he'll never leave the airport on his trips. If he's not at home or at work as a Line Service Technician at Long Island MacArthur Airport, he's off flying somewhere, but only for the day.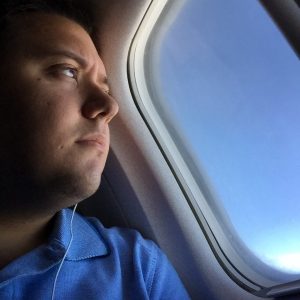 Latest posts by Thomas Pallini (see all)