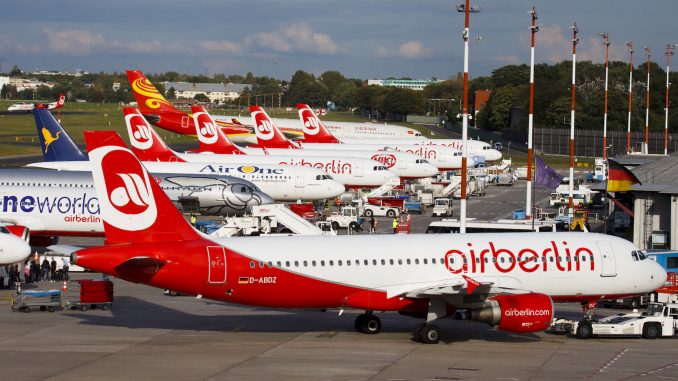 What do Virgin Atlantic, Eurowings, and the Hungarian Air Force all have in common? They all operate former Air Berlin jets.
Air Berlin, Germany's second-largest airline behind Lufthansa, filed for bankruptcy in August 2017 and ceased operations in October of last year. One year on, its former aircraft continue to fly elsewhere – and sometimes have interesting owners as information published by ch-aviation demonstrates.
When Air Berlin went broke, the airline and its Austrian holiday charter Niki had 144 aircraft in operation. None of the aircraft were still owned by Air Berlin but still flew under branding and management of the German airline. Due to its financial difficulties, Air Berlin had sold off its last aircraft in July 2016 and worked exclusively with leased planes before becoming insolvent.
Lufthansa Group Operates Over Half of Former Fleet
The majority of the planes are now part of the Lufthansa Group, which operates 84 of them. The Airbus A320-family aircraft consist of: 11 A319, 36 A320, and 10 A321s.
Eurowings now also operates the twenty Bombardier Dash-8 Air Berlin had used for short and lower capacity flights. In addition, Lufthansa also acquired seven Boeing 737-800, even though it had stopped flying the 737 entirely just a few years ago. Lufthansa acquired the crews in a package deal with the planes to avoid having to retrain staff for Boeing equipment. Because the 737 jets fit somewhat awkwardly into Lufthansa's fleet profile, holiday tour operator Tuifly leases the Boeing jets to fly tourists to sunny destinations. Two former 737s are currently flying for Eurowings, Lufthansa Group's low-cost airline.
According to Lufthansa some of the 84 aircraft are under the Group's ownership while others are leased.
Easyjet Took Over Air Berlin's Wet Leases
Europe's second-largest low-cost carrier (LCC) Easyjet has acquired 18 aircraft from Air Berlin's former fleet. They are all Airbus A320 to match the rest of Easyjets fleet, which consists exclusively of Airbus narrowbody aircraft.
The remainder of the medium range aircraft has been dispersed across the world with three A320 now flying for Indian LCC Indigo and one each with Ural Airlines, Air Canada Rouge, and Cambodia's JC International Airlines. The Hungarian Air Force also operates two former Air Berlin A319.
Air Berlin's Long-Haul Fleet is Dispersed Across the World
Air Berlin also had a notable long-haul fleet, consisting of Airbus A330-200. Sixteen of the seventeen former aircraft are still flying, for example for Malaysia Airlines, Virgin Atlantic, Latam, and French airline Aigle Azur. One A330 is parked in Lourdes in southern France and not being used.
Air Berlin's red tulip livery may have disappeared from airports and the skies, but its former fleet will live on for a few more years – at least until the planes are retired from active service altogether.
Adrian joined AirlineGeeks as a writer in 2017. He had always wanted to become a pilot and while he chose a different career path for now, his interest in aviation continues to grow every day. Adrian was fortunate to travel extensively for business in the past five years. As a result, he focuses his research and writing on passenger services and experiences on a variety of airlines. His favorite aircraft include the Airbus A350, A380, and the Embraer passenger jets.
Latest posts by Adrian Vannahme (see all)