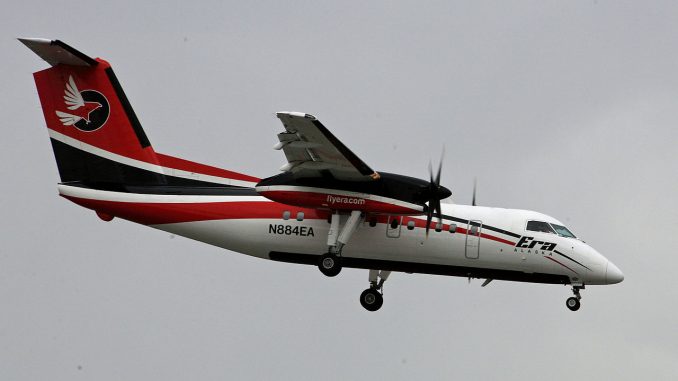 Founded in 1948 by entrepreneur Carl Brady, Era Aviation began as a for-hire helicopter company based in Alaska. Brady would make most of his early work government related, with mapping projects making up most of his early projects. However, the company would expand over its early years and grow in include a full helicopter division specializing on reaching isolated Alaskan towns that couldn't be reached with fixed-wing aircraft. The company expanded through the 1950s and added fixed-wing aircraft on a charter or for-hire basis.
As Era Aviation grew into the 1960s and 1970s, the company would slowly change hands from being privately owned to being part of a company. Carl Brady's share of Era Aviation would decrease as petroleum producer Rowan Companies took a larger stake in the small carrier. Era then took a key role in providing helicopter service to oil towns along the Alaskan coast as well as specializing in search and rescue and utility work for smaller and more rural Alaskan communities.
But in 1983, things changed as Era Aviation decided to enter the commercial side of aviation. The company acquired used Convair 580s to fly from Anchorage to Valdez, Bethel and Kenai and signed a codeshare agreement with Alaska Airlines to allow for passengers traveling from those cities to transfer onto Alaska aircraft in Anchorage to continue their journies. Flights to smaller cities and charter work would be serviced by de Havilland DHC-7s and DHC-6 Twin Otters which would join the airline after its launch.
Era would expand operations through the next two decades to include new cities such as Barrow, Fairbanks, Deadhorse Bay, Kodiak, Homer and their first international service to Whitehorse, Yukon. The airline would hold steady with the Convair 580 fleet for this timeframe but retire the de Havilliand DHC-6 and 7s in favor of de Havilland DHC-8-100s, which joined the fleet in 1990.
But Era was never really a smash hit outside of their helicopter operations. The airline would see multiple investors, usually oil-related companies, inject cash into the carrier in hopes of salvaging one of Alaska's largest regional carriers. The carrier would also make very little changes to the route map and fleet with the only major change being the aforementioned fleet change in 1990.
The early 2000s was the straw that finally broke Era Aviation's back. Driven by the high fuel prices of the late 1990s and early 2000s, an aging fleet of Convair 580s and a massive decrease in demand in the fallout of September 11, Era Aviation claimed Chapter 11 bankruptcy in 2005. During the restructuring, the company's helicopter division would be spun off to make sure that no oil workers would be affected should Era file Chapter 7. Despite the debt that loomed over Era, they managed to escape bankruptcy and continue business as usual.
In the years following, some of Alaska's largest regional carriers, including Frontier Alaska, Era Aviation and Hageland Aviation Services would merge to reduce overlap and cut costs for all parties involved. The new parent company would allow for all carriers to continue operating with their own names for the time being under the parent brand Corvus Airlines.
Under Corvus, Era Aviation would finally receive the much-needed fleet overhaul as the airline took hold of 37-seat de Havilland DHC-8-100s and 19-seat Beechcraft 1900Ds for Era's operations. The carrier would continue to operate as normal for the next few years.
But eventually, the end of Era Aviation would come about with the last day of the Era name being used in May 2014. The airline would be rebranded as Ravn Alaska and Ravn Connect, merging the Corvus brands into one airline. This change from Era Alaska to Ravn Alaska would allow those travelling to distinguish the difference between the previous Era Aviation and still operating Era Helicopters.
Since then, Ravn Alaska has gone on to purchase assets of Alaska's Yute Air after their collapse in 2017 while still operating the same fleet of Era Aviation. The Ravn Alaska livery still refers to their previous airline name, with reds and blacks dominating the fuselage. The Era Aviation name can still be seen on Era Helicopters, who currently work for oil companies with bases in Alaska, Houston, Alabama, Brazil, Suriname and Colombia.
Although Ian McMurtry was never originally an avgeek, he did enjoy watching US Airways aircraft across western Pennsylvania in the early 2000s. He lived along the Pennsylvania Railroad and took a liking to trains but a change of scenery in the mid-2000s saw him shift more of an interest into aviation. He would eventually express this passion by taking flying lessons in mid-Missouri and joining AirlineGeeks in 2013. Now living in Wichita, Kansas, Ian is in college majoring in aerospace engineering and minoring in business administration at Wichita State University.
Latest posts by Ian McMurtry (see all)