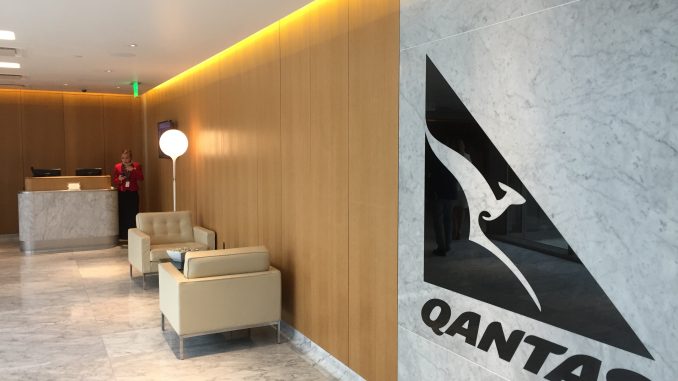 Qantas has created a new a la carte menu for its customers to savor at its First Lounge at LAX for the fall season. The lounge menus are updated by Qantas seasonally to reflect the best seasonal produce from Californian farmers and fishmongers, and it's also one of the best, being designed and created by Australian celebrity chef Neil Perry especially for Los Angeles.
If you're an Aussie foodie, you will definitely recognize that name. One of Australia's leading and most renowned chefs, Neil Perry is most known for his Rockpool Restaurant Empire, but he also oversees the design of Qantas' domestic and international first and business class menus, as well as the dishes served in the airline's lounges. This year marks Qantas' 21st anniversary of working with Perry, and it's one of the longest-running airline-chef partnerships thus far.
More recently, Perry designed Qantas' jetlag-reducing menu in partnership with clinical sleep experts and nutritionists at the University of Sydney's Charles Perkins Centre. The jetlag-reducing menu consists of lighter and healthier options and is currently being served onboard the airline's direct service from Perth to London, a 17-hour flight. According to Qantas, it takes around 11 months to develop a new menu for every season, and dedicated chefs are always testing countless recipes before deciding on the final dish.
AirlineGeeks was invited by Qantas along with a select group of journalists to get a taste of Neil Perry's newly-developed Fall menu for Los Angeles. Perry dined with us at the Qantas First Lounge and gave us the highlights of his healthy Asian-inspired dishes for this season.
The Qantas First Lounge is definitely one of the most competitive lounge products in the U.S. with multiple relaxation zones, designer furniture, a premium bar space, fragrant washroom amenities, and probably one of the friendliest lounge attendants on the West Coast. With amenities on par with what top airline lounges at LAX offer though, the Qantas First Lounge really stands out for this sumptuous dining experience.
Autumn Cocktails and Australian Reds
Upon entrance, we were offered a selection of this season's cocktails shaken up by Perry's team of mixologists at LAX. With a choice between two cocktails, I went with the Crimson Muse Cocktail because of its alluring red color reminiscent of the Qantas livery. It was a nice refresher before the main meal and was really quite tasty.
I eventually tried the second drink, the Autumn Cooler Mocktail, after I finished dessert and found it really quenching. It felt more like a summer drink, but nevertheless, the fragrance and taste of passion fruit is just as invigorating any season. It's a sweet and tasty cocktail, and the passion fruit pulp was a nice touch. Mainstream beverages are also available at the bar, but the cocktails are clearly the highlight here.
Throughout the meal service, attendants were constantly at hand pouring wines from the different wine regions of Australia. There were four different wines on the menu, including Penfolds Bin 51 Riesling (2017), Voyager Estate Chardonnay (2016), Holm Oak Pinot Noir (2016), and Centenary Hill Shiraz (2010). And of course, there is the customary Champagne in every premium lounge experience – Perrier Jouet Grand Brut NV.
According to Qantas, the most popular drink request in the Qantas First Lounge is Champagne, and more than 12,000 bottles are served each year in the Los Angeles First Lounge alone.
Qantas is one of those airlines that really focuses on the drink service. Hydration is key on to battling jetlag on these ultra, long-haul flights that Qantas flies, and passengers onboard are also informed what the best result would be so they can make an informed decision themselves. Onboard its long-haul flights, travelers can wake up to probiotic-infused cold-pressed juice shots, organic kombucha drinks, plain or sparkling water or relaxing herbal tea, the best options for optimal hydration inflight.
To combat jet lag, it's definitely a good idea to stay away from liquors and caffeine which cause dehydration. However, with Qantas offering such a diverse variety of premium wines and spirits, it's definitely hard to keep away. Perry himself even admitted that he can't keep away from three or four glasses of Shiraz on the way to Australia.
Neil Perry's Asian-Inspired Dishes
Let's talk about the thing that we most love about the lounge – the food. I was most excited about this part as I was really looking forward to enjoying my first restaurant-style dining experience at an airline lounge.
Australia's food diversity arises from the country's culture and commerce, and Perry's dishes definitely reflect that this season. Neil Perry has designed his cuisine and this menu to reflect Asia, and it definitely resonates well with both Asian and Western palettes.
"This season, we've introduced a greater variety of Asian flavors that are popular in our in-flight menus and in our broader lounge network and are not too heavy to eat before a flight" Perry said.
Our meal that day was prepared by Qantas' Executive Chef for First Lounges, Allan Parrish, along with his talented brigade of chefs at LAX. There are several options for each course on the menu and each dish is perfectly plated like you are dining at a five-star restaurant.
The meals were absolutely delicious and full of flavor. The best part of it all was it was all focused on being light and healthy – meaning no heavy carbs, sugars, or fats – so that customers can be comfortable and hydrated later during the flight.
I knew I was in for a treat when the first starter course appeared, a cold appetizer of Prawn and Soba Noodle Salad with Chilli Dressing. The king prawns were so gigantic and tasted very fresh and appetizing before the main course. It was also beautifully prepared and came served with chilled soba noodles in a salad of shredded cabbage, asparagus, cherry tomatoes, cucumber, and mint. It also went really well paired with the fresh LA Hearth sourdough that was offered.
We also tried the Soft Polenta with Wild Mushroom Ragout and Salsa Verde, Spicy Beef and Pine Nut Fingers with Sumac Yogurt, along with Perry's signature Salt and Pepper Squid with Green Chilli Dipping Sauce and Aioli. This was my favorite dish – freshly battered calamari, and one of the tastiest dipping sauces I've ever dipped. I don't even normally like fried foods but the fried calamari was clearly awesome. The Green Chilli Dipping Sauce was probably the highlight though as it brought out an amazing flavor from the fried calamari.
Finally, for the main course, we were served Roasted Black Cod with Corn Puree, Broccolini and King Mushrooms, in addition to Chinese Roast Chicken with Sichuan Eggplant, Gai Lan and Jasmine Rice. The Black Cod dish was a seared white fish fillet served on a creamy corn puree with blanched broccolini. It also consisted of generous grilled slices of king mushroom.
The Chinese Roast Chicken had a nice smoked taste and aromatic smell coming from the chicken being deep fried in a flavorsome stock of light soy and aromatics. It reminded me of Peking Duck because of its deep golden color and crispy skin, yet the appearance is still pretty western. It was an amazing pairing of surf and turf, and they definitely resonate well with both east and west.
As if the food variety wasn't enough, we were also treated to some fiber-rich recipes – Mixed Leaves with Neil's Vinaigrette, Roast Cauliflower with Chickpeas, Hummus and Sumac Dressing, and Mushy Peas with Braised Lettuce. They all tasted amazing, and I could see why there was no need for a self-serve buffet in the lounge.
The meal ended with Chocolate Mousse Cake with Hazelnut Cream and Raisins. The sponge cake was moist and delicious, layered with chocolate mousse and topped with coffee jelly. It was also served with honey-dipped raisins and roasted hazelnuts blended with hazelnut cream.
It's perfectly sized to complete the course if you didn't save room for dessert. It appears to go really well with Australian coffee, but you can always ask for herbal tea or another pouring of champagne or wine. I went with still water though as the hazelnut cream was quite rich.
The service was, of course, top-notch throughout. There was obvious attention to detail in the food and table presentation. The servers were friendly and professional and were always checking in to see if we needed any more refills of champagne or wine. They didn't roll their eyes at me when I asked for another cocktail after my dessert.
All in all, the Qantas lounge dining experience hits all the spots correctly. They not only know what their diverse clientele of visitors to their lounge want to taste but also they know what they need to stay healthy and comfortable on the fly. The meals I had were not too heavy in calories and still had an amazing gourmet taste representative of Australia and California.
Final Thoughts
The amazing new Fall menu will be in place until the end of December this year, but travelers not flying long-haul this season need not worry as popular items like Perry's Salt and Pepper Squid with Green Chilli Sauce remain on the menu year-round due to their popularity with Qantas frequent flyers.
Perry is a big deal for Qantas and I can see why the airline has continued to partner with him for so many years. I definitely felt there was more variety in the selection and a lot of attention to detail in the presentation. From design to presentation to taste, the Qantas First Lounge dining experience exceeded my expectations of what an airline can offer its long-haul travelers. The dishes popped with taste and were very well-prepared. You can really tell that his team does research to keep their items local and healthy in every way.
"Our customers have a true appreciation for good food and wine – they understand what's in season and love exploring food and wine regions around Australia and overseas," Perry said. "We know they enjoy seeing produce grown by passionate locals both inflight and in our lounges."
The Qantas First Lounge is the first and only Neil Perry restaurant in the U.S. and it's truly a great experience that I highly advise travelers to make ample time for before flying. Whether you're looking to get a full-on meal or looking for a delightful refresher or paring, you definitely can't go wrong with a tasting menu created by Neil Perry.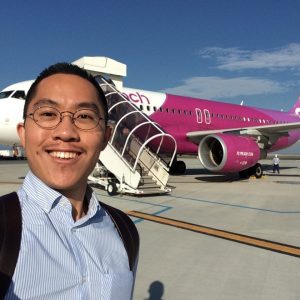 Most people hate long flights or overnight layovers, but Albert loves them. The airport and flying parts of traveling are the biggest highlights of any trip for him – as this avgeek always gets a thrill from sampling different airline cabin products and checking out regional developments happening at local U.S. airports. He's flown on almost every major carrier in the U.S. and Asia Pacific, and he hopes to try out the new A350s soon.

Albert recently completed his undergraduate studies in Business Accounting at USC in Los Angeles and he is currently recruiting for a corporate analyst position at one of the U.S. legacy carriers. During his college years, he interned at LAX for Los Angeles World Airports working behind-the-scenes (and on the ramp) in public relations and accounting. Outside of writing for AirlineGeeks, he enjoys trekking the Hollywood hills, visiting new hotspots throughout SoCal, and doing the occasional weekender on Spirit Airlines.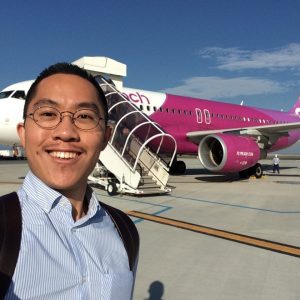 Latest posts by Albert Kuan (see all)