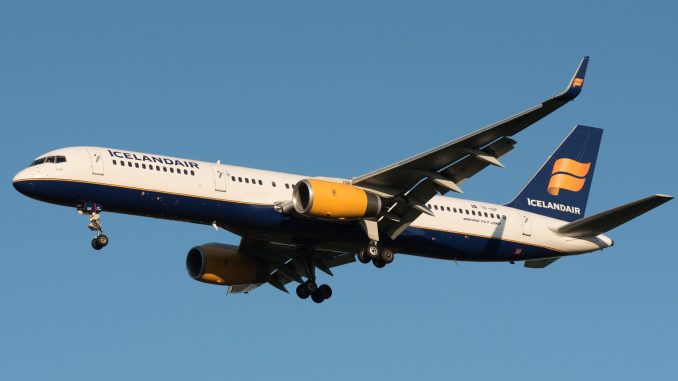 Coming off a disappointing summer season where the airline missed their revenue target and saw their CEO Björgólfur Jóhannsson step down as a result, Icelandair has announced a shift in its traditional overall route structure, as well as changes to individual markets in both continents, that will appear on its winter 2018 and summer 2019 schedules. The airline's biggest change will be the addition of a second bank of summer flights heading to and from North America and mainland Europe, as well as the reduction of aircraft overnighting at more distant destinations.
A New Flight Bank
According to the carrier, the additional flight bank will arrive at Keflavik International Airport later in the morning than the current sole bank, arriving from the west around 9:30 a.m. and departing for mainland Europe approximately one hour later. On the return, European arrivals will arrive at around 7:00 p.m., after the first bank of flights to the U.S. and Canada have departed, with the evening departures for North America occurring around 8:00 p.m.
The banks will be focused on larger markets, with cities like Berlin, Brussels, Copenhagen, Paris, Boston, Chicago-O'Hare, New York, Toronto and Washington, among others, taking part in the second bank. Cities that receive wing-to-wing service, where two flights depart within minutes of each other, will now see only one flight per bank, allowing for more options for passengers in terms of flight times.
The shift between a singular flight bank in each direction to two flight banks is part of Icelandair's effort to alleviate congestion at Keflavik Airport, which is near capacity at peak times since both Icelandair and WOW air bank their flights at similar times. Anybody who has ever transited the airport knows that it is prone to congestion. While efforts are underway to increase the size of the terminal, the addition of the second bank during non-peak times will allow for easier transfers in a less-crowded terminal.
Goodbye Airport Overnights
The change to the flight banks also benefits Icelandair financially as it can use the second bank to eliminate airport overnights for its aircraft, commonly seen at its further destinations. In these markets, aircraft stay on the ground for nearly a full day, reducing aircraft availability and incurring additional expenses. Returning those aircraft to Iceland on the same day would mean an arrival too late to facilitate onward connections, a problem the second bank will solve.
The cities of Vancouver, Orlando, Dallas, Denver, Seattle, Tampa, Kansas City, Portland and Denver will no longer see Icelandair's aircraft overnighting, with aircraft spending around 60-minutes on the ground before returning to Europe in the second bank. San Francisco and Anchorage, however, will continue to see aircraft overnighting.
Having the aircraft back at Keflavik at non-peak times instead of resting at an outstation means the airline can offer more flights, reduce congestion at Keflavik during peak times and save costs.
Changes to Individual Markets
Icelandair is also making small changes in individual smaller markets. The airline will not operate the previously planned winter service to Cleveland, where the carrier competes against low-cost rival WOW Air, citing a lack of demand outside of summer, resuming the service in April again with the Boeing 737 MAX 8. Additionally, Edmonton will see its Icelandair flights suspended for three winter months due to lack of demand as well, with flights resuming in March.
While the airline is decreasing service to Edmonton, positive changes are coming to Vancouver and Toronto. The Reykjavik-Toronto service will increase from seven flights per week to 11 flights per week to meet growing demand and allow for Toronto to take part in the second wave that will bring more options to the Iceland and Europe going travelers. Much farther west, Vancouver will see Icelandair remove the overnight layover for its aircraft, transitioning instead to a 60-minute layover before returning to its homeland as part of the second bank of flights.
Chicago will also see a change, with the airline transitioning from flights on the 262-seat Boeing 767-300 to 12-times-weekly Boeing 757-200 service. Instead of wing-to-wing service, as seen in the past in Chicago, there will only be one flight each in the two banks on the days where the airline has two flights between Reykjavík and the Windy City, with plans to use the Boeing 737 MAX 8 on one of those two flights.
As a result of the new second bank, the airline will also increase frequencies to Central Europe, including Berlin, increasing from seven to 10 times weekly; Hamburg  increasing seven to 10 times weekly; Frankfurt increasing from once to twice daily; Munich, increasing once to twice daily; and Brussels, increasing from five to 10 times weekly, to allow for more options for second bank passengers. The addition of extra flights to Central Europe joins the push for more flights to the region that will see Icelandair start flights to Düsseldorf in the fall.
Furthermore, Icelandair will also make changes to its mid-size North American market service. The airline launched flights to Kansas City this year using 184-seat Boeing 757-200s on three times weekly service. In 2019, the airline will increase that service to four times weekly but downsize the aircraft offered to the 154-seat Boeing 737 MAX 8s.
The carrier's second bank of flights will more heavily rely on their newer Boeing 737 MAX 8s, with additional frequencies to routes like Brussels, Berlin, Chicago, Baltimore and Minneapolis seeing the MAX being deployed. The airline currently has three MAX 8s in the fleet, acquired earlier this year, but expect to take hold of as many as eight of the type, with further deliveries of eight Boeing 737 MAX 9s due by 2021.
Update: This article was updated to show that Chicago currently does not and will not receive double daily service and will maintain its 12-times-weekly flights to Reykjavík.
Although Ian McMurtry was never originally an avgeek, he did enjoy watching US Airways aircraft across western Pennsylvania in the early 2000s. He lived along the Pennsylvania Railroad and took a liking to trains but a change of scenery in the mid-2000s saw him shift more of an interest into aviation. He would eventually express this passion by taking flying lessons in mid-Missouri and joining AirlineGeeks in 2013. Now living in Wichita, Kansas, Ian is in college majoring in aerospace engineering and minoring in business administration at Wichita State University.
Latest posts by Ian McMurtry (see all)