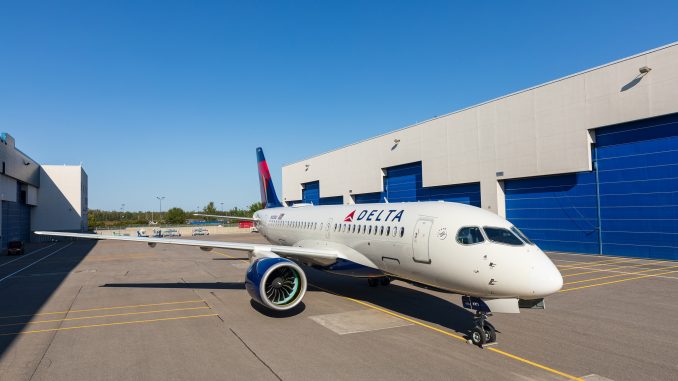 Delta is pulling the sheet off of its newest jet. The Airbus A220, formerly known as the Bombardier C Series, is making its initial U.S. debut with the Atlanta-based carrier. The airline introduced its first A220 after it came out of the paint shop near Bombardier's plant in Mirabel, Quebec.
The aircraft was painted in nine days. According to the airline, approximately 165 gallons of paint were used. After being fitted with Delta's livery, the A220 will head to final assembly where finishing touches will be added.
Larry Cato, a program manager on Delta's Fleet Management team, said, "There's nothing like seeing years of planning come together in the shape of a freshly painted aircraft," Cato said. "It's a major milestone for the future of our fleet."
The airline plans to use the A220 on routes currently operated by the airline's regional E175 and CRJ-900 fleets, according to Flightglobal. Plans for the aircraft could include flights from Boston and shuttle routes between Chicago, New York-LGA, and Washington Reagan.
Delta's A220 will be fitted with a 'state-of-the-art' interior, says the airline. The A220 will join Delta's fleet of next-generation Airbus aircraft as the airline became the first in the U.S. to operate Airbus' A350-900XWB last year.
Julie Léveillé, an Airbus supervisor in the Mirabel paint shop, noted, "It's a tremendous feeling of accomplishment to know we just outfitted North America's first A220 from tail to tip," Léveillé said. "I've been working in the paint shop for 15 years. It can be a challenging job, but seeing the finished product makes it worth it."
With 75 A220 aircraft on order, Delta plans on taking delivery of the new jet in early 2019.
Ryan founded AirlineGeeks.com back in February 2013 (actually, it was called Aviation Official, but we've changed a bit since then). From being on the yoke of a Piper Navajo, to visiting about Delta's operations center in Atlanta, Ryan has done it all. in 2016, along with American Airlines, Ryan masterminded AAviationDay at more than 10 locations around the world. The smell of jet fumes in the morning along with the countless number of passionate airline employees keep him enthralled in the industry, always seeking more. You can find him helping out travelers at Reagan National Airport near Washington, D.C. when he's not doing something for AirlineGeeks.
Latest posts by Ryan Ewing (see all)