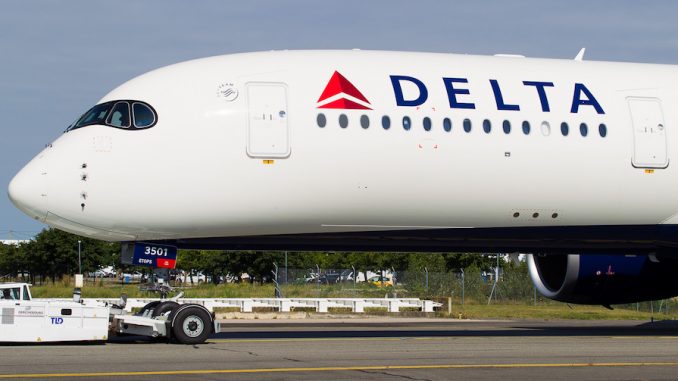 Delta Air Lines welcomed its brand new Airbus A350-900XWB aircraft at its main hub in Atlanta, Ga early Sunday morning. The aircraft, registered as N501DN, took off from Toulouse, France behind schedule at 10:43 p.m. local time arriving at around 2 a.m. the same day.
To celebrate the new fleet type, Delta's A350-900XWB will bear the fleet number '3501.' This is the first A350XWB to be operated by a North American carrier.
This is the first of 25 A350 aircraft that Delta is waiting to receive from Airbus. The aircraft will be the first in the airline's fleet equipped with the new Delta One Suites and a premium economy cabin layout, featuring 32 Delta One suites, 48 Delta Premium Select seats, and 226 economy seats.
In total, the aircraft will carry 306 passengers with a full load factor. The first commercial service for the new aircraft is currently scheduled to depart from Detroit to Tokyo-Narita on October 30, replacing a route dominated by the carrier's iconic 747-400. The new A350 fleet type will replace the 747, which is affectionally known as the 'Queen of the Skies.'
Detroit will become the first crew base for Delta's A350 fleet. The Atlanta-based airline has said that the A350XWB will allow them to continue to grow within their Pacific network, operating on long-range routes from their hubs in the U.S.
The airline will also commence A350 service on alternating days between Detroit (DTW) and Beijing (PEK) on Jan. 17, 2018, until kicking off daily flights on February 23.
Delta is aggressively modernizing its fleet with cabin retrofits for older aircraft along with the addition of new Airbus A321 aircraft. These narrow-body jets feature mood-lighting, inflight entertainment, and larger overhead bin space.
The Airbus A350 is expected to generate a 20 percent improvement in operating costs per flight compared to the 747-400s. The carrier expects to take delivery of the second A350-900 in the coming weeks.
AirlineGeeks.com's Ryan Ewing contributed to this story.
Tomos has had a keen interest in aviation for over 10 years and 4 years ago he decided to take it to the next level. He currently holds a private pilot's license and is working towards his commercial license.
Latest posts by Tomos Howells (see all)