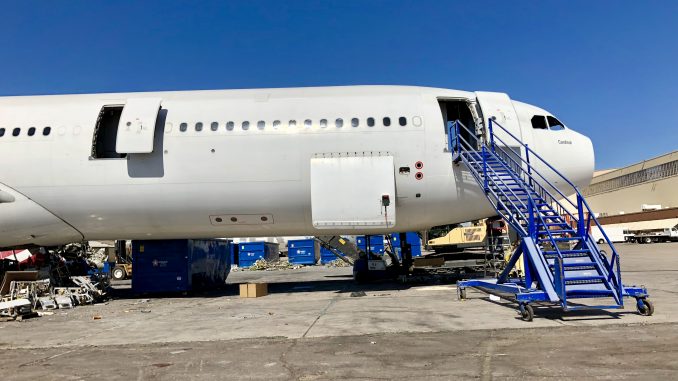 It's not often that you'll see a Corsair Boeing 747-300, China Southern Boeing 777-200, US Airways Boeing 757 and a Southwest Airlines 737-700 hanging out with the German Air Force and perspective KLM and Lufthansa pilots at a small general aviation airport. However, Phoenix Goodyear Airport is not your typical general aviation airport.
Situated a few miles south of Interstate I-10, which runs directly through Phoenix, Ariz. and 20 miles from Phoenix's Sky Harbor International Airport, Phoenix Goodyear Airport is home to some of the aviation world's favorite aircraft that have long since disappeared from the skies. This airport turned retirement home is known as an aircraft boneyard, where aircraft are stored and often stripped for parts.
Despite its current status as a general aviation airport, reliever airport to nearby Sky Harbor Airport and aircraft boneyard, Goodyear Airport wasn't always a place where aircraft went to die, it was a place where aviation thrived.
A Naval Base in the Desert
While landlocked Arizona would be the last place you'd expect to find a United States Navy installation, Goodyear Airport began its life as a Naval Air Facility, called NAF Litchfield Park, during World War II. The airport was a veritable powerhouse for military aviation at the time and exemplified the stateside war effort.
At its peak, NAF Litchfield Park employed nearly 8,000 workers and housed 64 buildings. Its main task was building sections for aircraft such as the PB2Y-3 Coronado, a flying boat used by the Navy in the Pacific theatre, as well as modifying other flying boat types. The base remained in operation until the end of the war, serving its country valiantly and greatly helping the war effort.
After the war ended, NAF Litchfield Park was still of use to the U.S. government and was upgraded to a full-fledged Naval Air Station, updating its name to NAS Litchfield Park. At the time, the U.S. Army and U.S. Navy were the main branches of the United States Armed Forces to operate aircraft in war, as the U.S. Air Force wasn't created as an independent branch of the military until 1947.
Without a war, however, aircraft production stopped, and the airport began its lasting role as a preservation and storage site for aircraft. As the use of aircraft, fixed-wing and rotorcraft alike, became more widespread across all branches of the military, the number of aircraft increased dramatically and the government needed a place to store them when they reached the end of their lifespan.
While the airport once produced aircraft and gave them life, it was now the place where most aircraft finished their lives. Aircraft were sent to NAS Litchfield Park from the U.S. Navy, Marine Corps and Coast Guard for storage and by the end of 1947, 1,000 unneeded aircraft were found on the base, according to historians. However, not all aircraft that touched down on its runways were housed for storage, as the base was used as a supply stop on transcontinental naval air routes.
Most of the aircraft found a second life during the Korean War when 1,400 out of the 2,000 planes stored at the facility were successfully put back into service. After the war, however, many found themselves back in Arizona, with the total number rising to 2,500 in 1958. While most were propeller aircraft, the start of the military's jet age saw some of the first jet aircraft being stored at the base too.
An Airlift Down I-10
By the start of the 1960s, NAS Litchfield Park was Arizona's premier center for aircraft storage. However, that status would be short-lived as the U.S. Air Force took over preservation and storage in 1963. As Litchfield Park was a naval base, the aircraft couldn't stay there. While Luke Air Force Base was the closest choice, just a few miles from Litchfield Park, the Military Aircraft Storage and Disposition Center at Davis-Monthan Air Force Base in Tucson, Ariz. was chosen for the task.
Thus, an airlift of 615 aircraft began down Interstate 10, which connects Phoenix and Tucson, to their new home over the next few years. 115 aircraft were trucked down to Tucson and the ones that couldn't fly were officially scrapped. Today, Davis-Monthan houses thousands of military aircraft, from C-130 Hercules and C-17 Globemasters to CH-53 Sea Stallions and UH-60 Blackhawks.
Under the direction of the 309th Aerospace Maintenance and Regeneration Group (AMRG), "The Boneyard," as the storage facility is affectionately known is, houses over 4,000 aircraft from all branches of the government, not just the military. Due to the vast number of aircraft stored there, The Boneyard is the largest aircraft storage facility in the world.
A New Home for Old Airliners
With most of its aircraft either moving down to Tucson or being used for scrap, NAS Litchfield Park closed its doors in 1968. However, it was still a large airport due to its extensive acreage used for storage and could accommodate a large runway, making it of interest to the city of Phoenix. Following its closure, the city of Phoenix bought the airport, turning it into a general aviation airport that served as a reliever airport for Sky Harbor International.
Since then, countless aircraft from the world's airlines have graced its runways. On any given day, a visit to the airport will have you seeing aircraft from airlines based on almost all of the world's continents. The airport was the destination of choice for AirTran Airways when it retired its fleet of Boeing 717s that it didn't sell to Delta Air Lines. The signature t-tails that defined the airline were flown from cities all across the country to Phoenix.
Modern Day Use
But much like its origins back during World War II, the airport would once again foster aviation instead of just act as a final resting place for it. Numerous flight training centers have opened up on the field since its transition to a general aviation airport, training the pilots who would continue the tradition of aviation.
It's not just local Phoenicians and Arizonans training at the airport, as the airport has become a worldwide hub for aviation training and serving as the U.S. training center for some of the world's most notable airlines and militaries. Through the Airline Training Center Arizona (ATCA), Lufthansa Flight Training provides flight instruction to its newest hires and KLM Royal Dutch Airlines hires on a fleet of aircraft that includes 8 Cirrus SR20s, 25 Beechcraft Bonanzas and 6 Grob 120As used for Air Transport Pilot License (ATPL) and Multi-Pilot License (MPL) training.
Additionally, the German Air Force also trains its pilots through the ATCA on Grob 120A aircraft. The UK-based Oxford Aviation Academy, which trains British Airways pilots, was also based at the field until 2013 when it moved across town to Falcon Field.
So, while the airport is home to many former aircraft, with their logos and airline brandings covered or removed, it still serves a vital role in promoting aviation to up and coming pilots from all over the world.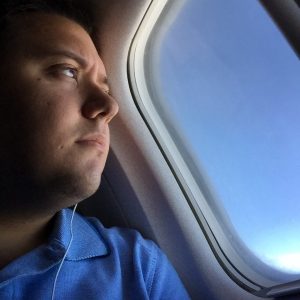 Tom has been flying for as long as he can remember. His first flight memory was on a Song Airlines 757 flying from LaGuardia to Orlando. Back then, he was afraid to fly because he thought you needed to jump off the plane in order to get off. Some years later, Tom is now a seasoned traveler, often flying to places just for the fun of it. Most of the time, he'll never leave the airport on his trips. If he's not at home or at work as a Line Service Technician at Long Island MacArthur Airport, he's off flying somewhere, but only for the day.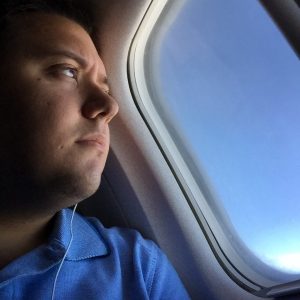 Latest posts by Thomas Pallini (see all)