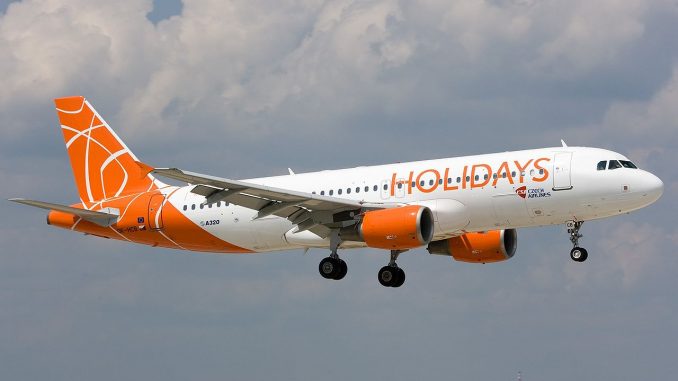 With the demand for travel to leisure destinations increasing, legacy brands have been coming up with their own leisure-specific offshoots to work alongside their main airlines. CSA Czech Airlines is just one of those airlines that decided to take up the task and launch its own leisure specific brand in 2010 in the hopes of increasing revenues during holiday seasons.
The airline utilized property rights they already owned, going with the name Holidays Czech Airlines for the carrier. Holidays Czech was used as a brand name for charter flights in the 1980s but no aircraft were ever painted to promote the brand within the brand. The charter flights would transition to CSA in time but the airline held onto the "Holidays" naming rights.
Holidays Czech Airlines would launch in 2010 with a fleet of two Boeing 737-400s that were previously utilized by the main flag carrier. The airline's two 737s were equipped with an all-economy 144-seat configuration and would take up leisure routes to Turkey, Spain and Greece. Early destinations include Rhodes, Antalya, and Palma de Mallorca from its base in Prague.
In time, CSA Czech would upgrade the old fleet of Holidays with a newer fleet of Airbus A320s. The first A320 would join the fleet in 2011 with two more joining in 2012 to allow the airline to retire the 737s. The addition of the 180-seat A320s allowed Holidays to expand its influence by including charter operations into its schedule.
Besides its own charter operations, Holidays Czech Airlines also became known for leasing out aircraft, especially during leisure down months. The airline would lease out A320s to flynas, SmartWings, and Danube Wings for seasonal leases while the Czech market waited for the next major travel season.
The airline would also lease out two Airbus A320s to Iceland Express after the airline's previous aircraft leasing company, Astreus Airlines, filed for bankruptcy and forced the Icelandic brand to temporarily suspend operations. Holidays Czech's A320s would fly for Iceland Express until the airline shuttered operations in 2012.
Despite the growing fleet, Holidays Czech wasn't getting the parent company the demand that they were hoping to see and in the end, CSA Czech Airlines decided to merge the two airlines back into one airline in 2013. In the four operating years that CSA Czech operated Holidays, the parent company would only turn a profit once leaving the airline looking for ways to stop the bleeding of cash as it faced competition from fellow airlines like SmartWings.
Holidays Czech would completely disappear with the fleet of Airbus A320s being sold off to airlines including Slovakia's Travel Services, Latvia's SmartLynx, and Czech carrier SmartWings while the destinations the airline operated to being abandoned.
The final Holidays Czech Airlines aircraft, OK-LEF, would leave the fleet in June 2014 and would officially end the airlines four-year run. CSA Czech would also suspend the airline's separate webpage would be suspended and the Holidays branding would vanish from CSA Czech Airlines and around Prague. The airline still offers deals to previously operated destinations but through its alliance partners at SkyTeam.

Ian has been an avgeek since 2004 when he started spotting US Airways Express planes at Johnstown Airport in Johnstown, Pennsylvania. He now lives in Wichita and enjoys spotting planes in Kansas City and Wichita as well as those flying at high altitudes over his home. He is a pilot with more than 40 hours of experience behind a Cessna 172, Diamond DA-20, and Piper PA-28. He flies Southwest Airlines on most of his domestic flights and Icelandair when flying to Europe. Ian's route map spans from Iceland and Alaska in the north to St. Maarten in the south. He is a student at Wichita State University, where he will study aerospace and mechanical engineering.

Latest posts by Ian McMurtry (see all)