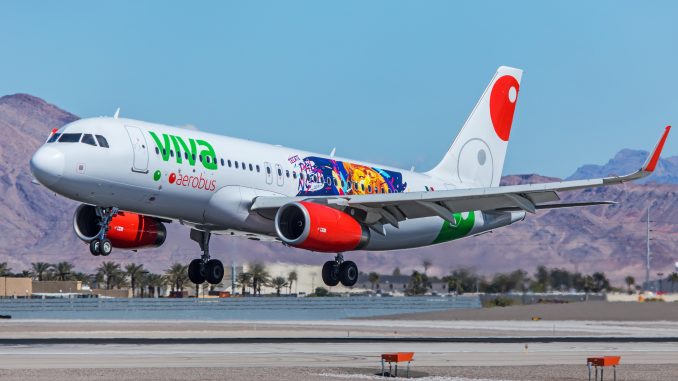 Mexican low-cost airline VivaAerobus inaugurated a new route on Thursday from Mexico City to New York. The first flight, VB3940, departed Mexico City on-time just after 7:00 a.m. and arrived 4 hours later just before 1:00 p.m. Its arrival in New York marked the sixth U.S. destination for the airline and second on the East Coast following Newark, N.J., with most of its destinations in the Midwest or Western United States.
The inaugural flight flew an unusual route that hugged the eastern coast of Mexico, crossing the border near Brownsville, Texas, instead of flying out across the Gulf of Mexico to intercept land in Northern Florida as other flights do. A few miles into U.S. airspace, it cut across the Gulf of Mexico, never more than 25 or so miles from the coast, and continued the journey across the U.S. to New York.
VivaAerobus plans to operate a daily roundtrip originating in Mexico City on its Airbus A320, utilizing Terminal 1 at JFK Airport, the all-international terminal owned by a consortium of airlines that includes Lufthansa, Air France, Japan Airlines and Korean Air. The inaugural flight was operated by an Airbus A320neo, registration XA-VIM, making it one of the few carriers to operate an A320neo, the fuel-efficient variant of the popular single-aisle aircraft, to JFK, a list that also includes InterJet.
The Mexico City-based carrier's A320neos feature 186 seats in an all-economy configuration. In ultra-low-cost fashion, seat pitch on its aircraft are 29-inches and the width is 17.3-inches. The airline does not offer in-flight entertainment and food on board is for purchase. The offering is similar to Volaris, another ultra-low-cost airline, in that extras such as carry-on baggage and seat assignments are subject to extra fees.
To celebrate its newest destination, VivaAerobus held a launch party at the Consulate General of Mexico in New York City. In attendance representing both Mexico and the airline was Consul General Diego Gomez Pickering, VivaAerobus CEO Juan Carlos Zuazua, Deputy General Director of Mexico City International Airport Armando Subirats and Executive Director of Mexico´s Tourism Board in New York Alfonso Sumano.
"We are confident that this new route will become a catalyst for the increase of US visitors to Mexico and vice versa," said Pickering
"We landed to serve New York´s travelers with Viva's insignias:  low prices, customer focus, personalized trips, operational efficiency, advanced technology and one of the youngest fleets in the world," said Zuazua.
"Mexico City – New York is a highly requested route, thus a relevant connection for both countries. Therefore, the inauguration of a new flight option is always great news for the benefit of travelers and the industry," said Subirats.
The ultra-low-cost airline joins a long list of airlines currently flying the route, chief among them Mexican flag carrier Aeromexico but also Volaris, InterJet and Delta Air Lines. With the inclusion of VivaAerobus, there are around 20 daily flights between the two cities dominated by Aeromexico and InterJet with no shortage of competition from other carriers, not including service at nearby Newark Liberty International Airport from United Airlines.
Despite the long list of carriers, hundreds of available seats and numerous aircraft flying the route on a daily basis ranging from A320s to a Boeing 787 Dreamliner, the market between the two economic hubs remains profitable and undaunting for new entrants. JetBlue Airways will be joining in on the route with new service beginning on Oct. 25 from JFK Airport's Terminal 5 with a daily roundtrip on its A320 aircraft, a route which survived the network cuts announced earlier this month.
New York can also boast more connections to Latin America. With VivaAerobus beginning service to Mexico City and Avianca Costa Rica preparing to inaugurate service between Guatemala City and New York next week, New York is more connected to Latin America than ever.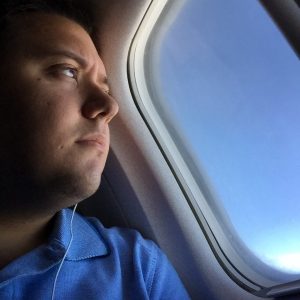 Tom has been flying for as long as he can remember. His first flight memory was on a Song Airlines 757 flying from LaGuardia to Orlando. Back then, he was afraid to fly because he thought you needed to jump off the plane in order to get off. Some years later, Tom is now a seasoned traveler, often flying to places just for the fun of it. Most of the time, he'll never leave the airport on his trips. If he's not at home or at work as a Line Service Technician at Long Island MacArthur Airport, he's off flying somewhere, but only for the day.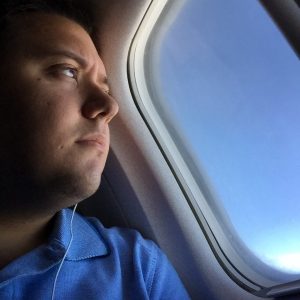 Latest posts by Thomas Pallini (see all)