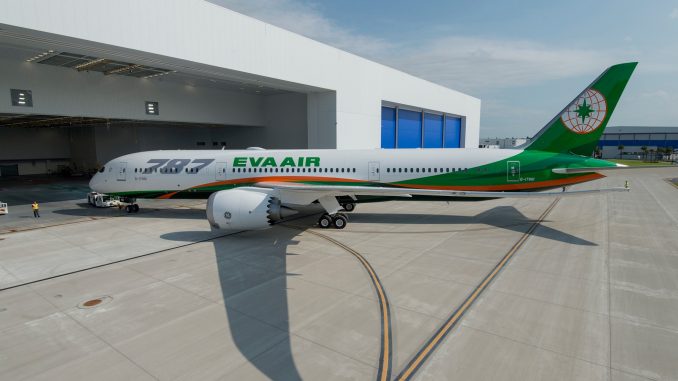 The two major Taiwan-based carriers, China Airlines and EVA Air, are showcasing their newest aircraft.
According to EVA Air's Steve Lin, the carrier's chairman, the company unveiled the first Boeing 787-9 Dreamliner in Taiwan on Monday. EVA Air has ordered four 787-9 and 20 787-10. All aircraft are expected to be delivered by 2022, the first 787 will be deployed on the Taipei to Hong Kong route in November.
Lin said, "EVA is using the Dreamliner to refresh our fleet. For us, the addition of the technologically advanced Dreamliners demonstrates EVA's capacity to sustain steady growth and continue to upgrade our service quality."
The second Dreamliner is expected to be delivered by next month, where EVA will expand the Dreamliner's services to Tokyo and Osaka, Japan. The remaining two 787-9s are expected for delivery in 2019 and EVA will use them on flights to Australia and Europe. The first 787-10 is scheduled to be delivered in the second quarter of next year.
The 787-9 has a maximum range of 7,100 nautical miles and can fly nonstop from Taiwan to Vancouver, Seattle, Vienna and Brisbane, Australia. The plane is configured for 304 passengers in two classes, including 26 seats in Royal Laurel class and 278 in economy.
At the same time, China Airlines hosted a ceremony to celebrate the handover of the 14th Airbus A350 in Toulouse, France. China Airlines is the first and sole carrier in Taiwan to have a joint Airbus liveried aircraft to feature corporate colors.
According to China Airlines, the maiden flight of the new aircraft is on Oct,26. Again, the Taipei to Hong Kong route will be used for the new aircraft. The special aircraft also features the Syrmaricus Mikado, a bird which represents Taiwan.
According to Taiwan News, Nuan-Hsuan Ho, the chairman of the airline has said that they are likely to order up to six Airbus A350 and a decision will be made later this year or next year. Mr. Ho also revealed the airline is trying to expand its route map, the new destinations could be Milan and Prague. Ho believed Milan is the financial center of Italy and Eastern Europe is a potential market.

Will has been a travel agent in Hong Kong for almost three decades, as time goes by he hasn't lost his passion for his job, He still has plenty of enthusiasm for the airline industry and airport operations.