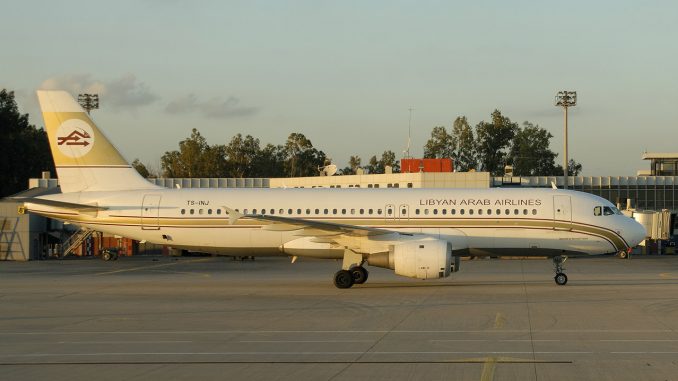 While the Arab Spring brought forward new scenes for the countries of the Middle East and North Africa, the airlines of these countries have had to make sure that their local citizens have the ability to continue to receive their services despite the political landscape. No country was more impacted by war than Libya, whose people ousted dictator Muammar Ghaddafi in favor of a new government. As the Libyans continue to let the dust settle postwar, their airlines have already gone to work reconnecting the country.
For government-backed carriers Libyan Arab Airlines and Afriqiyah Airways, life post-war has come with a large extent of operations reductions and repairs. Libyan Arab Airlines saw four aircraft written off due to fighting between Libyan factions during the war. The airline lost one Airbus A320-200, one Airbus A300-622 and two Bombardier CRJ-900 that were damaged beyond repair after being hit in the crossfire. Meanwhile, Afriqiyah Airways lost two young Airbus A330-200s and one VIP Airbus A300-604 that was written off during the conflict at the airport.
However, since the war, both airlines have continued to shrink their fleets. Libyan Arab has parked 12 of its 18 aircraft as they await the return of demand or await repairs. The aircraft, which consist of three A320-200s, two A330-200s, five CRJ-900s and two ATR 42s, are currently resting at various airports in Europe and Africa, including Tripoli, Toulouse, and Malta. On the other hand, Afriqiyah Airways has stored eight of its 13 airframes.
The airline has parked four A320-200s and three A319-100s in Malta and two A330-200s in Hamburg, Germany after they received serious gunshot wounds during the war. Both sit tailless with multiple patch marks where the wounds were repaired over. Afriqiyah would also sell off their government-run aircraft to the newly reformed Libyan government, selling them the VIP Airbus A340-300 that former dictator Muammar Ghaddafi used during his reign. Despite the downsized fleets, Afriqiyah and Libyan Arab have positive outlooks for the future as they continue to hold onto their orders for Airbus A350-900XWBs which are expected to be used for flights to North America and Asia.
As a result of the downturn of travel in Libya as well as post-war restrictions, both carriers have seen massive cuts to their route maps. Libyan registered carriers are currently banned from European airspace and therefore have to find alternative methods to bypass this restriction.
For Afriqiyah, the airline is bypassing the blockade by selling an Airbus A320-200 to Lithuanian-based Small Planet Airlines. Small Planet in return has registered the aircraft to Lithuania and leased it back to Afriqiyah who uses it for its European routes to Dusseldorf, London-Gatwick, and Rome. On the other hand, Libyan is leasing aircraft from the Emirates to bypass the issue and continue to operate routes to Athens, Moscow-Sheremetyevo, London-Heathrow, Malta, and Manchester.
Despite finding ways to bypass the restricted airspace, Libyan Arab and Afriqiyah have still seen a massive impact caused by the Arab Spring. The two airlines have suspended a combined 41 routes in the years following the war with destinations ranging from Paris-Charles de Gaulle to Beijing to N'Djamena.
The downsizing post-war would also come with a rebranding that would be needed for the carrier to forget its former owner's rule. Ghaddafi had forced the airline to brand themselves with a 9.9.99 livery on the tail as a symbol of Libya's success in forming the African Union, which formed September 9, 1999. Ghaddafi saw himself as the guiding force for creating the union and wanted to celebrate it with having the date etched into aircraft, including his VIP A340, that would fly to those countries. However, once the Ghaddafi regime fell the airline removed the 9.9.99 livery from its fleet and opted for a new blue and black look that would symbolize a turtledove and mark a new era for the country and airline.
But the issues plaguing the government-backed airline doesn't stop at just their decrease in demand but the hubs themselves will take a while to rebuild. Tripoli International Airport was home to a large portion of the fighting in the country and the airport currently finds itself in a need to rebuild in the years following the war. Airlines have been displaced by the war and are currently using alternative airfields until their main home is operational again. Afriqiyah has moved a large portion of its operations to Mitiga Airport in west Tripoli that use to be a Nazi airbase in World War II.
Meanwhile, Libyan Arab has moved to Misrata in east Tripoli and inherited the former French World War II base for the time being. A large portion of Libyan international arrivals and departures have transitioned from Tripoli to Benghazi for the time being since the airport in Benghazi is more capable to deal with border patrol than the smaller Tripoli airport can. Tripoli is currently building a new terminal at the closed airport with the planned launch date being 2020.
But it's not all bad news for Libya as private carriers have managed to remain afloat during the conflict and provide competition for the rebuilding nation. Air Libya saw two aircraft, one Avro RJ100 and one BAe 146-200, written off during the conflict but continues to utilize its remaining fleet of Avros and BAes to serve Libya. The airline currently uses one BAe 146-200 and one Avro RJ100 (with two more stored) to operate routes from Benghazi to Kufra, Sabha, Tobruk, El Fasher, Sudan, Alexandria, Agades, and N'Djamena.
For the remaining carriers, reductions in service have also allowed them to remain afloat. Buraq Air parked three of its five Boeing 737 family aircraft and terminated routes to Alexandria, Sarajevo, Cairo, Rabat and Aleppo but still operate routes to Istanbul, Sfax, Tunis and Monastir from its hub in Tripoli-Mitiga. The airline took damage during the war to one Boeing 737-500 on the ground in Tripoli and one Boeing 737-800 was shot at during the fighting but the airline escaped writing off any airframes.
Meanwhile, Ghadames Air Transport used the war to overhaul its fleet. The airline retired its Douglas DC-9s and replaced them with leased Airbus A320-200s. Currently, Ghadames operates one Airbus A320-200 with flights from its base in Tripoli-Mitiga to Istanbul, Tunis, and Khartoum.
Postwar Libya has also seen the rise of a new airline in the Libyan market. Libyan Wings Airlines had started planning routes in 2011 but the rise of the Arab Spring and the shifting political climate caused the airline to suspend plans as their leasing company in Dubai refused to deliver aircraft to them as they knew their investment would be destroyed in combat. Libyan Wings would have to wait till 2014 and would eventually launch routes from Tripoli-Mitiga to Tunis and Istanbul using two Airbus A319-100s. The airline hopes to continue to see profitability and grow to contest the two larger carriers in Afriqiyah and Libyan Arab in the future in terms of fleet and route size.
The airlines are currently seeing a large portion of their demand be driven by Libyan citizens and businessmen who look to make sure that commerce inside the rebuilding country continues. And with most foreign carriers currently leaving Libya uncontested, it becomes the sole take for these domestic brands to carry Libyans into a new era.
Although Ian McMurtry was never originally an avgeek, he did enjoy watching US Airways aircraft across western Pennsylvania in the early 2000s. He lived along the Pennsylvania Railroad and took a liking to trains but a change of scenery in the mid-2000s saw him shift more of an interest into aviation. He would eventually express this passion by taking flying lessons in mid-Missouri and joining AirlineGeeks in 2013. Now living in Wichita, Kansas, Ian is in college majoring in aerospace engineering and minoring in business administration at Wichita State University.
Latest posts by Ian McMurtry (see all)