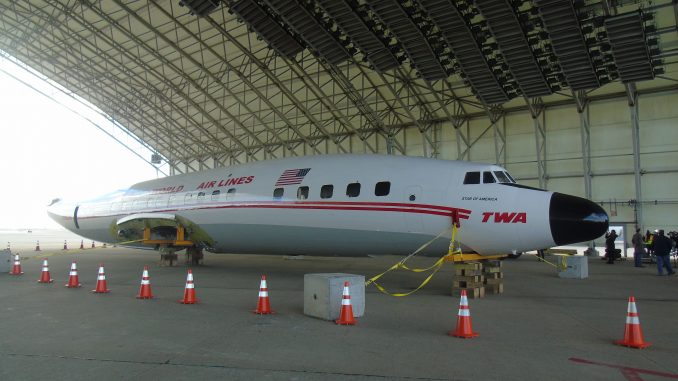 In advance of the opening of the TWA Hotel in spring 2019, one of its main centerpieces, a former TWA Lockheed L-1649A Starliner, has arrived at John F. Kennedy International Airport while it awaits the completion of the hotel. Once the hotel is opened, the aircraft will be placed in between the former TWA terminal-turned-hotel and the current Terminal 5, home to JetBlue Airways.
The plan for the iconic aircraft is for it to be used as a cocktail bar as part of the hotel, serving guests as if they were back in the golden age of aviation. Once completed, the revitalized propeller aircraft will be an avgeek's dream venue. In fact, one engaged couple, consisting of a Delta Air Lines pilot and Southwest Airlines flight attendant, are holding off on their wedding in order to have one of their wedding parties in the old aircraft that's been brought back to life.
While MCR Development CEO Tyler Morse has glamorous plans for the aircraft, its long journey to New York was anything but, starting all the way back in 1958. Following her tenure at TWA serving Idlewild Airport, as JFK Airport was called before its name was changed to honor the former president, the Constellation, or "Connie" as she is affectionately known as, spent time in Alaska flying in the bush.
Following the stint in Alaska, the plane wound up in Central America, where it would find itself transporting drugs across the region for traffickers. Despite its once glamorous lifestyle as a TWA airliner, the plane was then abandoned in a ditch in San Pedro Sula, Honduras. Eventually finding its way to Lewiston, Maine, Connie was purchased by Lufthansa before finally being acquired by MCR Development for use at the hotel.
After being painted in TWA colors and restored to its former glory, Connie was driven to New York, but its adventure did not stop there. Along the way, the oversized truck carrying Connie suffered a flat tire and had to stop for repairs. Then, the aircraft made an additional pit stop at New York's Throgs Neck Bridge, since the City of New York would not let her into Queens until preparations were made that involved taking down street lights to accommodate Connie's height.
All that is in the past, however, as the aircraft has arrived at what will most likely be its final home at the modern-day JFK Airport, taking her place as the "Queen of Queens." The TWA Hotel is expected to open in spring 2019 with reservations opening up at the end of this year.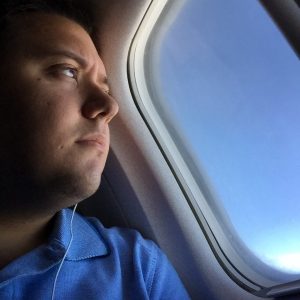 Tom has been flying for as long as he can remember. His first flight memory was on a Song Airlines 757 flying from LaGuardia to Orlando. Back then, he was afraid to fly because he thought you needed to jump off the plane in order to get off. Some years later, Tom is now a seasoned traveler, often flying to places just for the fun of it. Most of the time, he'll never leave the airport on his trips. If he's not at home or at work as a Line Service Technician at Long Island MacArthur Airport, he's off flying somewhere, but only for the day.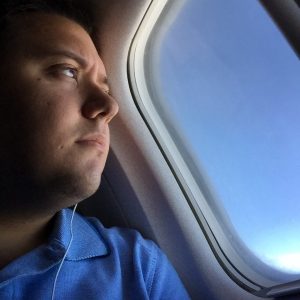 Latest posts by Thomas Pallini (see all)