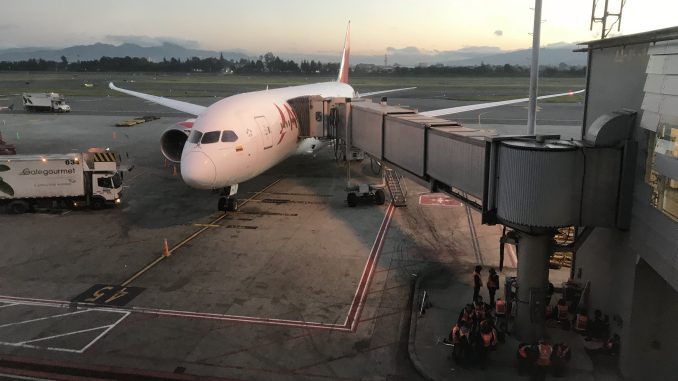 Avianca recently began to operate flights between Bogota and Munich, with the service starting on Nov. 16, in what has become the carrier's fourth destination in Europe after Madrid, Barcelona and London. The flight is not only the longest that the airline operates to Europe but is also the longest flight in its network, with a block flight time of 12 hours on the westbound leg due to headwinds.
Aviance operates the service to Munich with five weekly frequencies. Flights from Bogota run on Mondays, Tuesdays, Thursdays, Fridays and Saturdays; while the return from Munich runs on Tuesdays, Wednesdays, Fridays, Saturdays and Sundays
Avianca timed the European-bound leg accordingly to allow passengers seamless connections to destinations across Latin America and the Caribbean. The flight from Bogota leaves at 10:45 p.m. and arrives in Munich at 4:30 p.m the next day while the return from Germany departs Munich at 9:45 p.m and arrives at Bogota at 3:45 a.m the following morning.
This route works both ways as European-bound passengers are able to benefit from fellow Star Alliance member Lufthansa's hub in Munich. The flight allows Avianca to access a wider consumer base from secondary markets across Central, Eastern Europe and Scandinavia, as well as Lufthansa's flights to destinations in Africa, Asia and the Middle East.
The new service is operated by airline's flagship Boeing 787-8 which features 250 seats in a two-class configuration. This arrangement allows the airline to use the capabilities and efficiency of the Dreamliners to seemly operate and expand its long-haul network out of Bogota.
The Flight to Bogota
In my case, I began my journey in Brussels with Lufthansa and connected onwards to Lima via Bogota with Avianca. Having had checked in my luggage in Belgium, I proceeded to clear immigration and then to the non-Schengen departures area, without having to stop by Avianca check-in desks. Although Munich airport is far from pretty, it proves to be very practical and provides efficient connections across Europe and beyond.
Avianca Business Class passengers, as well as Star Alliance Gold members, are able to use the Lufthansa Business lounge at the German hub.
The Cabin and Seats
Avianca's business class cabin in its Being 787-8 features 28 Reverse Herringbone seats, also used by the likes of Air France, Cathay Pacific and Finnair. Some airlines operating the Boeing 787 Dreamliner, such as Kenya Airways, opt for the 2-2-2 paired seat configuration, which offers greater capacity but less privacy. The cabin is spread across seven rows in a 1-2-1 configuration, offering direct aisle access to all passengers.
The cabin is spread in two sections with the larger forward cabin taking five rows of seats while the aft cabin behind the second set of doors hosting another two.
Business class seats on the Dreamliner feature 21 inches of width and 72-inches of width, offering a good sized entertainment screen along with a tethered remote that can be used to control the in-flight entertainment system.
The seats offer plenty of storage space with a small compartment in the central console- ideal for storing small items such as headphones, mobile phones and glasses- whilst a larger compartment is located next to the seat which can ideally store tablets or small laptops along with other larger items. Below the central console, there is also additional storage space along with a bottle holder.
The angled seats also feature fast charging USB ports along with a multi-plug 110v AC charging unit and a reading light that can be adjusted to different angles.
As with most modern business classes, the seats feature lie-flat capabilities. Although there are three recommended settings on the control panel, passengers can control the seat to their own comfort and adjust recline, headrests and footwells as well as adjusting the seat front or back based on convenience.
Window seats face inwards towards the window, providing a great level of privacy for passengers and a view. Window lovers will appreciate this as they are placed in a good angle to look out of the window and take pictures.
I was seated in seat 2E in the middle section in the forward business cabin. Middle seats face inwards and are ideal for couples. However, if flying next to a stranger, as was my situation, the center console occupies enough room in between to create some sense of privacy.
In addition, there is a small partition that can be pulled up from the floor, which marks a division between seats. Finally given that the entertainment screens fall outwards, these further create a privacy buffer when displayed, meaning that eye contact can be reduced to a minimum. Also, the first rows do not feature overhead bins in the center as that space is made up the crew rest area located above the cabin.
The Service
Before take-off, the friendly cabin crew walked around the cabin offering pre-departure beverages, consisting of the usual water, orange juice and champagne. I chose the latter, which was accompanied by mixed nuts.
The crew then passed through the cabin again, offering a Tumi amenity kit and a shoe bag along with the dinner menu. The amenity kit design is simple but practical and offers all the necessary products one could need in a long haul flight, including a toothbrush and toothpaste, moisturizing cream, socks, padded eyeshades and earplugs.
We took off right on schedule and proceeded to cross France via the south of Paris. Our route to South America would see us fly over Vigo before making our way into the Atlantic through Portugal.
Once in the air, the crew was proactive to begin the meal service on time and provide flexibility to accommodate passengers needs. Menus were distributed for passengers to choose their selections for dinner.
Avianca provides two dining options, a full and express, to give flyers flexibility in the flight. The full meal service consists of a starter, soup, main and dessert. There is one option for the starter, three for the main and three for dessert, well within business class standards.
I went for the full service, consisting of a starter, main and dessert served on a single tray, which can look a bit packed. The tuna filet starter and the vegetable soup were surprisingly tasty and refreshing, adding a very nice flavor twist that seemed to go well in the air. The pork main was very good as well, with the meat being tender and both the accompanying vegetables and Spatzle flavorful as well.
The lovely flight attendant working on my side then came to clear out dishes and take dessert orders. I was tempted by the berries tart, which was washed along with a very nice Argentinean Malbec that was recommended by the crew. Overall, a very tasty meal and certainly above expectations.
After wrapping up the dinner service, cabin crew handed out bottles of water along with some Colombian coffee to take home, a very nice touch to end the service.
In-Flight Entertainment 
Avianca's business class seats feature 16-inch in-flight entertainment screens, which fold out from the seat in front.
After dinner, I proceeded to explore the in-flight entertainment system, which has a wide selection of movies, some T.V. shows and an impressive selection of music ranging from Drake to Joan Baes. Content is available in English, Spanish and Portuguese.
As an AvGeek, I spent most of the flight playing with the in-flight moving map. Avianca features the 3D Voyager system on its Boeing 787-8 Dreamliners, which ranks high in the market.
The system allows the user to see the flight progress from different angles and see the position of the aircraft in 3D. One thing I personally like is the ability to adjust the zoom and the position in which the map is shown. Unfortunately, there are no exterior cameras on this aircraft, unlike the Airbus A350 XWB, so aerial views are non-existent.
Seats go fully flat and are pretty comfortable to sleep in. The footwell is not too narrow, a common problem on some airlines, which means taller people will have no trouble finding a comfortable position to sleep. Being barely 5-feet 8-inches, I had plenty of room to stretch out without neither my feet reaching the footwell and far from my head reaching the seat shell.
After a comfortable four hours and a 30-minutes of sleep, I woke up as we were a bit more than halfway through our Atlantic crossing, having flown seven hours with five more to go.
Almost immediately, I went to the gallery in the look for some caffeine and ended up staying for a bit chatting with the lead flight attendant and one of her colleagues. Both were really happy on how the new route to Munich is doing, highlighting high loads only one month after its launch and the importance of it being a Star Alliance partner at Lufthansa's hub to provide passengers onward connections to other places in Europe and beyond.
Back in my seat, I proceeded to get ahead with some work while enjoying a lovely cappuccino freshly made by one of the flight attendants.
In between meals, the crew had also set up a self-service snack station between both business cabins, with both German and Colombian treats.
Economy also had some snacks on display along with an identical selection of drinks.
Breakfast 
Despite the caffeine, I ended up falling asleep again and woke up as the flight attendants shifted the mood lighting to resemble the sunrise and the cabin was starting to get ready for breakfast. The carts rolled out and the service began one hour and 30-minutes before landing. Breakfast options consisted of two options including an egg wrap and pancakes with cereal.
I chose the former, which was quite flavorful despite the odd combination. Also in the tray was a fruit salad with flight attendants passing an assortment of pastries to choose from.
Before landing, I peeked into economy where passengers were preparing for arrival. Economy seating is arranged in an industry standard 3-3-3 configuration with 31-36-inches of pitch, depending on location, and 17-inches of width.
We had a very smooth touchdown in Bogota, where we touched down right on schedule. Before deplaning, I was lucky enough to be granted a visit to the Cockpit, where I was shown around by the captain and one of the first officers. They both seemed to be happy with the Boeing 787 Dreamliner's performance in the air.
Transiting in Bogota.
Over the last few years, Avianca has placed emphasis on turning its hub in Bogota in one of the leading airports in the region. To achieve that, it has been adding new flights and more frequencies in determined flight banks that allow for smooth transits between North and South America, as well as Europe and the airline's vast Latin American network.
Transiting in Bogota is pretty much painless and clear signages point passengers towards the connections areas.
Passengers in international connections have to clear security, which in my case, was done in less than five minutes. Once airside, I was able to use Avianca's Gold lounge, accessible for Lifemiles Silver members as well as Lifemiles Gold and Star Alliance Gold members with one guest.
The lounge is quite big and spacious. As it was early in the morning it was quite empty, but it quickly began filling up throughout my short stay.
Avianca has a separate lounge for its own business class passenger, as well as Lifemiles top elite tier Diamond members, which is smaller but has upgraded seating and enhanced dining and drink options.
Final Thoughts 
Avianca has proved to have a strong premium product on flights between Europe and South America on its new Boeing 787-8 Dreamliner aircraft, with reverse herringbone seats in business class offering all passengers direct aisle access, comfort and privacy. Although the airline has sometimes been characterized by having an inconsistent soft product; this flight proved the opposite.
The new food offerings in business class for longer flights are clearly a step up from previous offerings, providing a tasty and balanced dining experience onboard. Perhaps, the airline could strengthen its starter offerings and offer the possibility of having them separately before the main course. However, being a nighttime flight, probably most passengers appreciate a quicker dinner service to maximize rest.
In addition, aided by the capabilities of Lufthansa's hub in Munich providing onward connections to a wide array of destinations, it's not hard to see why Avianca seems to be succeeding in this new route, connecting more people between the two regions and helping foster economic, social and cultural exchange around the world.
Editor's Note: The writer was upgraded to business class by Avianca.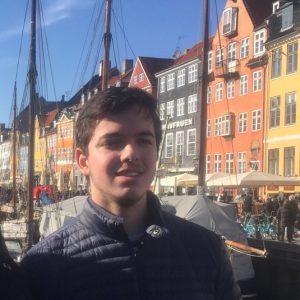 As a geography nerd, Jose has always been fascinated by the complexities of the airline industry and its ability to bring the world closer together. Born and raised in Peru, now studying in the UK. he has travelled around America, Europe and South East Asia. His favorite aircraft is the Boeing 767-300, which he has flown many times during his childhood; although now the A350 is slowly growing up on him.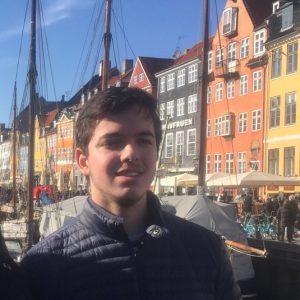 Latest posts by Jose Antonio Payet (see all)