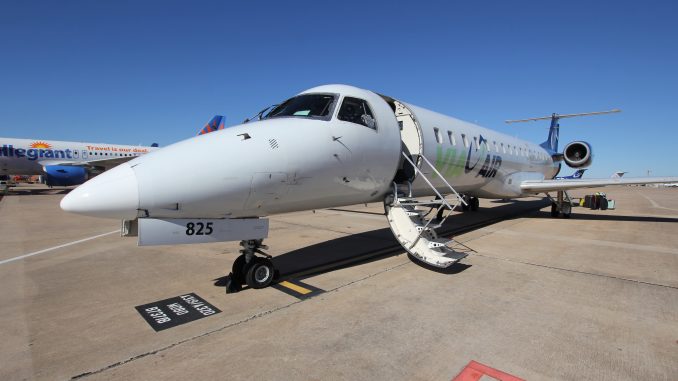 Recent advertisements show ViaAir marketing itself as Austin's hometown airline. Though the carrier is based in Orlando, Florida ViaAir has rapidly expanded in Austin. Initially a scheduled charter airline and Essential Air Service (EAS) provider, the airline has greatly transformed, now fully focused on flying scheduled commercial flights.
The airline initially entered the Austin market in summer 2017 with seasonal service to Branson, Missouri. Today, the carrier offers flights to five destinations from Austin including Baton Rouge, Little Rock, Branson, Tulsa, Amarillo, and seasonal flights to Tucson. In 2017 the carrier also operated a winter seasonal flight to Steamboat Springs, Colorado though that flight did not operate in 2018.
A route map on the carrier's site indicates plans to add nonstop flights to Memphis and Birmingham, Alabama from Austin though no official announcements from the carrier have been made. Already serving six destinations, ViaAir believes there are still over 60 communities in the U.S. that could benefit from flights to Austin.
The operational reliability of the carrier was called into question by multiple Austin area news outlets after the airline did not reimburse some customers early in 2018. This came following multiple flight cancellations and claims from a ViaAir call center that all travel expenses caused by any canceled ViaAir flight would be reimbursed. The carrier offered an exclamation to the affected customers following the misunderstanding.
Fully focused on continuing to develop as a regional airline, ViaAir now operates two to five daily flights from its Austin hub. AirlineGeeks took a flight to Amarillo with ViaAir to experience the airline's service.
The Airport
All ViaAir flights depart from Austin's privately owned South Terminal, a temporary terminal created to alleviate capacity stress from the main Barbara Jordan Terminal. Being inconveniently located on the south side of the airfield, the terminal is a 15-minute bus ride from the main terminal. For passengers planning to leave their car at the airport, there is parking available at the South Terminal. The lot fills up quickly though, especially during the holidays, therefore it's best to park at the main terminal and take the shuttle to the South Terminal.
I arrived an hour prior to my 7:45 a.m. scheduled flight to Amarillo, Texas. The airline operates three weekly round-trip flights to the North Texas city on Thursdays, Fridays, and Sundays. Passengers can check-in at home starting 24 hours prior to their flight, though you must have a printed boarding pass. The airline's app does not yet feature mobile boarding passes.
At the airport, the friendly staff was quick to check-in passengers and print boarding passes. It's worth noting that due to the overhead bin size of the Embraer E-145, the airline does not allow items larger than a backpack as carry-on luggage.
The South Terminal has one TSA screening checkpoint including a TSA PreCheck lane. If you are flying during rush hour, make sure you allocate plenty of time for getting to the South Terminal and through security.
Beyond security, there is a small convenience store with some pre-packaged food options. The terminal is also home to an outdoor patio with a taco food truck, though it was not open at 7 a.m. The patio did, however, offer beautiful views of the terminal operations. it is, however, nearly impossible for an AvGeek to plane spot due to the double fence used as opposed to the glass walls that are used at most other U.S. airport outdoor lounges.
Boarding
With an original 7:45 a.m. departure time, we were not given any update on the flight status until 8:00 a.m. when a gate agent apologized for a delay caused by aircraft congestion on the ramp. The South Terminal's ramp is located at the maintenance ramp, the primary holding spot for diverted aircraft.
When weather is bad in Houston and Dallas this ramp is packed with aircraft waiting to refuel and get back in the air for their intended destinations. Because the South Terminal is privately owned and the maintenance ramp is owned by the city, all diverted aircraft have priority to use the ramp over scheduled flights at the South Terminal.
Boarding finally began at 8:10 a.m. and the flight status was updated to show an 8:30 a.m. departure time. Interestingly, the board still listed the flight as on time.
One of the South Terminal's nice amenities for AvGeeks is the lack of jetways so there are some fantastic photo opportunities while boarding the aircraft.
ViaAir offers three fare classes when booking a flight: ViaFlex, ViaValue, and ViaChoice. ViaFlex is the most premium fare and includes one free checked bag as well as a $0 cancellation fee and priority boarding. While priority boarding can be useful, the gate agent welcomed everyone to board at the same time, so I would not spend extra money for this option.
The Aircraft
The aircraft taking me to Amarillo was N825HK, one of five Embraer 145 aircraft in ViaAir's fleet. ViaAir took delivery of its first Embraer 145 in 2015 as it began expanding its route network. With 20 Austin employees, the airline bases three of its E-145s at Austin's airport.
The age of the aircraft was visible once inside the cabin. The 17-year-old plane began its flying career with Crossair in 2001 and flew with five different carriers before joining the ViaAir fleet.
The 50 seat aircraft has a 1-2 layout with overhead bin space only available on the right side of the aircraft.
While the E-145 may not be the ideal aircraft for tall flyers, the plane is perfect for ViaAir's mission to serve thin domestic routes.
The Flight
Boarding was fast and by 8:20 a.m. we were taxiing towards runway 17R for departure. For weight and balance reasons, seats were assigned mainly over and behind the wing. The flight had about a 45 percent load factor so there was plenty of room for passengers to spread out after takeoff.
Apart from a brief welcome from the captain, all pre-flight announcements were automated.
Following a beautiful morning takeoff, the flight attendant began a beverage service for passengers. Multiple complimentary non-alcoholic soft drinks were offered but unfortunately, there were no snacks.
The tray tables onboard were huge, big enough to fit a laptop and drink. ViaAir does not offer Wi-Fi or in-flight entertainment onboard any of its aircraft.
While the seats were noticeably old and worn out, they were very comfortable and offered ample legroom. While I did not measure the exact seat pitch, I would argue that it was slightly more than that on average U.S. carriers. The ceiling on this airplane may be low, but having no middle seats is a huge plus.
If choosing an "A" seat, you will have both a window and aisle seat, the best of both worlds.
Just about an hour and twenty minutes after departing Austin, we were already on final approach to Amarillo. After a firm touch down, we were at the gate and deplaning within five minutes.
Flying Back From Amarillo
Upon arriving at Amarillo, the six gate airport was packed with passengers stranded from Dallas weather diversion from the previous evening. Inside the terminal, ViaAir did not have a gate counter. An airline representative was instead standing on the side of an American Airlines counter at gate three, where our flight would be departing from.
By the time I had picked up a quick snack to eat, the return flight was almost done boarding. ViaAir did not use ticket scanners in both Austin and Amarillo. Instead, the gate agent manually verified each boarding pass with the roster on her computer.
While there is nothing particularly special with Amarillo Airport's terminal, the airport is one of few in the U.S. with glass jet bridges. The glass provided a beautiful view of neighboring aircraft while boarding my return flight to Austin.
At 10:15 a.m., just twenty minutes after deplaning in Amarillo, we were enroute to the runway for the return leg of the journey to Austin.
The flight back was about 65 percent full. After a routine flight, we touched down in Austin at 11:33 a.m. just 20 minutes later than originally scheduled.
Throughout the journey, ViaAir was able to make up for the 45 minute morning delay ensuring it did not have a knock-on effect for flights operating during the rest of the day.
As I exited the aircraft, I met Amos Vizer, Chairman of ViaAir, who was preparing to pilot the next flight to Little Rock. The small regional airline is run by Amos Vizer and Irit Vizer, President and Chief Operating Officer of ViaAir. The Central Florida couple recently told the Orlando Sentinel in an interview that the airline is a family oriented company run like a Fortune 500 company.
Concluding My ViaAir Journey
ViaAir has no loyalty or rewards program. While this is a big drawback for many flyers, the convenience of the nonstop flight outweighed the potential miles I could have earned on this short hop. Had I flown United, Southwest, or American, the total trip time would have also doubled and a layover would have been added.
The comfortable seats and adequate legroom were a big plus. Seat selection was also free, a big plus for AvGeeks hoping to secure a window seat.
I'm a fan of smaller airlines and am excited to see how ViaAir continues to develop as an airline. With five E-145s in the fleet and many smaller unserved markets around the U.S., the airline has a lot of potential to grow in Austin and its other hubs.
Editor's Note: The writer flew to Amarillo as a guest of ViaAir. However, all opinions are his own.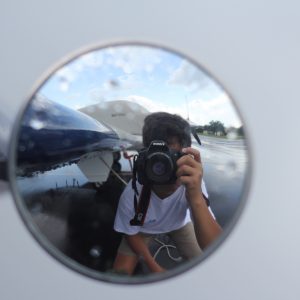 Mateen has been interested in aviation from a very young age. He got his first model airplane at six and has been airplane spotting since he was nine years old. He has always had a passion for aviation and loves learning about different aspects within the industry. In addition to writing for AirlineGeeks, Mateen is also an editor for his high school's newspaper. You can also find him on Instagram (@Plane.Photos) where he enjoys sharing his aviation photography with thousands of people everyday.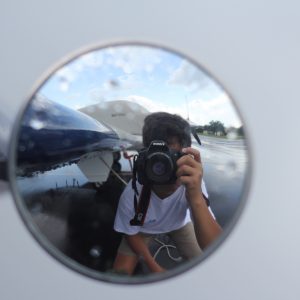 Latest posts by Mateen Kontoravdis (see all)